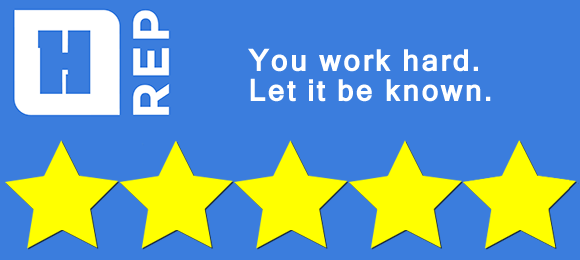 For small home service providers, online reputation has become a major factor determining success. A few years ago, no reputation (no reviews) was a viable option. Increasingly, that's not the case anymore. Many online consumers expect to be able to consult reviews from your past customers before they book a job.
In fact, 81% of customers read online reviews about a product or service before buying. Studies have shown that building a positive online reputation can help a service businesses convert about 3 times as many prospects into customers.
A positive reputation = increased revenue
How HometownRep Works
HometownRep is a free service for verified Hometown Clients that simplifies the process of managing your online reputation. You just provide great service. HometownRep follows up.
Our "Reputation Agents" gather reviews from customers who booked your service through Hometown Dumpster Rental. We only collect reviews from verified customers – no disgruntled former employees or negatively-charged reviews from your competition make it to our website. Every review is real... and we publish every review that we can verify came from a customer.
Instead of 'no reputation' or a bad online reputation created by one highly-motivated unsatisfied customer, HometownRep empowers and gives voice to more of your customers (most of whom are presumably happy customers). We jumpstart your online presence and ultimately improve your bottom line.
HometownRep not only will help you establish a positive online reputation and increase sales, but it can also provide you with valuable feedback from customers that can help you improve your service.
What if you get Negative Reviews?
Many home service companies are afraid of reviews because they worry about getting the occasional negative review. Companies that strive to serve their customers well have nothing to fear… even the best companies' get negative reviews once in a while.
In fact, a negative review is a great opportunity to show the online community how you handle a dissatisfied customer.
With HometownRep, you'll have the opportunity to respond. You can provide a calm, reasoned public response to the negative review. This shows that your company has handled the situation professionally and has done your best to satisfy the customer.
Everybody Wins!
It's a win for you. Hometown's Reputation Agents do the time consuming work of collecting reviews on your behalf. You get a hassle-free way to start generating a positive online reputation and grow your business by converting more prospects into new customers.
It's a win for customers. Customers searching online for a dumpster service or junk removal service get the type of relevant and useful information they're looking for to make an informed decision.
It's a win for Hometown. With our performance-based advertising model, we can only do well when our clients are doing well. Cultivating strong online reputations for our clients helps them do well.