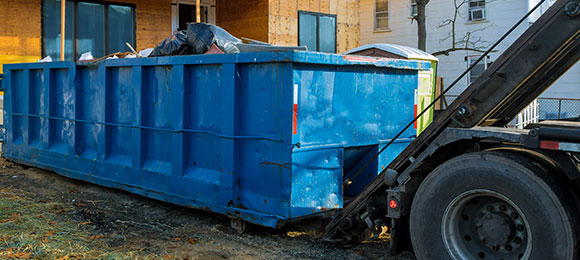 Updated August 31, 2023
Renting a dumpster is easy, but it can be intimidating for the first-time renter.
You can schedule delivery in a matter of minutes, but in order to get the most out of your dumpster experience without overpaying, you'll want to be aware of a few things first.
Not only are there thousands of companies out there to choose from, but there are multiple dumpster sizes, rental periods, and disposal fees to consider, too.
Our dumpster rental guide will cover everything you need to know to ensure your rental goes smoothly.
How to Rent a Dumpster:
---
---
Know the Dumpster Basics
Dumpsters are great options for a variety of waste removal jobs, and there are multiple types of dumpsters designed to accommodate customers' various needs.
Temporary Roll-Off Dumpsters

Roll-off dumpsters are the type of dumpster that homeowners and contractors can rent on a temporary basis, and they're pretty simple beasts.
They have swinging doors on one side to allow you to walk heavy or bulky items into the dumpster, and feet or rollers on the bottom that are placed on wooden planks to protect your driveway or street from being damaged.
These dumpsters are delivered to your home or job site, rolled off a truck, and placed on your property in the location you request.
The truck that delivers and picks up the dumpster uses a large hook and pulley system, as demonstrated below.
When you're done using the dumpster, you call the rental company and have them come pick it up using the same hook and pulley system.
Dumpsters truly are the underrated superhero of waste disposal.
There are a million and one reasons to rent a roll-off dumpster, and many people don't realize exactly how useful they can be.
Common Uses for Temporary Dumpsters
Basement, garage, and attic cleanouts
Spring cleaning projects
Decluttering a house before a move (or just because it needs it)
Yard waste removal
Roofing replacement or repair projects
Kitchen and bathroom remodeling projects
Replacing windows or siding
New construction
Commercial Dumpsters
Commercial dumpsters are the permanent dumpsters that businesses use.
These dumpsters aren't rented on a temporary basis, like roll-off dumpsters.
Instead, they are emptied on a regular schedule for an extended period of time as a way of managing that company's waste stream, just like your curbside trash.
These containers typically hold 2 cubic yards to 8 cubic yards of trash and are smaller than most temporary roll-off dumpsters.
These trash containers have a lid to prevent the public from tossing their trash in, to keep out rain and snow, control odors, and deter pests.
Construction Dumpsters
Construction dumpsters are another name given to temporary roll-off dumpsters.
However, these dumpsters can be used for more than just construction debris removal.
Construction dumpster rental is the ideal solution for any large cleanup job, like cleaning out a home, garage, or attic.
They're also perfect for handling debris from a home remodeling project or removing large amounts of yard waste.
Typically holding 10 cubic yards to 40 cubic yards of debris, these are larger, open-top trash containers rented on a temporary basis.
---
---
Choose the Right Dumpster Size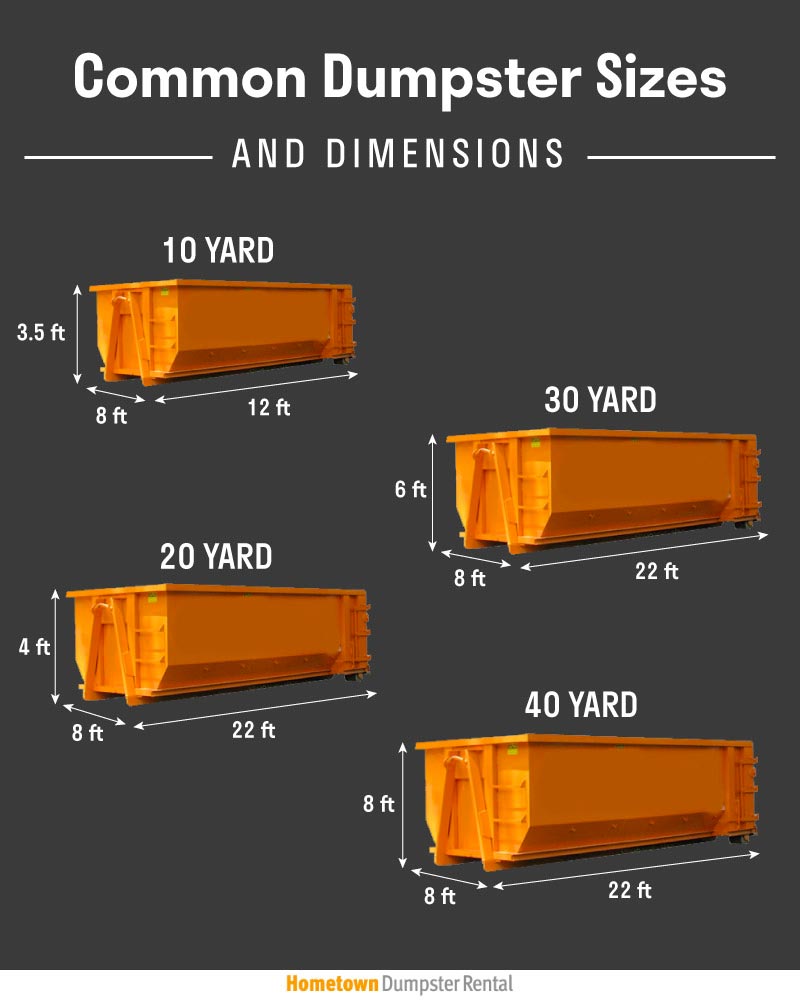 Dumpsters come in a wide range of sizes measured in cubic yards, indicating the volume of debris the container can hold.
Above are some of the most commonly used dumpster sizes (and their dimensions), one of which will be better for your project than the rest.
Trying to squeeze all your junk into a dumpster that's too small can be costly, leading to overage fees or the need for additional dumpsters. It's always better to overestimate the amount of stuff you want to get rid of rather than underestimate it.
We understand that it can be difficult to estimate how much construction debris or household junk you will have.
Harder yet is trying to predict exactly how much stuff you'll want to get rid of once a big, convenient dumpster is sitting in your driveway.
It's tempting to pinch pennies, but more often than not, that going with the smaller dumpster leads to trouble.
Best Uses for Various Dumpster Sizes
10 Yard Containers
Small basement, garage, or attic cleanout
Small kitchen or bathroom remodeling job
250 sq ft, or smaller, deck removal
1,500 sq ft of roof shingles (single layer)
15-20 Yard Containers
Small-to-medium basement, attic, or garage cleanups
Large flooring or carpeting removal
300-400 sq ft deck removal
2,500-3,000 sq ft of single layer roof shingle removal
30-40 Yard Containers
Medium-to-large amounts of demolition debris, trash, paper, or cardboard
Large home addition
New home construction
Garage demolition
Whole-home window or siding replacement
Commercial roof tear-off
Office building clean out
Get the Best Dumpster Price
Not surprisingly, the price of dumpster rental goes up with size, but there are a number of other factors that affect dumpster price.
Size
As mentioned previously, skimping on size is not the way to go.
It costs more to have two 10 yard dumpsters delivered to your property than one 20 yard bin, so it's always better to go up a dumpster size when in doubt.
Debris Type
Depending on where you're located, you may be able to save some money by sending some of the debris to a recycling facility, where disposal fees are much less expensive.
If you plan on putting shingles, concrete, or construction debris (like wood or drywall) in your dumpster, you may be able to "clean load" it by only filling it with that material.
From there, it can be taken directly to a local recycling facility, where recycling fees are low and you save money.
Weight of Debris
A majority of rental agreements include a certain amount of weight, called the "weight allowance," and that number plays a role in price, too.
For example, if you go over your dumpster's included weight limit, you'll be charged extra.
The type of project you have will affect the weight of your debris.
Typically, household junk is on the lighter side.
Roofing shingles, concrete, dirt, and construction debris are all on the heavier side, and as such, may cost more to dispose of.
Estimating the volume of waste you have can be difficult, but dumpster rental providers are experts at knowing which size is right for your project.
To ensure you get the best price and the best customer service when renting a dumpster, we recommend reaching out to three or more companies for quotes. This will help ensure you choose the right dumpster size and choose the right dumpster service for you and your project.
Keep reading:
---
---
Understand Dumpster Rental Terms and Conditions
Too often, customers are surprised by dumpster overage charges and fees, so it's important to understand the rental terms by reading the contract thoroughly.
To ensure your dumpster rental goes smoothly, know your rental terms ahead of time.
Here are just some of the things you should discuss with your contractor before scheduling delivery:
How much weight is included in the price?
What can and can't I put in the dumpster?
How do I arrange for pick-up when I'm done?
Will you place boards under the dumpster to protect my driveway/property?
Understanding the weight included in your dumpster rental is particularly important if you're disposing of heavy debris.
If you go over your weight limit, you will have to pay additional fees, which can add up quickly.
Some companies will automatically come pick the dumpster up at the end of your rental period, but we recommend contacting the company as soon as you're done with your dumpster to let them know they can pick it up.
The sooner you call, the sooner all your junk will be hauled away.
Because each hauling company works a little differently, and they have different exceptions to rules, we recommend confirming with them what can and cannot be put in their dumpsters.
If you have a small amount of concrete, ask your hauler if you can include it with household junk.
Never try sneaking in debris you're not supposed to; the additional weight and overage fees aren't worth it.
What Can Go in a Dumpster
You can put nearly anything considered "general waste" into your dumpster, which includes, but is not limited to:
Household junk
Furniture
Clothing
Paper products
Non-organic trash
Some materials are only allowed in dumpsters if they are "clean loaded," meaning it is the only material in the dumpster.
These include:
Concrete
Roofing shingles
Wood and drywall
Dirt and rock
Check with your contractor to see what discounts are available for clean-loading your dumpster.
What Can't Go in a Dumpster
You cannot put hazardous waste or liquids, food waste, and other hazardous materials into your dumpster.
This includes, but is not limited to:
Televisions
Computer monitors
Refrigerators
Paints
Solvents
Asbestos
Tires
Batteries
Contaminated soils
Fuels
Resins
Food waste
Adhesives
Railroad ties
If you have any hazardous or unacceptable items, talk with your contractor or contact your local county office to learn how and where you can properly dispose of hazardous wastes.
Keep reading: Debris Removal: The Complete Guide to Getting Rid of Anything
How the Dumpster Rental Process Works
Schedule Delivery
Once you've shopped around a bit and you've found the best company/price for you, it's time to schedule a delivery day and time.
Contact the company of choice and let them know when you need your dumpster.
If they can't provide the dumpster when you need it, you will likely want to call another company.
When scheduling delivery, be sure to let the company know if you want it dropped off somewhere other than your driveway.
If you have a specific location in mind, point them in the right direction and let them know where you'd like your dumpster placed.
They'll usually place wood planks underneath the dumpster to protect your driveway/property and make sure it's set up for easy access, but be sure your site is ready for dumpster drop-off.
Dumpster rental companies get busy, especially in the warmer months, so to ensure you get the right size dumpster when you need it, schedule to have a dumpster delivered to your property the day before you intend to start your project.
Load Dumpster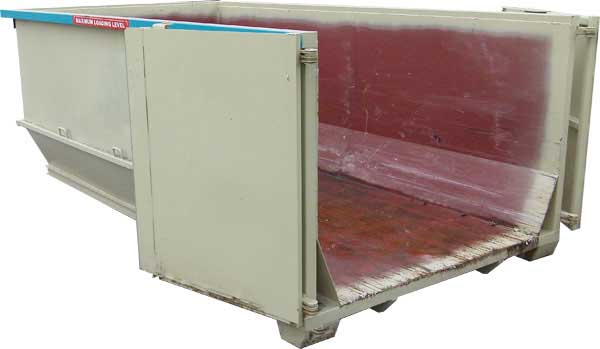 Once your dumpster is where you need it, it's time to load it up with all your junk or debris
We recommend being as space-conscious as possible to ensure you have enough space for the junk you'd like to get rid of.
This is especially true if you're getting rid of various pieces of furniture or other relatively lightweight odds and ends.
Schedule Pick-Up
Once you're done using your dumpster, contact the rental company to let them know you're ready for it to be picked up.
When they arrive, they'll place a hook on your dumpster, pull it back onto their truck, and haul it away (as shown below).
In order to guarantee your dumpster pick-up goes smoothly, avoid overfilling the dumpster, and make sure the dumpster pick-up truck can easily access it.
For example, if a car is parked in front of your dumpster and you're not home when they come to pick it up, you'll have to pay what's commonly referred to as a "dry run" or "trip charge."
You can also be charged for driver delay and container dig-out if your dumpster is stuck or you delay the driver in any way.
---
---
Keep reading: