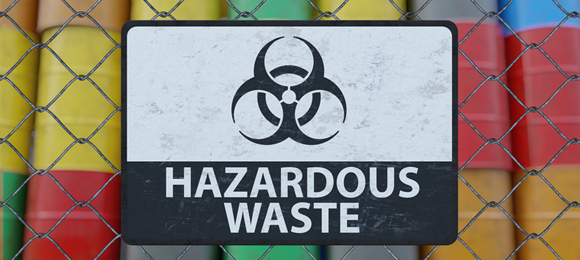 Updated February 19, 2022
Virtually every household in the U.S. contains some household hazardous waste.
This would include common items like pesticides and fertilizers, household cleaning products, and motor oil.
These types of chemicals are prohibited from being disposed of in the municipal waste system as well as in most rented dumpsters.
Disposing properly of household hazardous waste is critical to the health of the environment as well as our own health.
The EPA states that it's not only important to avoid throwing hazardous household waste in with regular household trash, but it's equally important to avoid dumping these chemicals into sewers, storm drains, and illegal dumpsites.
Chemicals can easily leach into the groundwater we drink and it negatively affects fish and other wildlife.
In this article, we'll discuss...
---
---
Common Household Hazardous Waste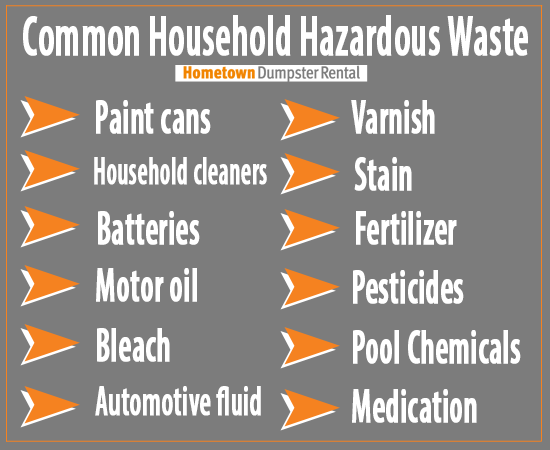 Paint cans (including empty ones with residual residue)
Kitchen/bathroom cleaners
Batteries (small alkaline batteries may be thrown in the trash but only in small quantities)
Motor oil
Bleach
Any type of automotive fluid
Varnish/stain
Lawn fertilizers
Bug and pest spray/killers
Pool chemicals
Medication
How Big is the Problem?
You may think that tossing a few quarts of used motor oil or a couple of nearly empty paint cans into the trash won't make any sort of impact on the environment, but you're dead wrong.
According to the Sustainability Office at the University of Missouri, 192 million gallons of used motor oil are improperly disposed of each year in the U.S. alone.
It also states just one gallon of used motor oil can contaminate one million gallons of water.
So, those few quarts of oil you toss in the bin actually do make a big impact on the health of the environment.
How to Properly Dispose of Hazardous Waste
If you can't throw it in the garbage can or dumpster, where do you dispose of it?
Many communities offer household hazardous waste collection days set aside for collecting toxic waste.
Contact your local waste authority to find out the details.
These local collection events are extremely successful at eliminating hazardous waste from the municipal waste system.
A small New Hampshire community hosts several of these collection events each summer, where nearly 19,000 toxic chemicals are collected and around 1,750 households participate in the event.
Other options are also available for certain items.
For example, motor oil can be recycled at most local instant oil change centers.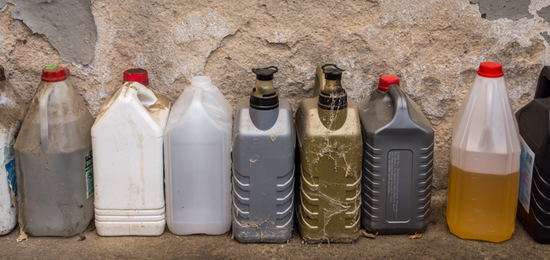 Lead-acid batteries (automobile batteries) can be dropped off at the place of purchase or most auto parts stores for proper disposal.
Other disposal options may be available in your community or through your local trash hauler.
If you have bulk household hazardous waste to dispose of, contact a local dumpster rental provider to find out your options.
---
---
Read more about dumpster rental: