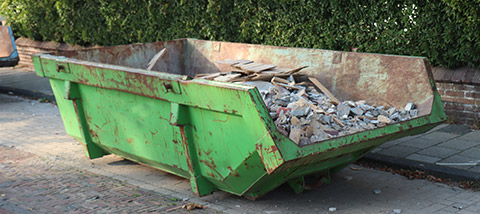 Updated February 6, 2023
Renting a dumpster is a convenient and affordable way to get rid of large amounts of junk, but why pay more than you have to?
If you're a first-time renter (or even if you're not), these tips will help ensure you get the best price possible when renting a roll-off container.
We'll outline the 7 simplest ways to save money on your dumpster rental:
---
---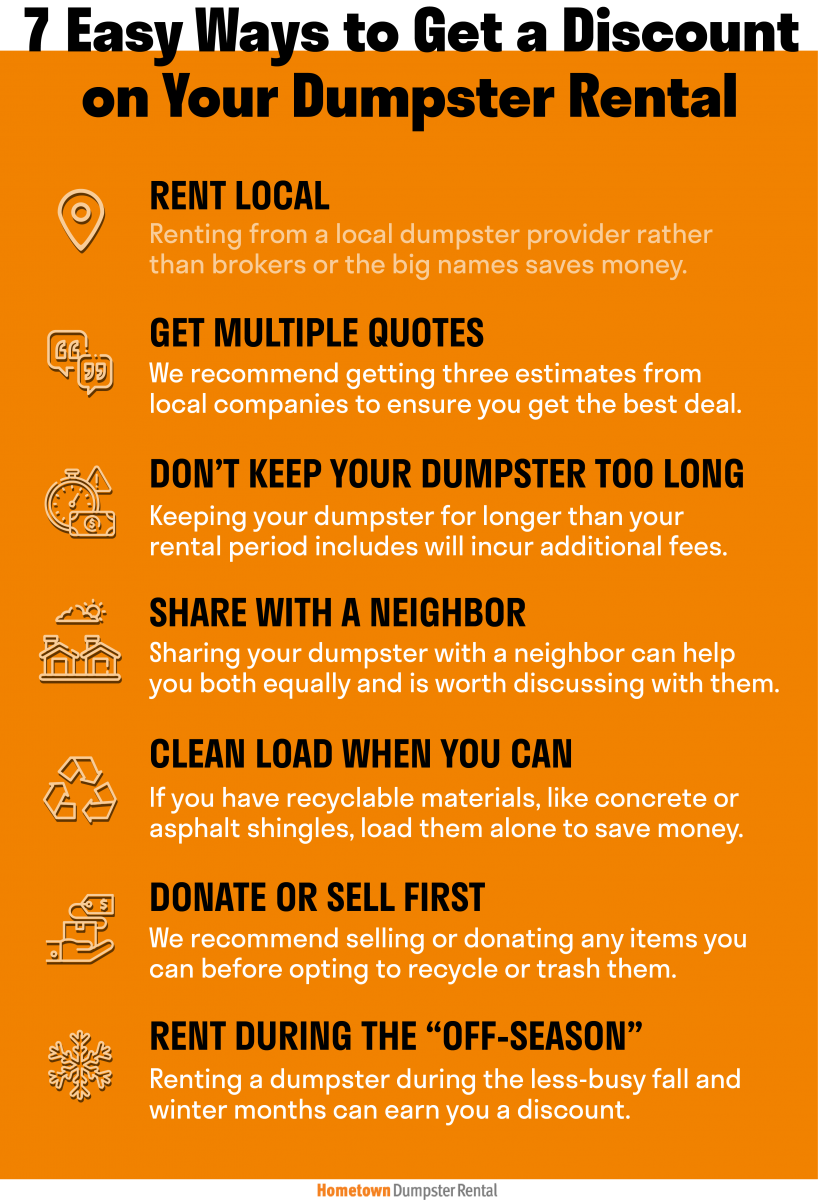 1. Rent Local
Renting a dumpster from a local provider is almost always less expensive than renting from a large company, like Waste Management.
It may seem like the easiest solution to call the same company who picks up your weekly trash to rent a dumpster, but it rarely is.
Generally speaking, these bigger, well-known companies are almost always more expensive than local companies, and their customer service usually isn't as good either.
Another culprit for increasing your rental cost is by renting from a broker, or a middleman.
Oftentimes, these companies pose as local, when in fact, they hire out the work to an actual local contractor.
Another thing to consider is that, when Googling "dumpster rental companies near me," you're going to see some companies at the top of the list who pay for Ads to be placed there.
These are not necessarily bad companies by any means, but they are paying a decent amount of money to be placed at the top of a search results page.
Typically, this means one of two things:
Their overhead costs are higher than most local rental providers.
They are a dumpster broker.
Either way, these additional expenses usually lead to steeper rental costs in the end, so it's something to be aware of.
Hometown is an excellent resource for finding the best local dumpster companies near you. You can read up on different companies, see what their customers have to say, and contact them directly—all in one convenient location.
Keep reading:
2. Get Multiple Quotes
Spending a few extra minutes to shop around could save you upwards of $100 in some cases.
At Hometown, we advise getting a quote from a minimum of 2-3 companies to make sure you don't overpay.
On the same note, each rental agreement includes a number of different factors you should consider, too.
Take the following situation for example:
Company A tells you that they'll rent you a 10 yard dumpster for $150 with an included weight of one ton. Then you call Company B, and they tell you they'll rent you a 10 yarder for $200 with an included weight of two tons. You may be eager to jump at the price tag that's $50 cheaper, but paying a little extra for double the weight is the best deal. Most people end up throwing away a lot more junk than they anticipated when the dumpster is just sitting there, so it's best to play it safe and go with the option with the greater weight allowance.
Learn more:
---
---
3. Don't Keep Your Dumpster Too Long
Most of the time, companies don't offer discounts for short-term rentals.
However, if it's the busy season and container stocks are running low, then a company would likely be willing to offer you a discount to get the dumpster back sooner than later.
4. Share With a Neighbor
Share a dumpster with your neighbor(s).
If your neighbor has some stuff they'd be interested in getting rid of, then consider going in on a dumpster with them.
Let them know you're planning on renting a dumpster, and see if they'd be interested in splitting the cost.
If they have just one or two items, like a couple pieces of furniture, they could pay $50 of your $250 rental; or if they've got a little bit more to get rid of, you could split it down the middle and pay $125 each.
Either way, you save on costs, and your neighbor benefits as well.
Similarly, some companies are willing to give you a discount for renting more than one bin at a time.
So if you and a couple of neighbors have been meaning to do some serious clean-up, make a plan to rent together, and you could save some serious change.
5. Clean Load When You Can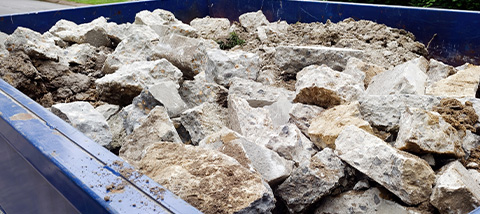 A key factor in dumpster rental pricing is the type of debris going into the dumpster.
If you're renting a dumpster for a roofing project and you only plan on disposing of asphalt shingles, chances are the dumpster company will offer a more reasonable price than they would for mixed material.
The same usually goes for yard waste and concrete.
6. Donate or Sell First
Before renting a dumpster, consider having a yard sale or donating to your local charities, especially any bulky items, like furniture or rugs, you may have.
That will eliminate weight that would otherwise be going into your dumpster.
A few other great places to consider selling, trading, or donating your gently used goods:
7. Rent During the 'Off-Season'
Most dumpster rental companies are busier in the spring and summer months.
On the flip side, winter and fall are typically less busy for roll-off providers.
Because of this, some companies offer discounted pricing more frequently during these months to encourage you to rent.
You may be able to save a little money if you choose to do remodeling work during the winter as well, which is all worth considering.
---