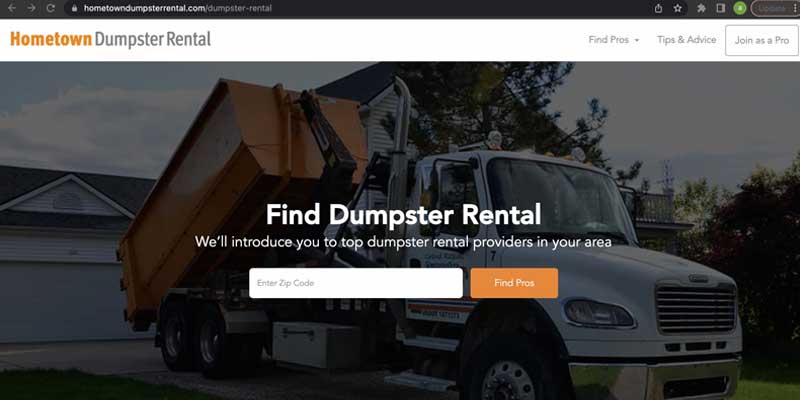 Updated June 23, 2023
When you're in need of a dumpster rental, it's important to research different companies in your area and ask the right questions in order to choose the best dumpster rental provider for the best price.
Hometown helps streamline the process of finding and reaching out to several local dumpster rental companies for free quotes with our quote request form, saving you significant time researching so you can focus on your disposal project.
We'll go over the entire process of what renting a dumpster with the help of Hometown looks like so you can have a dumpster delivered to your job site in no time.
Jump to:
---
---
How Hometown Works
Research has shown time and time again that locally-owned dumpster rental companies offer better prices and superior customer service than their nationwide competitors, but it can be harder to find these types of smaller operations when franchises have an unfair advantage with placement on search engine results.
Hometown has helped level the playing field by creating our own search engine specifically designed to help folks find local dumpster rental and junk removal companies throughout the U.S.
Our single quote request form simplifies the process of requesting multiple quotes so that you can easily compare dumpster rental companies that service your area. By entering your zip code and answering a few short questions about your disposal needs, you'll be shown licensed and insured companies near you. You can choose your own companies to request quotes from, or Hometown will match your request with the right local experts for you.
Every company we publish has been vetted to insure they have the proper licensure and quality reputation to ensure a seamless dumpster rental experience.
After your quote request is submitted, you'll receive a text confirming that your quote request was received and letting you know that a service provider will contact you if they decide to accept your request and agree to provide a quote. We recommend getting at least 2-3 quotes to increase your chances of getting the best price and best service in your area.
After you receive the confirmation text, you can expect to be contacted by the appropriate number of dumpster rental companies as soon as a matter of minutes or within one business day. The service provider(s) you requested a quote from will then follow up with you directly to provide a quote and answer any questions you may have about their services.
If a service provider you reach out to doesn't wish to quote the rental or they don't quickly confirm their desire to quote your dumpster rental, we automatically send your quote request to another local dumpster rental company on your behalf until you receive the amount of quotes you requested.
You're never obligated to rent a dumpster from anyone who provides a quote. Take as much time as you need to compare each quote accurately, because no two companies are the same.
Because of this, it's important to make sure you know the right questions to ask so you can make the most informed hiring decision.
Continue reading:
Questions to Ask Dumpster Rental Companies
Asking the right questions before hiring a dumpster rental company can make or break your overall experience. Different companies have different policies and ways of charging their services, so understanding the full scope of what they're offering is crucial if you want to be on the same page before spending hundreds of dollars on a dumpster rental.
Some of our favorite questions to ask dumpster rental companies include:
Does the rental fee include landfill/disposal fees?
How long is the rental period?
What if I need the dumpster longer? How much do you charge for additional rental days?
What materials can I load in the dumpster? Are there prohibited items?
Is there a weight limit on my dumpster rental? What do you charge if I exceed the weight limit?
Will I need a permit to rent a dumpster? If so, will you get the permit on my behalf?
Are you licensed and insured?
How large are your dumpsters? Will it fit in my driveway?
How will you protect my driveway/parking lot from damage?
What size dumpsters do you have available? What size do you recommend for my disposal project?
Do you have trailer dumpsters or roll-off containers?
Do we schedule pick-up when we schedule delivery, or do I have to contact you when I'm done with my rental?
How soon can you have a dumpster delivered?
These questions paired with a very detailed description of your disposal needs will ensure that you and the dumpster company are on the same page, but it's equally as important to thoroughly go over the dumpster rental agreement in writing before signing your name and making a payment.
---
---
Comparing the Quotes You Receive
After receiving quotes and getting answers to all your dumpster rental questions, it's time to compare and contrast the different services available.
Comparing costs is typically the first thing customers look for when choosing who to rent a dumpster from, but equally as important is the quality of customer service you can expect from each company. Pay attention to their professionalism, willingness to answer all your questions honestly, and reputation from previous clients.
Reading reviews from verified customers is one of the best ways to get an idea of the level of customer care you can expect from any company.
At Hometown, we only publish verified reviews from real customers, so you never have to question whether or not the positive/negative reviews you read are fabricated or not.
Learn more:
How Dumpster Rental Works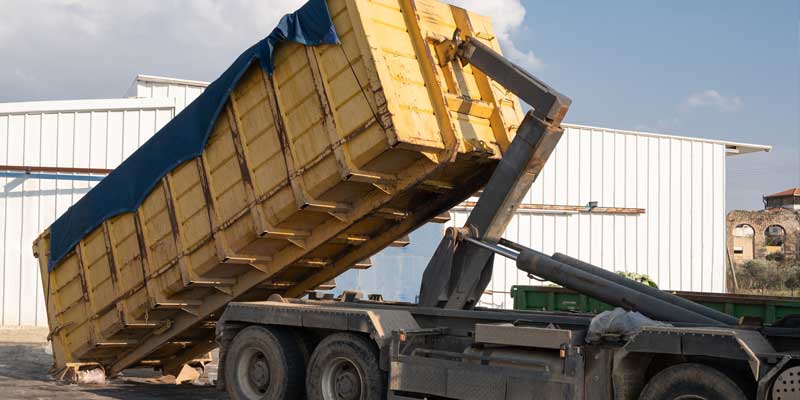 After you've contacted different dumpster rental companies for quotes, compared the different quotes you've received, and carefully read through the dumpster rental agreement, you're ready to sign the contract and schedule dumpster delivery.
Based on the size of your disposal project and the recommendations made by your selected dumpster provider, you'll choose which dumpster size is right for your project and schedule a date and time for it to be delivered. Depending on the company's policies, you may also schedule a date and time for the dumpster rental to be picked back up at this time. Or, you'll wait to arrange for pickup after you're done using the dumpster.
There are some cities and situations where a permit is required before having a dumpster placed on your property. Most dumpster rental companies will get this for your on your behalf if they can, but some municipalities require that the person renting the dumpster applies for the permit themselves. Get in touch with your local city hall for more information on how to apply and pay for a dumpster rental permit in your area if necessary.
After a contract is signed, your dumpster rental will be delivered and placed wherever you and the delivery person decide is best (and legal) for your project needs. If you rent a roll-off container, the dumpster rental company will usually place plywood or wooden boards underneath the feet of the steel dumpster in order to protect the concrete or asphalt underneath from cracking or crumbling.
If you're worried about driveway damage, be sure to discuss driveway protection with your dumpster provider prior to delivery. Reputable companies are pros at dumpster placement and rarely cause damage, but old or already crumbling concrete and asphalt can be vulnerable to heavy weight being added to it. Trailer dumpsters sit on rubber wheels for seamless driveway protection and can be a good choice for those with fragile driveways/parking lots or those who wish to have a dumpster placed in their yard.
Once your delivery is dropped off, it's ready to be filled. Both trailer dumpsters and roll-off containers feature open tops to make tossing trash or debris over the side walls easy. Most roll-off containers also feature a swinging back door(s) so that you can conveniently walk heavy or bulky items into the dumpster, which is why roll-offs are often a preferred dumpster style for those with large/heavy disposal items.
If dumpster pick-up isn't already scheduled, you would then contact the rental company after you're done loading it.
Picking up a dumpster happens the same way it was delivered, with the delivery driver backing up next to the dumpster, properly securing it to the dumpster truck, and hauling it away to the nearest landfill or recycling center. It's important to follow the dumpster company's guidelines on weight limits to ensure the dumpster can be safely and secured hauled by the truck.
The dumpster will be weighed before and after it's emptied at the landfill. The dumpster company will pay the landfill fees onsite and then send you your final bill.
Your final bill should be the same price as the price you were quoted, but added fees for not following the rental agreement can occur if you aren't careful.
Going over your weight limit, filling your dumpster beyond the fill line, extending your rental duration, and adding prohibited disposal items are all examples of additional fees that can show up on your final dumpster rental bill if you don't follow the terms of your dumpster rental agreement.
Most companies allow you to pay your final dumpster rental bill online, but you may also be able to call their and make your payment over the phone.
After a successful dumpster rental transaction, we always recommend leaving a review for your service provider. If you had an awesome experience and want to further say "thanks" for a job well done, leaving positive reviews are a tremendous help to small local business.
It's equally as important to honestly review negative transactions, informing potential future customers of any unexpected headaches that may arise based on your real-life experience with a company.
When you're ready to find local dumpster rental providers in your area, Hometown is available 24/7 to request free quotes, read real reviews, and research companies near you.
---
---
Read on: