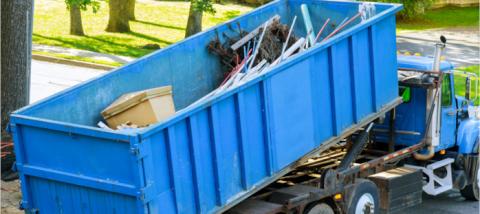 Updated August 1, 2022
When renting a dumpster, you generally have a variety of companies you can rent from.
Choosing the best dumpster rental provider for you isn't as simple as picking the one with the cheapest rates.
In this article, we discuss the four key things to consider when choosing a dumpster rental company.
Jump to:
---
---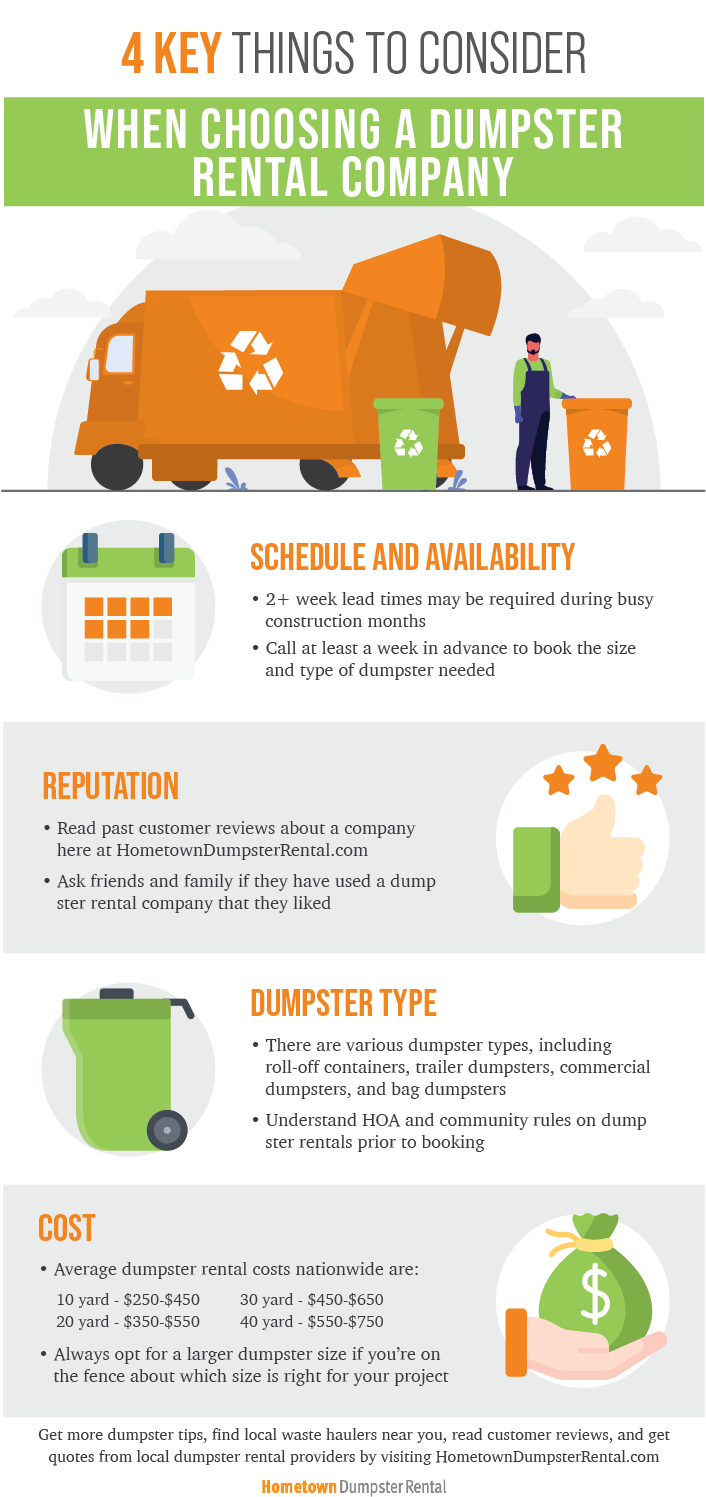 Schedule and Availability
This is an essential factor to consider.
If the dumpster size you need is not available on the day/time you need it, that particular dumpster company can be scratched off your list of options.
Getting the dumpster onsite within your project's timeline is definitely one of the first questions to ask.
During the busy season (spring and summer), some dumpster rental providers may be booked out 2-4 weeks or longer.
This is why you can't always expect to get a dumpster the same or next day and should plan accordingly.
The right waste hauler for your particular needs will have the right container size for the job, and they'll be able to drop it off at your worksite when you need it there.
You should also inquire with the rental provider how the pick-up process works.
For example, do they pick-up at a prearranged day/time, or do you need to call to have it picked up? Do they pick up early if you finish loading it early?
These are questions that can aid in helping to find the right match for your project's needs.
Reputation
With so many avenues online to research a company, including here at Hometown Dumpster Rental, it's easier than ever to see online reviews and read about other customers' experiences with a particular dumpster rental company.
If you see a pattern of common issues (being late, pricey, poor customer service, etc.) with a waste hauler, it may be best to find a different company.
If a company has little to no reviews online, it doesn't necessarily mean they're not a reputable company; they may just be a new business with little to no track record.
That in mind, use the other factors listed here to determine if they are a good company for you to work with.
Beyond online reviews, word-of-mouth is a tried and true way to learn about a company.
If a neighbor, friend or family member in your area recently rented a dumpster, ask which company they went with.
---
---
Dumpster Type
There may be situations where you need a trailer dumpster (dumpster on wheels) instead of a roll-off container (dumpster with steel wheels/feet).
For example, if your HOA doesn't allow traditional roll-off dumpsters to be placed on driveways or streets, a trailer dumpster would be a great alternative.
Not all dumpster companies offer both roll-off containers and trailer dumpsters. The same is true for commercial dumpsters, compactors, dumpster bags, or other waste removal solutions.
If you have specific disposal needs for your project, ask the waste haulers you speak to if they can meet those needs. If they can't, try a different dumpster rental provider.
Cost
The price you pay for a dumpster is, of course, an important factor when choosing a dumpster provider, but do not make the mistake of making it the only factor in your decision.
As previously mentioned, you should also factor in the type of dumpster needed, scheduling/availability, company reputation, and customer service.
For reference, here are the national average costs to rent a roll-off dumpster based on data we've collected over the past several years.
Dumpster rental prices can vary based on where you live, the type of debris you're putting in the dumpster, and who you rent from.
That's why it's important to get quotes from two or more dumpster rental providers to get a more accurate idea of fair pricing in your area.
One last important point on pricing: Don't choose a smaller size dumpster just to save on costs. This can sometimes backfire and end up being an expensive mistake.
Consider this example:
Jane rented a 10 yard dumpster for $305 to dispose of some construction debris. She debated getting the 20 yarder for $370 but wanted to save $65 and went with the 10 yard bin. Jane filled the 10 yard dumpster and still had 1-2 yards of debris leftover that wouldn't fit in the dumpster. Jane had to then rent a second 10 yarder to finish the job at an additional cost of $305. A 20 yard bin would've handled all the debris in one haul and saved Jane money in the long run, costing $370 compared to $610.
When in doubt, choose the larger dumpster!
Read on:
---
---
Get Started
Find a dumpster rental company near you by searching your location in Hometown.
Compare dumpster companies and read customer reviews, call or get online dumpster rental quotes from multiple companies, and use the tips above to make a more informed decision next time you rent a dumpster.
Learn more: