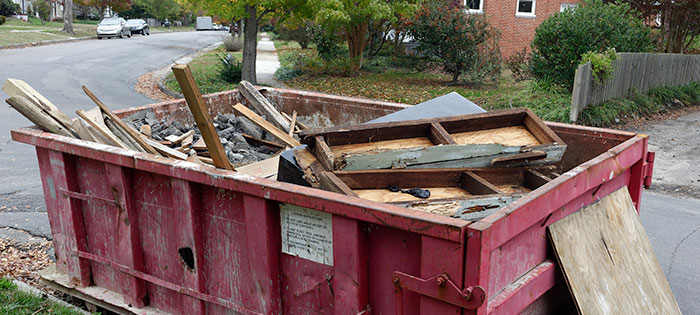 Some projects don't require a large 30 or 40 yard dumpster, and that's where 10 yard and smaller dumpsters come in handy.
When talking about small or "mini" dumpsters, there are three primary options: roll-off dumpsters, trailer dumpsters, or bag-style dumpsters.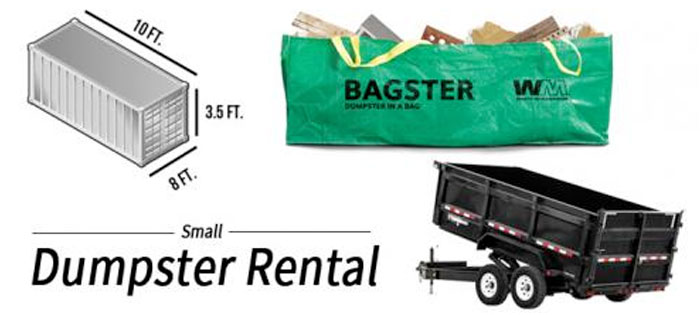 Roll-Off Dumpsters
10 cubic yard dumpsters are widely available through local waste haulers and dumpster rental companies.
10 yard containers are cost-effective and are generally the smallest option offered by most dumpster rental companies.
Some dumpster rental providers do offer smaller sizes. One such company is Bin There Dump That, which offers 4 and 6 cubic yard dumpsters at most of their locations nationwide.
A 10 yard roll-off dumpster is a great choice for handling a wide range of cleanups:
Kitchen or bathroom renovation
Home flooring replacement
Roofing debris disposal
Yard debris cleanups
Basement or garage cleanouts
Bulk trash removal
Learn more about 10 yard containers:
Trailer Dumpsters
Rubber-wheeled trailer dumpsters are not as widely available compared to roll-off dumpsters.
They do, however, offer unique advantages.
Being on tires rather than steel feet, trailer dumpsters offer great protection against damage to driveways, sidewalks, or yards.
They can also be maneuvered into difficult areas and are more easily adjusted to various loading locations if that is necessary.
Trailer dumpster sizes vary but often fall in the 8 to 12 cubic yard range.
Larger 15-20 yard trailer dumpsters (or bigger) are available by some waste hauling companies.
Some have short sides while others have tall sides, so be sure to inquire about that if it makes a difference in the type of debris being disposed of.
Learn more about trailer dumpsters: Do Dumpster Trailers Require a Permit?
Bag Dumpsters
These are the smallest dumpsters available on the market and are essentially large, heavy-duty garbage bags.
Capacities can range from two to about five cubic yards.
The most popular option is Bagster, which is a Waste Management product.
These bags offer about three cubic yards of loading capacity.
These compact "soft" dumpsters are constructed of a tarp-like material that is strong enough to hold 2,000 lbs. or more of waste or debris.
Due to their small size, they are not ideal for bulky items, such as furniture, bathtubs, kitchen cabinets, etc.
While bag dumpsters offer a seemingly convenient way to obtain a compact dumpster that is slightly larger than most trash rollcarts, it's not always the best option.
Here's why…
Higher Price
We've investigated the costs associated with Bagster and similar bag dumpsters and found the price to be comparable, or even more in some cases, compared to that of renting a standard 10 yard roll-off dumpster or trailer dumpster.
Cost varies by city but is a two-part expense:
Cost of the bag dumpster
Cost of having it picked up and hauled away
You can purchase a bag dumpster from most large home improvement stores, the waste hauler offering it, or even on Amazon.
Prices can range from $50 to $150, but again, this can vary outside this range depending on location and availability.
Once the bag is loaded up and full, you must then call your local waste hauler (i.e., call Waste Management if you're using a Bagster) and have them come pick it up.
This expense can run another $100 or more.
If the bag dumpster is filled too high or loaded with too much weight, they may ask you to remove some or charge you extra.
Total costs can top $200 for a three cubic yard bag dumpster, and that's on the lower end.
Inconvenience
Initially, it may seem that a "dumpster" you can purchase from Home Depot is a convenient option, but it's not when you consider everything.
you still have to pick it up, call to have it picked up, and possibly order another if the bag dumpster turned out to be not enough loading capacity to finish the job.
On the other hand, renting a roll-off container or trailer dumpster takes a simple phone call to book it, and the waste hauling company brings it to your site and positions it where it's most convenient for loading.
---