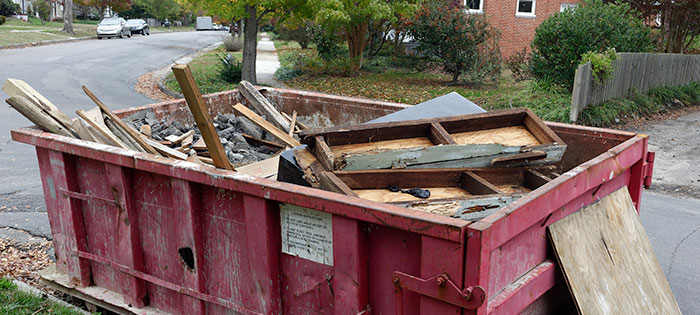 Updated December 6, 2022
Some projects don't require or simply cannot accommodate a typical size dumpster rental, which is why smaller "mini" dumpsters are the perfect solution.
The most common roll-off dumpster size is 10 yards, but the smallest dumpster sizes range from 2 yards to 9 yards and come in a variety of different designs.
When it comes to small or mini dumpsters, there are 4 main types:
---
---
Roll-Off Dumpsters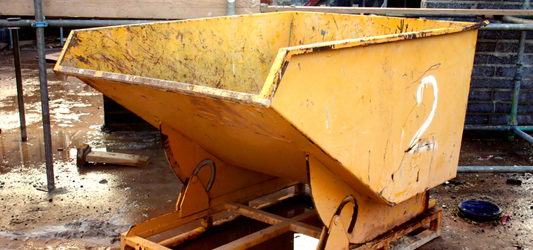 The most common size roll-off dumpster is a 10 yard dumpster and is often times the smallest dumpster that waste companies carry.
That said, more and more disposal companies are offering even smaller roll-off dumpsters to accommodate homeowners and business owners in large cities with small lots and tight spacing requirements.
Dumpsters that are smaller than 10 yards are often referred to as mini dumpsters and come in 2 yard to 9 yard sizes.
Similar to regular size roll-off dumpsters, mini roll-off dumpsters feature an open top for easy loading.
Mini dumpsters are heavy and are transported, unloaded, and loaded by specialty delivery trucks, just like other roll-off dumpsters.
Mini dumpsters are a great choice for handling a wide range of cleanups:
Small bathroom renovation
Small flooring replacement
Yard debris cleanups
Basement cleanouts
Decluttering before a move
Learn more: How to Find a Temporary Dumpster Rental Near You
Trailer Dumpsters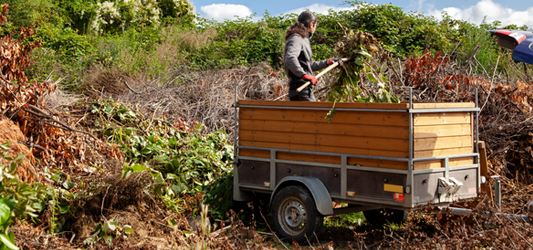 Rubber-wheeled trailer dumpsters offer unique advantages to roll-off dumpsters.
Being on tires rather than steel feet, trailer dumpsters offer great protection against damage to driveways, sidewalks, or yards.
They can also be maneuvered into difficult areas and are more easily adjusted to various loading locations if that is necessary.
Trailer dumpster sizes vary but often fall in the 6 to 12 yard range, but some waste hauling companies carry even larger sizes.
Some have short sides while others have tall sides, so be sure to inquire about that if it's an important detail for your waste disposal project.
Keep reading:
Commercial Dumpsters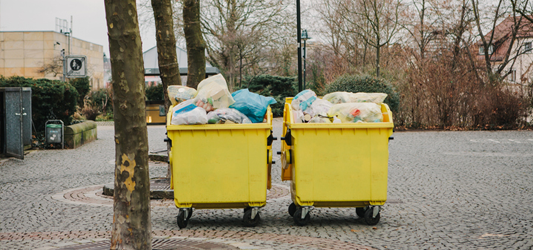 Traditionally, commercial dumpsters are rented by businesses that have an ongoing contract for weekly or biweekly trash pickup services.
In these cases, the dumpster has a permanent place outside of the business.
Commercial dumpsters come in a wide variety of sizes, starting at 2 yards and upwards of 10 to 40 yards for large establishments that product large amounts of trash daily.
As large cities throughout the U.S. see a surge in new home and office builds with tighter spacing, more and more dumpster companies are now offering their commercial dumpsters for temporary rent to property owners.
Choosing a small dumpster that is 8 yards or less is a great solution if you're in need of a dumpster rental that can fit in a tight space.
Learn more about commercial dumpsters:
Bag Dumpsters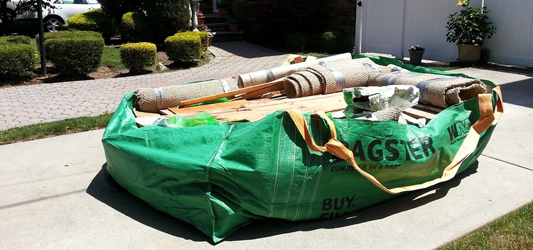 Bag dumpsters are essentially large, heavy-duty garbage bags with 2 to 5 yard capacities.
The most popular option is a Bagster, which is a Waste Management product available for purchase online or at local home improvement stores.
Bagsters are compact, soft dumpsters are constructed of a tarp-like material that is strong enough to hold around 3,000 lbs of waste or debris with a 3 yard loading capacity.
Due to their small size, they are not ideal for bulky items, such as furniture, bathtubs, kitchen cabinets, etc.
It may seem like a "dumpster" you can purchase from Amazon or Home Depot is a convenient option, but it's usually not when you consider all the details.
The initial price of a Bagster bag ranges from $25-$75, but then you have to pay for pickup and disposal.
Once the bag is loaded up and full, you must then contact Waste Management to have them pick it up.
The price of this pickup will vary based on your location but can range anywhere from $100-$350.
When compared to a 10 yard roll-off dumpster with 3x the amount of space, Bagsters don't usually provide the disposal value that local dumpster rentals can.
Whether you're interested in renting a roll-off, trailer, commercial, or bag dumpster, renting from locally-owned and operated companies most often provide the best pricing and customer service when compared to national waste management companies.
Finding local dumpster rentals near you is easy with Hometown.
We publish licensed and insured disposal companies and make it easy for users to request completely free dumpster rental estimates to make sure they're getting the pricing and availability they're looking for.
---
---
Learn more: