Updated January 19, 2023
For small cleanups like bathroom remodeling projects, attic cleanouts, spring cleaning, and small deck or patio demolitions, mini dumpsters (less than 10 cubic yards) offer the perfect balance between affordability and convenience.
Sometimes referred to as "mini dumpsters", these versatile dumpsters feature a compact footprint and are designed to easily fit in driveways and other locations that traditional roll-off containers in 10-40 yard sizes cannot.
There are some important considerations to take into account when deciding if a dumpster under 10 cubic yards is right for your project.
We'll go over:
---
---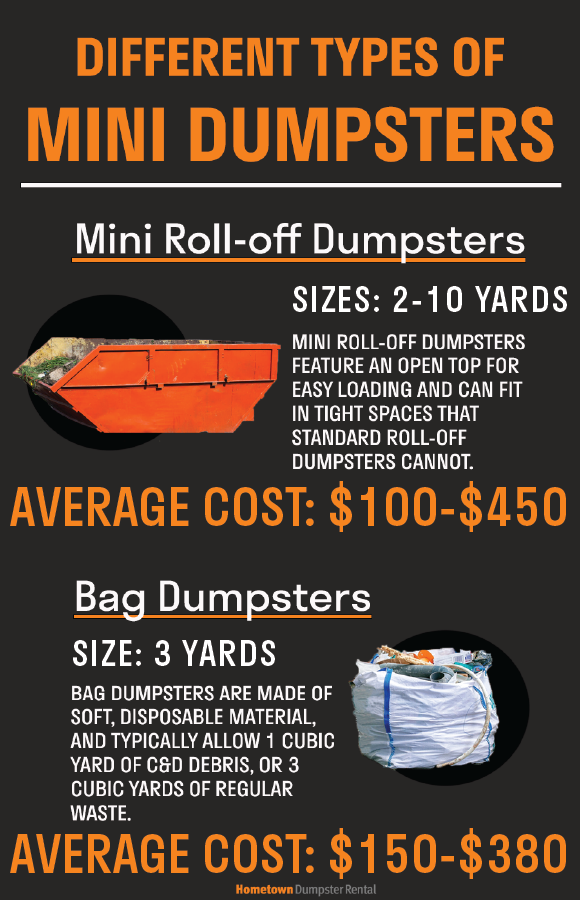 Mini Dumpsters vs Commercial Dumpsters
If you've never rented a dumpster before, you may not know what makes a commercial dumpster different from a roll-off dumpster.
In short, commercial dumpsters are the dumpsters you see in the back of restaurants, gas stations, grocery stores, and other commercial businesses.
Waste haulers provide weekly or monthly pick-ups of these bins, much like that of residential curbside service.
That said, these are not typically what is rented out for short-term cleanout projects.
Roll-off containers are the type of dumpsters that can be rented by homeowners, contractors, and businesses on a short-term basis.
A standard rental period is seven days, but this can vary depending on your specific needs and the rental company's policies.
The most common roll-off dumpster sizes are 10, 20, 30, and 40 yard containers, but mini roll-off dumpsters are available from some dumpster rental companies and can range in size from 2 yard to 10 yard capacities.
Types of Mini Dumpsters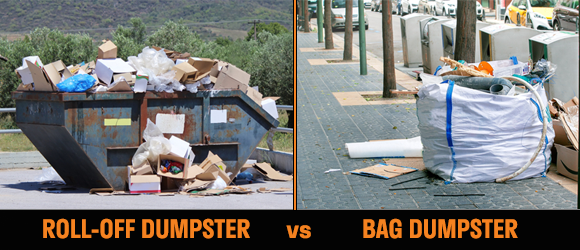 One of the most popular mini dumpster options is the Bagster from Waste Management, but that's not the only mini dumpster available.
Small roll-off dumpsters can be found in most locations across the country, ranging from 2 to 10 cubic yards.
Opting to hire a junk removal company is also a cost-effective and very convenient Bagster alternative, especially for small cleanups.
Generally, it is not an option to dump construction, demolition, or renovation debris in your weekly trash cart, so dumpsters are a great option for the disposal of construction material.
Let's take a closer look at each disposal option...
Bag-Style Dumpsters
Common bag-style dumpsters, like the Bagster, typically hold up to 3 cubic yards of material.
Because of this, they're not ideal for heavy material, like dirt or concrete.
In fact, only 1 cubic yard of heavy debris is allowed in a Bagster.
A dumpster bag is best for very small remodeling projects or small household cleanups where the debris is light and relatively small.
Mini Roll-off Dumpsters
Sizes vary, but mini roll-off dumpsters tend to range from 2-10 cubic yards.
Mini dumpsters are a type of roll-off dumpster marketed as "residential-friendly" or "driveway-friendly" because they generally feature a more compact design than the traditional 10 yard roll-off container.
A traditional 10 yard dumpster typically has a 12 ft long x 8 ft wide footprint, while mini dumpsters typically has a 10 ft long x 8 ft wide footprint.
The mini dumpster maintains the same overall capacity by having taller sidewalls.
Junk Removal
This often-overlooked option can be a cost-effective and convenient means of getting rid of construction debris, household junk, furniture, appliances, and other unwanted items.
Junk removal companies handle all the loading and hauling for you, so it's a relatively quick and easy option.
Prices for junk removal services vary by location, type of debris, and the amount of waste you have.
The average minimum charge for junk removal nationwide is approximately $75-$100.
This could prove to be the most affordable disposal method if your project is small enough, so it's something worth exploring.
Read more:
---
---
Choosing the Right Size
When it comes to renting a dumpster, it's typically a good idea to choose a larger dumpster than you think you'll need.
It's tough to accurately estimate the amount of debris generated during a construction, demolition, renovation, remodeling, or home cleanout project.
It's very common to underestimate just how much junk your project will produce, and this can be a costly mishap.
For example: Let's say you opt for a 3 yard Bagster for the cleanup, but you end up having 5-6 yards of waste or debris in the end. This would require that you rent another Bagster to complete the job, meaning you'll pay double for the Bagster, pick-up, and disposal. The average cost of a Bagster is $150-$380 (varies by area), which means you could pay $300 or more in a situation like this. On the other hand, you could've rented a 10 cubic yard dumpster for $250 and saved money, time, and hassle. Not to mention almost double the space to fill with other items if you choose.
The most important details to keep in mind when choosing your dumpster are the type and amount of debris that you'll generate.
There are plenty of things that could come up during a project that has the potential to throw off your estimates.
For instance, during a bathroom renovation, you may find that the drywall is water-damaged and needs to be replaced.
Maybe you didn't factor this into the original debris estimate, and with a bag dumpster or 6 cubic yard mini dumpster, you wouldn't have enough space to fit all the debris.
Erring on the side of caution and choosing a bigger dumpster is a good practice when renting a roll-off dumpster.
It reduces the risk of incurring overage charges and/or having to rent a second dumpster to complete the cleanup.
In general, mini dumpsters and bag dumpsters can be extremely useful and cost-efficient during a wide range of projects and small cleanups.
However, use good judgment when estimating the amount of debris your particular project will generate.
If on the fence as to which size dumpster is right for your project, a local dumpster rental provider will help you choose the ideal container size to accommodate the job.
Average Costs
Rental companies that offer mini dumpsters may stock a range of 2-10 yard containers designed specifically for residential use.
In general, the smaller the dumpster, the lower the cost.
Expect to pay $150 or more to rent a mini dumpster for a standard 7-day rental period.
We always recommend renting from a local company to save on costs.
Whether you choose to rent a bag dumpster or a mini dumpster, the overall cost will be relatively the same between all sizes, give or take $50.
Keep in mind, we're talking about out-the-door pricing with all fees included: delivery, pickup, disposal, tax, etc.
For this reason and the others mentioned above, it may be a good idea to consider going with a slightly larger dumpster than you originally intended.
Compared to larger dumpsters, the availability of mini dumpsters can be limited.
Not every dumpster rental company offers dumpster options less than 10 cubic yards in size, but doing some research can dig up the ones that do.
Search through the local dumpster rental companies at Hometown to find the local waste haulers in your area that do offer mini dumpster rentals.
Call at least two or three dumpster rental companies to increase your odds of finding the ideal dumpster size for your project and at the best possible price.
---
---
Continue reading: