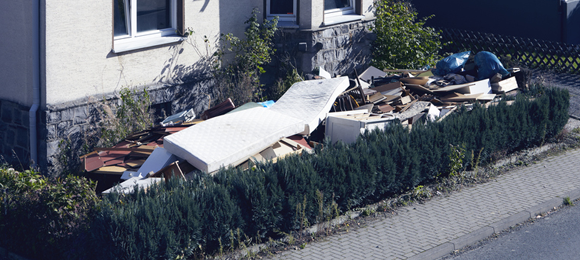 Updated August 31, 2023
More than 25% of Americans confess to having an issue with clutter in their home, whether it be household junk or general trash and debris that's been shoved to the side. On average, Americans have more than 300,000 items in their home! Studies show that 84% of Americans believe their homes are disorganized and/or not as clean as they'd like. 55% of these people say that this clutter and lack or organization causes them stress. That stress can negatively impact your life in multiple ways.
It's easy to accumulate clutter, and getting rid of it can be easy too. Hiring a junk removal company to do the heavy lifting for you makes the entire process fast and easy. Junk removal services range from curbside pick-up to full-service home cleanout assistance, and almost anything in between. The cost of junk removal varies quite a bit depending on what's involved in the project. If you're curious about how much junk removal services cost in general, this guide can answer all your questions. If you'd like to know how much your specific junk removal project would cost, reach out to local junk removal companies near you to get a free, no-obligation quote.
Hometown makes it easy to request up to three quotes with the click of a single button, read customer reviews, accurately compare what's involved in the service cost, and find the best priced junk removal service when it's convenient for you.
We'll go over:
---
---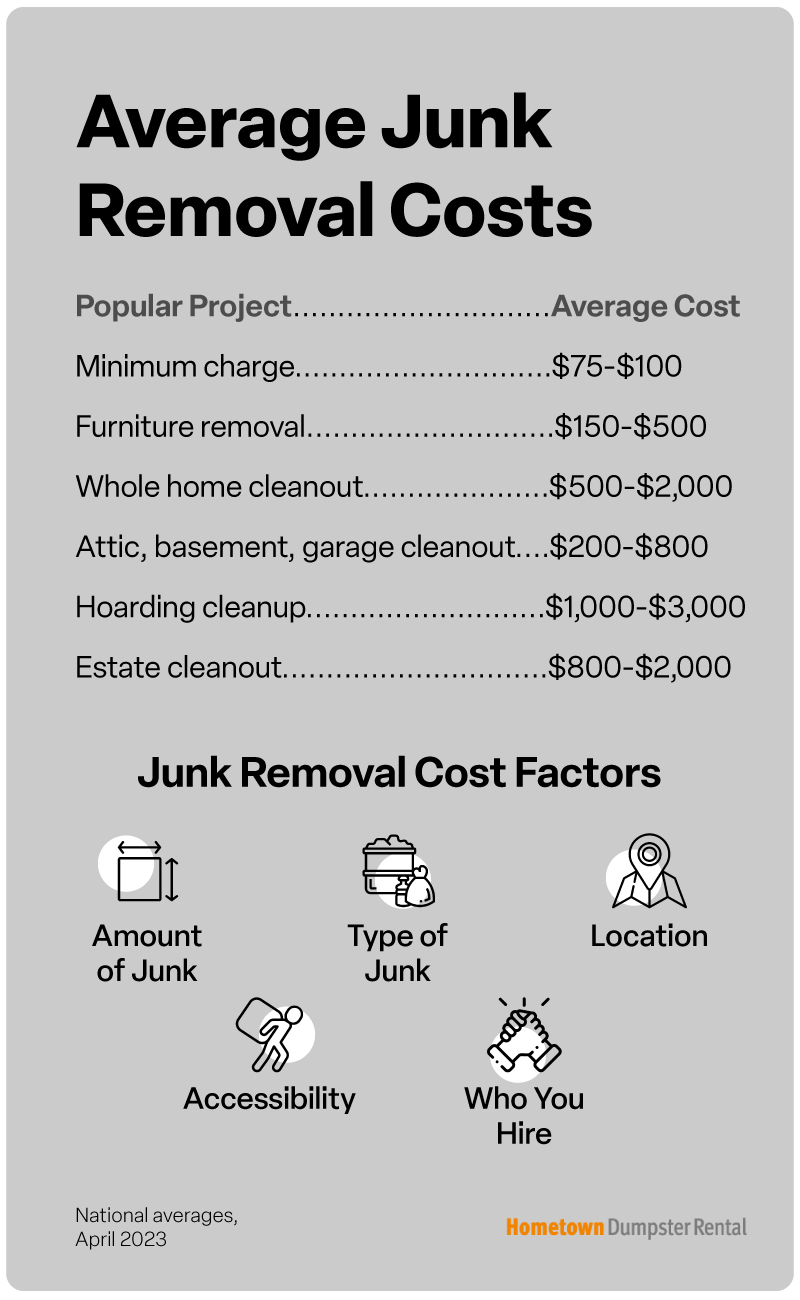 Average Junk Removal Costs
The average cost of junk removal services is $300-$1,000, but your specific junk removal project cost will depend on a number of factors, like how much you have to get rid of, for starters. Junk removal projects can range from a single piece of furniture to a hoarding cleanup, so it's reasonable to expect those projects to vary a great deal in price.
Take a look at the average cost of junk removal services based on project type in the chart below.
National Average Junk Removal Costs
Minimum Fee
All junk removal companies have what's called a "minimum fee," or a base cost that companies charge to come out to your home, business, or work site to remove your junk, trash, or debris, regardless of how small of a job it is. Junk removal minimum fees are typically only charged for the smallest, most basic removals. Minimum fees vary from one company to the next but typically range from $75-$100 on average.
Furniture Removal
Furniture removal services range from mattress removal to sectional sofa removal, piano removal, whole-home furniture removals, and everything in between. The average cost for furniture removal is $150-$500, but your exact furniture removal could cost more or less depending on how much furniture you have to remove, where you live, how accessible the furniture is, etc.
Keep reading: How Much Does Furniture Removal Cost?
Home Cleanout
Home cleanout services typically involve cleaning out unwanted items from an entire home, like in the case of a foreclosure, death, or divorce. The average cost of home cleanout services typically falls between $500-$2,000. However, whole-home cleanout costs can vary a great deal due to many factors, like how involved the work is and how much space the junk takes up in the company's truck.
Attic, Basement, or Garage Cleanout
Attics, basements, and garages are magnets for clutter and junk, and junk removal services can help with the efficient and safe cleanout of these spaces. The average cost of an attic cleanout is $300-$600. The average cost of a garage cleanout is $300-$500. The average cost of a basement cleanout is $300-$600. However, the exact cost of your cleanout project could be more or less depending on how much junk you have, where you live, etc.
Learn more:
Hoarding Cleanup
Cleaning out a hoarder's home can be a complex project, involving trash, mold, animal droppings, and other toxins in extreme cases. Hoarder cleanout services cost an average of $1,000-$3,000. It's not uncommon for hoarding cleanup services to be priced based on square footage as well as labor hours. For example, the average cost to clean up a hoarder home is $0.75-$2.50 per square foot on average, plus labor costs of $25-$60 per hour per worker.
Keep reading: 7 Reasons to Hire a Professional for a Hoarding Cleanup
Estate Cleanout
Estate cleanout services involve cleaning out unwanted items from an entire home, like in the case of a death, divorce, or foreclosure, similar to whole-home cleanouts. The average cost of estate cleanout services is $800-$2,000 on average. However, whole-home cleanout costs can vary a great deal due to many factors, like how involved the work is and how much space the junk takes up in the company's truck.
Read more: Why You Should Hire a Junk Removal Company to Handle an Estate Cleanout
Junk Removal Cost Factors
There are several factors that affect the price of junk removal services, including the amount and type of of junk being removed, where the junk removal project is, how accessible the junk is, who you hire, and more.
Amount and Type of Junk
Of course, the amount of junk you have to remove will have a dramatic impact on the price you pay for your junk removal services. A majority of junk removal companies price their services based on how much space the junk takes up in their truck or trailer. So if you only have a couple large trash bags to get rid of or a small pile of wood debris, you can expect to pay close to the minimum fee for this type of junk removal.
If you have a large, heavy grand piano, it will cost more to remove than a sofa in most cases due to the weight involved and the additional considerations that need to be taken to safely transport the item(s) into the truck/trailer and to its next destination (donation center, recycling facility, or landfill).
Location
The cost of living (COL) in your area affects the landfill fees your junk removal company has to pay to dispose of your unwanted belongings, which means higher fees get passed on to you. Someone located in Dallas, TX, where the COL is 101.6, can likely expect to pay more for junk removal services than someone in Berlin, WI, where the COL is 75.3.
Accessibility
Accessibility is a large factor in pricing as well. Is the junk in a basement or on the third floor of a walk-up apartment? Is it placed by the curb? The easier it is for the junk removal company to access your item(s), the less you can expect to pay.
If the removal of your items requires hauling items down several flights of stairs, it's reasonable to expect a higher fee than someone who is located on the first floor. As a general rule, if your junk removal requires any additional accommodations, you can expect to pay more for your project. Another example of a junk removal job that would require special care and additional costs would be the removal of hazardous material, like in the case of a hoarding cleanup.
Who You Hire
Finally, the company you hire matters, too! It's always best practice to get multiple quotes from locally-owned companies near you to make sure that you're getting a competitive price. Hometown can help you find multiple service providers near you and request a free estimate from as many providers as you'd like. Keep in mind that booking junk removal services during a company's slow season might allow the opportunity for discounted prices. The busy season for junk removal services is usually spring and summer in most regions.
Learn more: Understanding Junk Removal Quotes
---
---
Alternative Junk Removal Solutions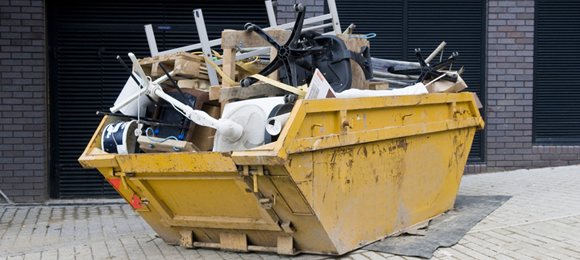 If you're finding that junk removal prices aren't within your budget or you have extra time on your hands that you'd rather use to tackle your project yourself, there are other ways to get rid of your old, unwanted junk. Selling or donating your gently used items can be time-consuming, but it pays off. Facebook Marketplace, Craigslist, eBay, and similar sites are full of people who are interested in buying used items.
If you don't have time to write listings, take photos, answer text messages or phone calls, and then drive to meet up with those that wish to purchase your listed items, donating your items instead is an easy way to unload items quickly. Donating items to places like Goodwill or The Salvation Army can pay off when tax season rolls around. If you itemize deductions on your federal tax return, you're entitled to claim a charitable deduction in the amount of the value of your donated items. Easier yet, setting items out to the road or listing them on marketplaces as free items is a quick and easy way to have your unwanted belongings removed from your property quickly and with minimal work on your end.
Large DIY home or hoarding cleanups will require a dumpster rental in order to get rid of large quantities of trash at a time. The standard dumpster rental length is one week, and having a dumpster on location for an extended period allows you time to complete your project at a comfortable pace. Hometown is a great resource for finding reputable, locally-owned dumpster rental and junk removal companies that service your area. We vet the companies we list to ensure you're only contacting the best of the best when getting free quotes.
Keep reading:
---