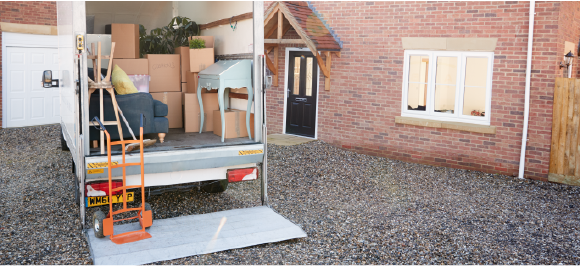 Updated August 30, 2023
An estate cleanout typically involves the complete removal of all personal items from a home, including furniture, appliances, kitchenware, clothing, and everything in between.
After an estate cleanout, the home itself is completely empty, making it unique from a standard home cleanout, in which only some items are removed for the purpose of decluttering, deep cleaning, and organizing your home, or prior to moving.
Estate cleanouts typically occur after generally unfortunate circumstances, like a divorce or the homeowner passing away.
In an estate cleanout, the homeowner or a relative removes any and all assets from their home in order to potentially sell and liquidate, or split amongst inheritors.
Regardless of your reason for needing an estate cleanout, it can be extraordinarily large and difficult task to perform, which is why professional junk removal and moving teams are a great resource in these circumstances.
The average cost of estate cleanout services typically falls between $500-$2,000.
However, estate cleanout costs can vary a great deal due to many factors, like:
---
---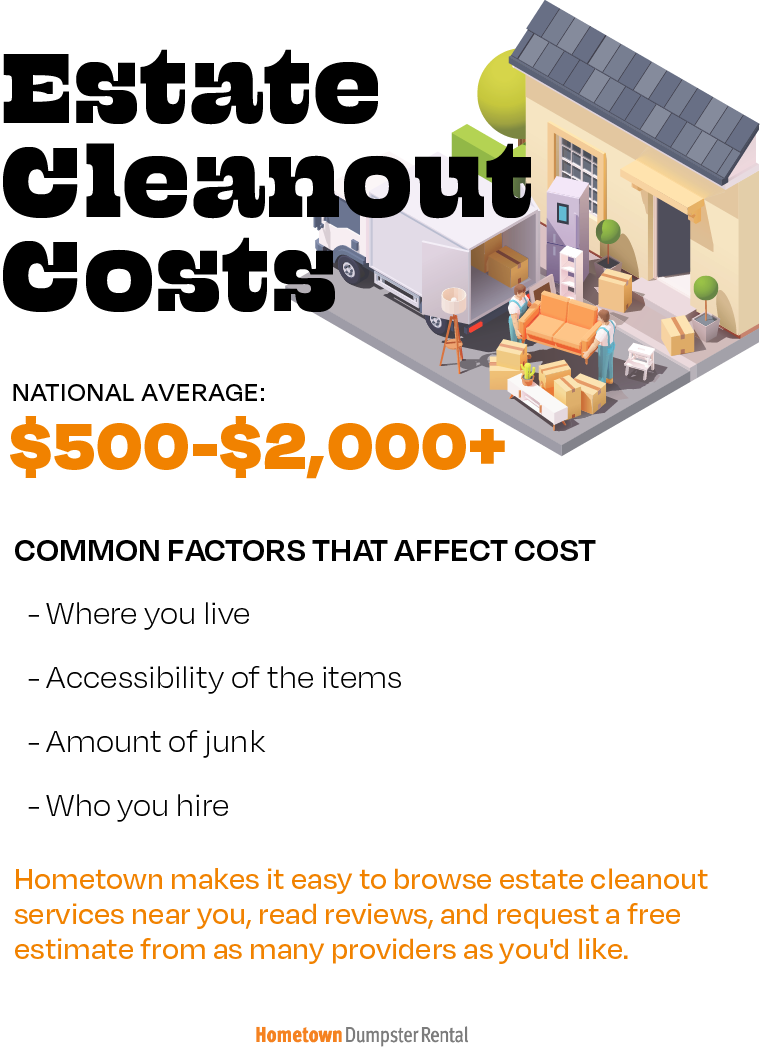 The most common factors that affect the cost of estate cleanouts include...
Where You Live
The cost of living (COL) in your area affects fuel costs and disposal fees, which typically equates to a higher bill for estate cleanouts.
Someone located in a big city, where the COL is higher, can expect to pay more for junk removal services than someone in a smaller town, where the COL is lower.
Accessibility
Accessibility is another large factor in junk removal pricing.
If junk removal companies will need to haul items down or up flights of stairs or if you have extremely heavy or bulky items, like a piano, armoire, or large couch, you can expect your junk removal costs to go up.
Any accommodations that require additional labor will be reflected in the price you're charged to complete your estate cleanout.
Likewise, if your whole-home cleanout requires hazardous material removal, it will almost always be more expensive to have your belongings hauled away.
Amount of Junk
Junk removal prices, including estate cleanouts, are often priced based on the amount of space the junk takes up in the company's truck.
So the exact price of your estate cleanout will depend on exactly how much you're getting rid of and how many trucks it takes it get the job done.
Who You Hire
The company you hire to do the work will also affect the cost to get your estate cleanout done.
Because costs vary from one company to the next, we recommend getting at least 2-3 junk removal quotes before hiring to make sure you're getting a competitive price and good, timely service.
Hometown makes it easy to browse estate cleanout services near you, read reviews, and request a free estimate from as many providers as you'd like.
---
---
Learn more: