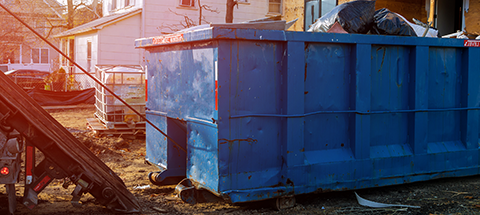 Updated April 26, 2023
Whether you're a homeowner, a contractor, a landlord, or a business owner, you know how easy it is for junk and debris to accumulate and get out of hand. Regardless of the mess you're facing, whether it's a renovation, a yard clean-up, or a garage cleanout, you may be curious how much it costs to rent a dumpster.
Renting a roll off dumpster will cost you between $250-$550 per week, but you could pay as little as $100 for a small, short-term dumpster or as much as $750+ for a large, commercial-sized dumpster.
Use our guide to learn more about how much your dumpster will cost, different types of dumpsters available, and tips on how to save money on your dumpster rental.
Table of Contents:
---
---
Dumpster Rental Cost Factors
Dumpsters are versatile and suitable for all types of projects. Dumpster companies work with both homeowners and commercial customers whose needs range from small junk removal to major demolition debris cleanups, which means everything, including the size of the dumpster you rent, the length of the rental, the type of debris going in the container, local landfill and recycling fees, and the dumpster rental company you choose will all affect the price.
Type of Dumpster Rental
Before ordering a large roll-off dumpster commonly used for major renovations or big cleanups, consider all the dumpster options available to you. For example, you may be better off using a dumpster bag if you have a very small amount to get rid of, or perhaps a junk removal crew could simply haul away a few large items on your behalf. If you need your dumpster placed in a tight space for a short period of time, a trailer dumpster may be a good choice.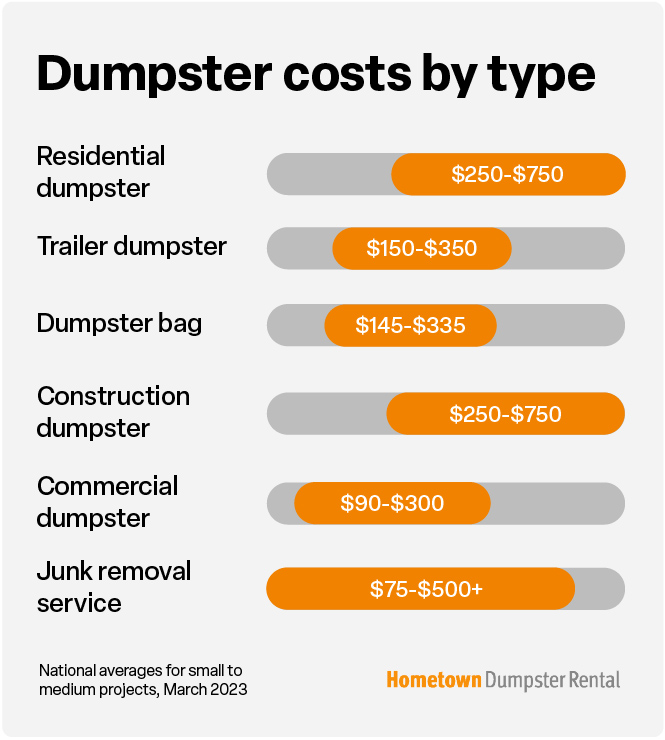 To get an exact quote for your dumpster rental project, get free dumpster quotes from companies near you.
Roll-Off Dumpster
Roll off dumpsters are the most popular type of temporary residential dumpster rental. A small residential dumpster costs $250-$350 per week on average, and that typically includes an average weight limit for the dumpster of 2-3 tons or less. A larger residential dumpster costs $450-$750 per week on average, and that typically includes an average of 4-6 tons or more.
Trailer Dumpster
Trailer dumpsters are another great alternative to roll-off dumpsters because they can often go where larger dumpsters can't, like tight driveways, alleyways, narrow streets, etc. A trailer dumpster costs $150-$350 on average per week and typically includes a weight limit of 1,000 lbs to a ton (more in some cases).
Dumpster Bag
Dumpster bags are a great alternative to traditional dumpster rentals when you have a small amount of trash or debris that isn't bulky or sharp. A dumpster bag costs $145-$335 total on average, with the bag itself costing $25-$35 and pick-up fees ranging from $120-$335. These bags can be set up in a driveway or other location accessible by the dumpster bag pick-up trucks. Most dumpster bags have a 3 yard maximum capacity or 1 yard capacity if you're putting heavy debris in the bag.
Construction Dumpster
Construction dumpsters are very similar to residential roll-off dumpsters and come in a variety of sizes. Construction dumpster rental costs anywhere from $250-$750 per week on average. Construction dumpsters often require being emptied, or swapping the dumpster out for a new one, multiple times before the project is complete. The larger the dumpster and the more you need it emptied, the more you can expect to pay for your construction dumpster.
Commercial Dumpster
Commercial dumpsters cost anywhere from $90-$300 per month. They come in a variety of sizes and typically range from 2 yards to 8 yards. They are the best option for business owners or landlords looking to manage trash, junk, or debris on an ongoing basis. These are typically the large, covered trash containers you see at apartment complexes, gas stations, restaurants, and other businesses. They get emptied on a pre-determined schedule, either weekly, bi-weekly, or monthly in most cases. If you need a dumpster that isn't temporary and can handle commercial trash collection, this is your best option.
Junk Removal Service
For an average cost of $75-$300, you could avoid heavy lifting altogether by hiring a junk removal company instead. Junk hauling companies can handle small projects, like removing a couple pieces of furniture or bags of trash, and large projects, like garage or basement cleanouts and even hoarding cleanups. Larger, more involved junk removal projects cost $500-$1,000 on average. All you need to do is pile up the junk you don't want for pick-up or point out what needs to be done, and they'll do the rest.
Keep reading: Comparing the Cost of Junk Removal to Dumpster Rental
Dumpster Size
Dumpster sizes come in a wide range of capacities that can accommodate anything from small residential jobs to major commercial projects. Sizes are labelled by their cubic yard capacity, like 2 yard, 8 yard, 10 yard, and 20 yard for example, as well as the amount of weight they can hold (pounds or tons).
Small dumpsters, like those that come in 2 yard, 4 yard, 6 yard, and 8 yard capacities, typically look like the dumpsters you see behind gas stations, fast food restaurants, and other businesses. They also may look like the trailer dumpsters you see pulled behind pick-up trucks and other vehicles. These "mini dumpsters" are the perfect solution for small cleanups, simple remodel projects, or cleaning up a messy yard.
Larger dumpsters, like 10 yard, 20 yard, 30 yard, or 40 yard capacity containers, typically look like the roll-off style dumpsters you see on large dumpster trucks. Consider renting these larger dumpsters when you have more than roughly seven yards of junk or debris to dispose of or if the debris is extremely heavy, like with concrete removal or other demolition and construction cleanup jobs.
Read more:
Dumpster Company
Nationally known chains, like Waste Management and Republic Services, offer a variety of trash-related services, including dumpster rentals, but they charge anywhere from $450-$650 on average per week for a 20 yard dumpster. You could save $100-$200 or more per week by renting from a local dumpster rental company instead.
Local dumpster rental companies can typically charge less due to their low overhead costs and their close proximity to customers and local disposal facilities. They also tend to offer more personal customer service.
You may also come across dumpster brokers that serve as a middleman for local dumpster management. While they may make it more convenient to rent a dumpster—especially in more rural areas where there are few, if any, local dumpster providers—you typically pay for the convenience they offer. Whenever possible, we recommend renting a dumpster from a local company to ensure you get the best dumpster price and the best customer service throughout your rental period.
Rental Duration
The average dumpster rental duration is 5-7 days. Generally speaking, companies are typically unable to offer cheaper daily rates on their dumpsters due to the nature of delivering, picking up, and emptying a dumpster, but some companies may be willing to offer you a lower rate for a shorter rental. The average weekly rate for dumpster rental is $350-$550. If you have an ongoing project that requires a longer term dumpster rental, most companies are happy to meet your needs. Many companies offer monthly rates as well, ranging from $500-$1,200 per month. If you need your dumpster for longer than expected, many companies charge an addition $5-$25 per day.
Weight
Each dumpster company includes a different weight allowance in the price of their dumpsters. For example, a 10 yard dumpster can hold 2-3 tons on average and costs between $250-$450. A larger dumpster, like a 40 yard container, can hold 6-8 tons on average and costs between $550-$750. If you go over your dumpster's included weight limit, you can expect to be charged an overage fee.
Overloading fees vary from company-to-company, but they typically range from $50-$100 for each additional ton. (Companies often prorate this fee.) This is why it's important to discuss your project with the dumpster companies you speak to, as they will be able to help you estimate the weight of your project's debris and ensure you get the right dumpster size and weight limit for your project.
Location
Where you live and where you need your dumpster also affects dumpster rental cost. Just like the cost of living varies throughout the country, so do dump fees and recycling fees, which have a direct impact on your dumpster cost. If you live in an area with a higher cost of living, you can expect to pay more for your dumpster than someone who lives in an area with a lower cost of living.
Debris Type
The type of trash or debris going in your dumpster can also affect cost. For example, some dumpster companies have different rates for dumpsters rented for construction debris than for dumpsters rented for household junk. This is another reason why you should give the dumpster companies you speak to as much detail as possible. This will ensure you get the right dumpster for your debris type and the amount of debris you have, as well as avoid potential fees for adding prohibited items to your dumpster.
Permits
Most dumpster companies include the price of dumpster permits in their total service cost. However, if you are working on a construction project, you may be responsible for obtaining a separate dumpster permit, which costs $10-$100 in most cases. Check with your local building department for more information.
Average Dumpster Rental Cost by Size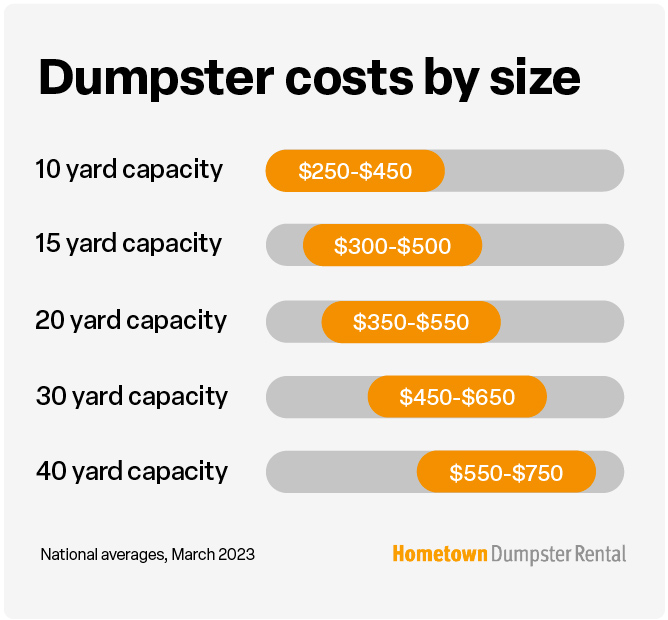 To get an exact quote for your dumpster rental project, request dumpster rental quotes from companies near you.
Dumpster sizes range from as small as 2 yards to as big as 40 yards, and the cost to rent them varies quite a bit. Here's a look at the average cost of a roll off dumpster for a weekly rental...
2 Yard to 8 Yard Dumpsters
Dumpsters that fall in the 2 yard to 8 yard capacity range typically cost $75-$300 per week. These dumpster sizes are perfect for small cleanups and business waste management.
10 Yard to 20 Yard Dumpsters
10 yard, 15 yard, and 20 yard dumpsters usually cost between $250-$550 per week. These sizes are ideal for medium-sized cleanups, small renovations, and small amounts of heavy debris, like concrete or brick.
30 Yard and 40 Yard Dumpsters
The cost to rent a large dumpster, like a 30 or 40 yard container, ranges from $450-$750 per week. These dumpsters are a great choice for large renovations, whole-home cleanouts, and medium to large amounts of heavy debris.
---
---
Cost of Dumpster Rental vs Junk Removal Services
Professional junk removal costs $75-$300 on average for small- to medium-sized projects but can cost as much as $1,000 or more for larger cleanup projects. The average price to rent a dumpster is $250-$450, so in the case of very small projects, junk removal services may be the cheaper option and could save you money.
Each option offers convenience in different scenarios. For example, if you need to manage waste from an ongoing renovation project, dumpster rental allows you to add the debris to the dumpster as you go, keeping your site clean and safe. If you have a pile of junk you no longer want, junk removal companies can remove all of it at once. While all-inclusive junk removal is more convenient when you need to remove junk or debris in a single trip, dumpster rental is more convenient for ongoing waste management or when you have a cleanup project that will take multiple days to complete.
Similarly, if you have more than just a small cleanup to do, junk removal services can get expensive for larger projects because they are all-inclusive. Weigh the pros and cons of convenience and price to determine whether to rent a dumpster or hire a junk removal service.
Learn more: Comparing the Cost of Junk Removal to Dumpster Rental
Tips to Save on Dumpster Rental
Rent from a Local Dumpster Rental Company
Many people don't realize that there are three different types of dumpster companies, and understanding the distinction between these companies can save you money and get you the best price for a roll off dumpster.
3 Types of Dumpster Rental Providers
Independent, locally-owned dumpster services
Large, national trash companies (Waste Management, Republic Services, etc.)
Out-of-state brokers that book the dumpster and pass the order on to a local service provider
At Hometown, we always recommend renting from a local dumpster rental service because nine times out of ten, they offer better customer service and lower prices. Your other two options—renting from a large, national hauler or from a dumpster broker—are almost always more expensive for a worse customer experience.
Big, national companies, like Republic Services and Waste Management, are excellent for regular weekly collection of residential trash. For curbside trash pickup, these companies run highly efficient operations with very competitive prices, but it's a different story for temporary dumpster rental.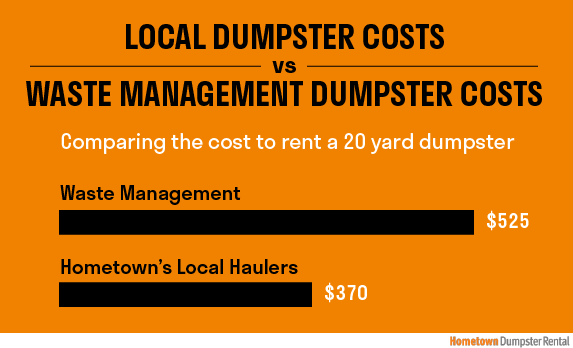 Compared to small and local disposal services, renting from big dumpster companies costs quite a bit more.
We surveyed 48 U.S. metro areas and compared Waste Management's dumpster prices to local dumpster services. Because 20 yard dumpsters are the smallest size container that Waste Management offers, that's the container size we've compared.
On average, the cost to rent a 20 yard dumpster from Waste Management is $525 compared to $370 from a local hauler. Dumpster rentals from local companies can save you $155 on average or more in some cases. And along with better prices, local dumpster companies also tend to offer better customer service.
Many local companies are family operated businesses, so when you call, you typically talk to an owner or someone with direct and immediate access to the owner. National companies can be more challenging and offer less attentive customer service.
Avoid High-Priced Brokers
As mentioned above, we recommend avoiding dumpster brokers and instead renting from a local company.
Dumpster brokers often appear to be local haulers, but they are actually an out-of-state middleman.
They take orders for dumpsters at increased prices (generally 10-20% higher than local prices) and then pass that order on to local haulers, keeping the difference in price for themselves.
The unsuspecting homeowner or contractor is often unaware that they booked their dumpster with a high-priced middleman, not the actual service provider.
It can be difficult for renters to know which companies are brokers and which companies are legitimately local, but here's a helpful hint: Brokers tend to have toll-free numbers.
They also often falsely present themselves as "budget" or "discount" haulers.
Some of the most common dumpster brokers in the U.S. include:
Bargain Dumpster
Budget Dumpster Rental
Big Red Box
Discount Dumpster Shop
Dumpster Rental Guys
We always recommend hiring a local dumpster service over dumpster brokers, but in some areas, local haulers aren't easily accessible.
This may be because they are a one- or two-man company that is operating at maximum capacity and don't have a dedicated staff to answer phones.
A reputable broker can be a good bridge to these companies.
Keep reading: Rent a Dumpster From a Prescreened Local Dumpster Service
Be Prepared When Contacting Companies
Because so many factors affect your actual dumpster price, it's usually necessary to compare rates by contacting haulers directly for quotes.
Speaking with companies also allows you to directly confirm the company's availability to deliver your size on your date (availability is not a given, many companies have full schedules). Talking directly to the company can also give some insight into the level of service you can expect to receive.
Here are some examples of the questions dumpster rental companies will ask you:
Do you know what size you need?
What will you be putting in the dumpster?
Where are you located?
When do you need delivery?
How long do you need the dumpster?
Here are questions you should ask dumpster rental companies before renting:
How much weight is included in the price?
What happens if I go over the included weight? How much does it cost per ton?
How many days are included in my rental period?
What happens if I need to rent the dumpster for longer?
Many local dumpster services need your location and the type of debris you're putting in the dumpster to provide you with an accurate price quote. This is because the cost to dispose of items at the landfill can change based on the type and weight of your debris.
Similarly, travel time and fuel costs for delivery and pick-up affect cost, too. Some cities and towns may also charge for permits that your dumpster rental company should pull for you.
Compare Quotes from Local Dumpster Rental Companies
We advise getting a quote from at least 2-3 companies in your hometown to make sure you get a fair deal.
We do not recommend immediately booking with the cheapest company. Consider total costs, company reputation, and customer service when considering who to hire.
When you rent a roll-off dumpster, a specific amount of weight is generally included in your price (e.g. up to 3 tons/6,000 lbs). This is the weight of your debris only. (Don't worry about the weight of the container itself.) If you go over the included weight, you will be charged a fee for that extra weight. Dumpster weight overage charges are assessed only after your debris is weighed at the landfill, and some renters are surprised to receive an additional charge after the fact.
If your debris weighs more than the amount of weight included in your quote, you will receive an additional charge for the extra weight. The weight of debris varies a great deal.
For example, household junk typically weighs in fairly light at 1 to 2 tons, while roof shingles, concrete, dirt, and construction debris are much heavier. The fees to dump at landfills in your area are the single largest factor impacting the cost to rent a dumpster because the dumpster service pays the landfill for the weight of your debris. So, if landfill fees are $60 per ton in your area and your debris weighs 4 tons, the dumpster service will pay the landfill $240 ($60 x 4) for your debris. This is an unavoidable cost that gets passed on directly to you, and the cost to dump and process waste varies widely by region.
In the U.S., landfill disposal fees range from $60-$100 per ton (1 ton = 2,000 lbs). If you live in a region with high landfill fees (Northeast, West Coast, and many places in between), your cost to rent a dumpster will be higher regardless of which disposal service you use.
Let's consider an example...
If Company A offers a 10 yard dumpster for $250 with 1 ton of weight included (2,000 lbs) and $50 for every ton over that included weight, and Company B offers a 10 yard dumpster for $275 with 2 tons of weight included (4,000 lbs) and $50 per ton over included weight.
So, which of these companies offers the best price? It depends on the weight of your debris.
If you're disposing of a small amount of relatively light household junk and you're confident it will weigh in at the landfill at 1 ton or less, Company A would be the cheapest option at $250.
However, if you're disposing of heavier construction debris and it ends up weighing in at 3 tons, your final cost with Company A would be $350 ($250 + [$50 x 2 tons over weight]).
The final price for Company B in the same situation would be $325 ($275 + [$50 x 1 ton over weight]).
Learn more:
Make Sure You Rent a Big Enough Dumpster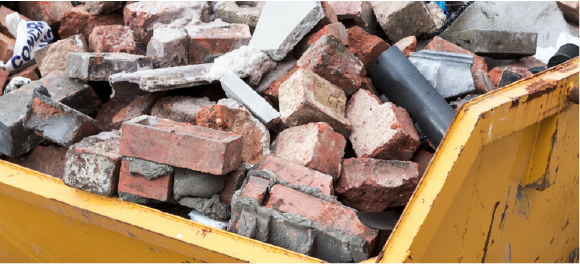 The cost of renting a dumpster increases with the size of the roll-off container, so while it may seem smart to get the smallest dumpster you need, this isn't always the case. Estimating the volume of your junk or construction debris is notoriously difficult and many underestimate what they have.
If you rent a dumpster that ends up being too small, you will have to pay double to rent the dumpster twice, so beware of skimping on the size to save a buck because it may backfire. We recommend sizing up unless you are confident the smaller dumpster has enough capacity.
On average, the cost difference between a 10 yard and 20 yard dumpster is less than $80. If the 10 yard dumpster turns out to be too small for your project, then you'll have to pay for another dumpster, which could be $300 or more depending on where you live. This is why larger dumpsters are typically the safest choice.
Donate or Sell First
f you're able to, we recommend selling any usable items you want to get rid of on Facebook Marketplace or Craigslist, or donating them to local charities, rather than just throwing them out. Not only are these options better for the environment, but they can save you money, too.
Eliminating bulk and weight that would otherwise be going into your dumpster means you may be able to rent a smaller dumpster or pay less for weight.
Share Your Dumpster With a Neighbor
Let your neighbors know you're planning on renting a dumpster and see if they'd be interested in sharing the dumpster and the cost.
Everyone has junk lying around the house that they've been meaning to get rid of. If they have just one or two items, like a couple pieces of furniture, they could pay $50 of your $250 rental. Or, if they've got a little bit more to get rid of, you could split it down the middle. Either way, you save on costs and your neighbor reaps the benefits too.
---
---
Frequently Asked Dumpster Rental Questions
How do I know what size dumpster to rent?
The best way to know which dumpster size is best for your project is to speak directly to dumpster rental companies. As professionals, they have extensive knowledge and experience dealing with all kinds of junk and debris. They know which dumpster size is best for all types of projects and can help advise you on which dumpster size to choose. Typically, the best practice is to go with the larger dumpster option when there's a chance you could need it, as the price difference is usually negligible.
What can't go in a dumpster?
Local landfills have restrictions on what they allow to be dumped at their site, and dumpster rental companies need to abide by these rules too. Restricted items may vary from one place to the next, but the most common prohibited items include: batteries, paint, adhesives, refrigerants, flammables, cleaning agents, and anything considered "hazardous."
What's the smallest dumpster you can rent?
The smallest dumpster you can rent is typically a 2 yard dumpster. The most common measurements for these containers is 6 feet long, 3 feet wide, and 3 feet high. The weight limit for 2 yard containers average 400-500 lbs. 2 yard dumpsters are best for the smallest cleanup projects that only produce a small pile of junk.
---