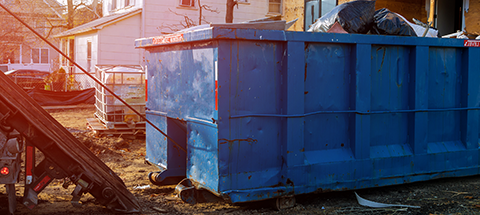 To get an exact quote for your dumpster rental project, request quotes from dumpster rental companies near you today.
The national average cost to rent a dumpster is $250-$750, but dumpster rental prices depend on a few factors, like:
Size of the dumpster you rent
Local landfill and/or recycling fees
The dumpster rental company you choose
These averages will help give you an idea of what dumpster rental costs, but your local prices may vary, and we want to help you get the best dumpster rental price.
In this guide, we'll outline our 5 biggest tips for getting the best price for your dumpster rental:
Tip #1: Rent from a Local Company
Tip #2: Avoid High-Priced Dumpster Brokers
Tip #3: Contact Companies and Be Prepared
Tip #4: Compare Dumpster Rental Quotes
Tip #5: Avoid Renting a Dumpster That's Too Small
---
---
Tip #1: Rent from a Local Dumpster Rental Company
Many people don't realize that there are three different types of dumpster companies and understanding the distinction between them can save you money.
3 Types of Dumpster Rental Providers
Independent, locally-owned dumpster services
Large, national trash companies (Waste Management, Republic Services, etc.)
Out-of-state brokers that book the dumpster and pass the order on to a local service provider
At Hometown, we always recommend renting from a local dumpster company because nine times out of ten, they offer better customer service and lower prices.
Your other two options—renting from a large, national hauler or from a dumpster broker—are almost always more expensive for a worse customer experience.
Big, national companies, like Republic Services and Waste Management, are excellent for regular weekly collection of residential trash.
For curbside trash pickup, these companies run highly efficient operations with very competitive prices, but it's a different story for temporary dumpster rental.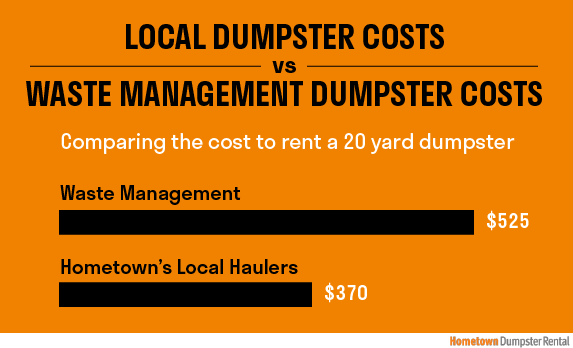 Compared to small and local disposal services, renting from big dumpster companies costs quite a bit more.
We surveyed 48 U.S. metro areas and compared Waste Management's dumpster prices to local dumpster services.
Because 20 yard dumpsters are the smallest size container that Waste Management offers, that's the container size we've compared.
On average, the cost to rent a 20 yard dumpster from Waste Management is $525 compared to $370 from a local hauler.
Dumpster rentals from local companies can save you $155 on average or more in some cases. And along with better prices, local dumpster companies also tend to offer better customer service.
Many local companies are family operated businesses, so when you call, you typically talk to an owner or someone with direct and immediate access to the owner.
National companies can be more challenging and offer less attentive customer service.
Tip #2: Avoid High-Priced Brokers
As mentioned above, we recommend avoiding dumpster brokers and instead renting from a local company.
Dumpster brokers often appear to be local haulers, but they are actually an out-of-state middleman.
They take orders for dumpsters at increased prices (generally 10-20% higher than local prices) and then pass that order on to local haulers, keeping the difference in price for themselves.
The unsuspecting homeowner or contractor is often unaware that they booked their dumpster with a high-priced middleman, not the actual service provider.
It can be difficult for renters to know which companies are brokers and which companies are legitimately local, but here's a helpful hint: Brokers tend to have toll-free numbers.
They also often falsely present themselves as "budget" or "discount" haulers.
Some of the most common dumpster brokers in the U.S. include:
Bargain Dumpster
Budget Dumpster Rental
Big Red Box
Discount Dumpster Shop
Dumpster Rental Guys
We always recommend hiring a local dumpster service over dumpster brokers, but in some areas, local haulers aren't easily accessible.
This may be because they are a one- or two-man company that is operating at maximum capacity and don't have a dedicated staff to answer phones.
A reputable broker can be a good bridge to these companies.
Keep reading:
Tip #3: Be Prepared When Contacting Companies
Because so many factors affect your actual dumpster price, it's usually necessary to compare rates by calling haulers directly.
Calling also allows you to directly confirm the company's availability to deliver your size on your date (availability is not a given, many companies have full schedules).
Talking directly to the company can also give some insight into the level of service you can expect to receive.
Here are some examples of the types of questions you can expect a dumpster rental company to ask you:
Do you know what size you need?
What will you be putting in the dumpster?
Where are you located?
When do you need delivery?
How long do you need the dumpster?
These are questions you should ask dumpster rental companies before renting:
How much weight is included in the price?
What happens if I go over the included weight? How much does it cost per ton?
How many days are included in my rental period?
What happens if I need to rent the dumpster for longer?
Many local dumpster services need your location and the type of debris you're putting in the dumpster to provide you with an accurate price quote.
This is because the cost to dispose of items at the landfill can change based on the type and weight of your debris.
Similarly, travel time and fuel costs for delivery and pick-up affect cost, too.
Some cities and towns may also charge for permits that your dumpster rental company should pull for you.
---
---
Tip #4: Compare Quotes from Local Dumpster Rental Companies
We advise getting a quote from at least 2-3 companies in your hometown to make sure you get a fair deal.
We do not recommend immediately booking with the cheapest company. Consider total costs, company reputation, and customer service when considering each quote.
When you rent a roll-off dumpster, a specific amount of weight is generally included in your price (e.g. up to 3 tons/6,000 lbs). This is the weight of your debris only. (Don't worry about the weight of the container itself.)
If you go over the included weight, you will be charged a fee for that extra weight.
Dumpster weight overage charges are assessed only after your debris is weighed at the landfill, and some renters are surprised to receive an additional charge after the fact.
If your debris weighs more than the amount of weight included in your quote, you will receive an additional charge for the extra weight.
The weight of debris varies a great deal.
For example, household junk typically weighs in fairly light at 1 to 2 tons, while roof shingles, concrete, dirt, and construction debris are much heavier.
The fees to dump at landfills in your area are the single largest factor impacting the cost to rent a dumpster because the dumpster service pays the landfill for the weight of your debris.
So, if landfill fees are $60 per ton in your area and your debris weighs 4 tons, the dumpster service will pay the landfill $240 ($60 x 4) for your debris.
This is an unavoidable cost that gets passed on directly to you, and the cost to dump and process waste varies widely by region.
In the U.S., landfill disposal fees range from $60-$100 per ton (1 ton = 2,000 lbs).
If you live in a region with high landfill fees (Northeast, West Coast, and many places in between), your cost to rent a dumpster will be higher regardless of which disposal service you use.
Let's consider an example...
If Company A offers a 10 yard dumpster for $250 with 1 ton of weight included (2,000 lbs) and $50 for every ton over that included weight, and Company B offers a 10 yard dumpster for $275 with 2 tons of weight included (4,000 lbs) and $50 per ton over included weight.
So, which of these companies offers the best price?
It depends on the weight of your debris.
If you're disposing of a small amount of relatively light household junk and you're confident it will weigh in at the landfill at 1 ton or less, Company A would be the cheapest option at $250.
However, if you're disposing of heavier construction debris and it ends up weighing in at 3 tons, your final cost with Company A would be $350 ($250 + [$50 x 2 tons over weight]).
The final price for Company B in the same situation would be $325 ($275 + [$50 x 1 ton over weight]).
Learn more:
Tip #5: Make Sure You Rent a Big Enough Dumpster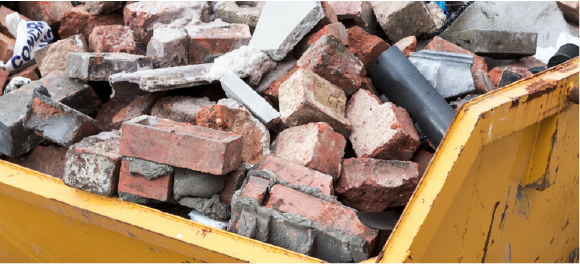 The cost of renting a dumpster increases with the size of the roll-off container, so while it may seem smart to get the smallest dumpster you need, this isn't always the case.
Estimating the volume of your junk or construction debris is notoriously difficult and many underestimate what they have.
If you rent a dumpster that ends up being too small, you will have to pay double to rent the dumpster twice, so beware of skimping on the size to save a buck because it may backfire.
We recommend sizing up unless you are confident the smaller dumpster has enough capacity.
On average, the cost difference between a 10 yard and 20 yard dumpster is less than $80.
If the 10 yard dumpster turns out to be too small for your project, then you'll have to pay for another dumpster, which could be $300 or more depending on where you live.
This is why larger dumpsters are typically the safest choice.
Read on:
Bonus Tips
Donate or Sell First: If you're able to, we recommend selling any usable items you want to get rid of on Facebook Marketplace or Craigslist, or donating them to local charities, rather than just throwing them out.
Not only are these options better for the environment, but they can save you money, too.
Eliminating bulk and weight that would otherwise be going into your dumpster means you may be able to rent a smaller dumpster or pay less for weight.
Share Your Dumpster With a Neighbor: Let your neighbors know you're planning on renting a dumpster and see if they'd be interested in sharing the dumpster and the cost.
Everyone has junk lying around the house that they've been meaning to get rid of.
If they have just one or two items, like a couple pieces of furniture, they could pay $50 of your $250 rental.
Or, if they've got a little bit more to get rid of, you could split it down the middle.
Either way, you save on costs and your neighbor reaps the benefits too.
---
---
Keep reading: