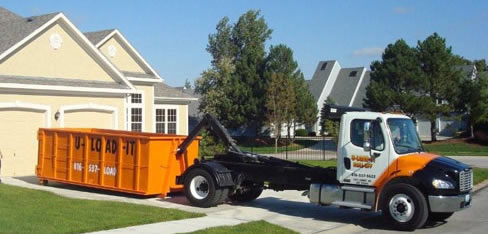 If you need to rent a dumpster from a local dumpster service, you've come to the right place. Hometown Dumpster Rental screens local dumpster services to help you find the best company in your area to rent a dumpster from. Hometown makes renting a dumpster a simple, reliable, and affordable process. Simply click on your state or the nearest major city to the right.
The Hometown Dumpster Rental Service Advantage
Dumpster service is simple and quick with Hometown. You don't have to spend a lot of time filling out any internet forms or going through a middleman to rent a dumpster. Just pick up the phone and call a preferred locally owned dumpster service directly. They will help you decide on the right size container for your job and give you a price quote up front.
Dumpster rentals are reliable. When you rent a dumpster, you want the dumpster to arrive on time and be picked up on time. Unnecessary delays to your cleanup job or construction job due to poor service costs time and money.
Some trash dumpster services are actually only middlemen. They take your order and then source it out to the highest bidder. That's the case when you go to a 'big box store' to rent a dumpster. If you're not communicating directly with the dumpster service that's going to supply your dumpster, there is a greater chance of miscommunication and poor dumpster service. There's nothing more frustrating than planning a job for Friday and having the dumpster show up on Monday.
---
---
With Hometown, you are communicating directly with a locally owned dumpster service when you rent a dumpster. There's no middleman and no miscommunication. They'll bring the right size roll-off container at the right time. When you need the dumpster picked up or switched out, they'll be there on time.
Rent a dumpster affordably. We survey the waste dumpster and construction dumpster prices in each geographic area and work with our local affiliate to ensure they are offering dumpster service at a fair and competitive price. When renting dumpsters from one of Hometown Dumpster Rental's local affiliates, you can be confident that you are getting a fair deal.
Why Rent a Dumpster from Locally Owned Dumpster Services?
National waste container and dumpster services are almost always located somewhere other than your hometown. They may outsource your job or take your dumpster order in a centralized location, passing it on to a local company that may or may not be able to meet your needs. The end result is often more red tape, frustrating service delays, and higher prices.
If you haven't rented a dumpster before, you'll find a local owner more helpful than an operator 1,000 miles away. Hometown Dumpster Rental sponsors locally owned dumpster companies that answer their own phone and process their own dumpster requests. That keeps your life simple when renting a dumpster.