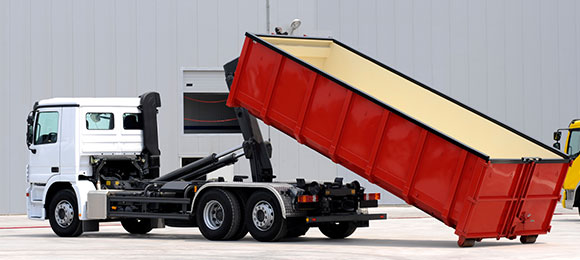 Updated August 31, 2023
Roll-off dumpster rental sizes are measured in cubic yards, indicating the volume of debris they can hold.
Choosing the wrong dumpster size can cost you additional money, either from picking a size that's too small or renting a size that's too big for your needs.
Understanding the various dumpster size options, their dimensions, and common weight restrictions for each dumpster size will help you choose the right size roll-off container for your clean-up project.
Jump to:
---
---
Common Dumpster Sizes and Dimensions
The dumpster sizes listed in the chart below are typical, but because dumpster dimensions are not standardized, they may vary from one hauler to the next.
Average Roll-Off Container Sizes
Size

Typical Dimensions

Maximum Volume

Typical Weight Allowance

10 yard
12 ft L x 8 ft W x 3.5 ft H
10 cubic yards
2-3 tons
(4,000-6,000 lbs)
20 yard
22 ft L x 8 ft W x 4 ft H
20 cubic yards
2-4 tons
(4,000-8,000 lbs)
30 yard
22 ft L x 8 ft W x 6 ft H
30 cubic yards
4-5 tons
(8,000-10,000 lbs)
40 yard
22 ft L x 8 ft W x 8 ft H
40 cubic yards
6-8 tons
(12,000-16,000 lbs)
10 Yard Dumpster
There's no perfect way to choose dumpster sizes, but a 10 yard dumpster may be appropriate for smaller residential cleanup projects.
What fits in a 10 yard dumpster?
Small to medium basement, garage, or attic cleanout
250 sq ft or smaller deck removal
1,500 sq ft of roof shingles (single layer)
Small kitchen remodel
Bathroom renovation
Read more:
20 Yard Dumpster
A 20 yard container is the right dumpster size for a wide range of projects and can hold roughly 10 pickup truck loads' worth of waste and debris.
This is one of the most popular dumpster sizes because of its price, compact footprint, and capacity.
What fits in a 20 yard dumpster?
Medium basement, garage, or attic cleanup
Flooring or carpet removal for a large house
400 sq ft deck removal
2,500-3,000 sq ft of roofing shingles (single layer)
Learn more:
30 Yard Dumpster
A 30 yard dumpster holds 30 cubic yards of waste.
Common dumpster dimensions for a 30 yard roll-off container are 22 ft long by 8 ft wide by 6 ft high.
A 30 yard dumpster may be the right solution for complete whole-home or estate cleanouts and commercial cleanup projects.
What fits in a 30 yard dumpster?
Debris from a large home addition project
New home construction debris
Garage demolition debris
Whole-home window or siding replacement (small-to-medium size home)
40 Yard Dumpster
A 40 yard dumpster holds 40 cubic yards of waste.
Again, dumpster sizes and dimensions may vary but common dimensions for a 40 yard dumpster are 22 ft long by 8 ft wide by 8 ft high.
A 40 yard dumpster is ideal for large residential projects, commercial cleanups, and industrial applications.
What fits in a 40 yard dumpster?
Window or siding replacement for a large home
Commercial roof tear off
Commercial or office building cleanout
New construction or major addition debris (larger home)
Large amounts of demolition debris, trash, paper, or cardboard
Keep reading: Large Dumpster Rental Guide: When Is a 30 yard or 40 yard Dumpster the Best Choice?
---
---
What to Consider When Choosing a Container Size
The 3 biggest factors that you should consider when choosing a dumpster size are:
Amount and type of debris
Spacing at the work site
Weight and height restrictions
Amount and Type of Debris
Estimating the volume of your debris is challenging, especially when you need a dumpster for construction debris or household junk.
Choosing a dumpster that's too small can be an expensive mistake.
If you attempt to save a few bucks by trying to squeeze your debris into a dumpster that's too small, you'll end up paying substantially.
The best-case scenario is you're left with the excess debris and have to figure out how to get rid of it later.
The worst-case scenario is you have to pay for two dumpsters to remove all the debris, instantly doubling your intended budget.
Avoid all of this by sizing up your dumpster rental if you're even remotely unsure if your debris will fit.
On average, sizing up costs less than $100 and can easily save you money in the long run.
Spacing at the Work Site
If you need the dumpster delivered to a small driveway or alley, be sure to double-check the dimensions of the dumpster with the hauler and compare it to the space you have available.
Most roll-off containers are 8 ft wide, but the length of the dumpster increases as you size up.
When considering the space you need, keep in mind that dumpsters typically have either one 8 ft wide door or two 4 ft wide doors that swing open on the back.
These doors make walking in heavy items much easier, so be sure to account for the additional 4-8 feet of space needed to utilize this feature.
Weight and Height Restrictions
A dumpster service cannot legally haul your debris on the road if the container is filled too high, for safety's sake.
If your dumpster is filled too high, you'll have to remove the excess yourself or be charged a fee if the dumpster company does it for you.
If your items exceed the dumpster's weight allowance, you'll have to pay for the overage fees after it's weighed at the landfill or recycling facility.
Keep reading:
Rent from a Local Dumpster Provider
Choosing a roll-off dumpster size can be intimidating if you're a first-time renter, but the professionals you rent from are incredibly good at helping you make the best decision for your disposal needs.
Renting a dumpster from a local company is almost always a better deal than renting from large, national waste companies.
Hometown makes it easy to find locally-owned dumpster companies in your area, read verified customer reviews, and request free quotes from as many providers as you'd like.
We recommend getting at least three different quotes to ensure you get the best price and customer service.
---
---
Learn more: