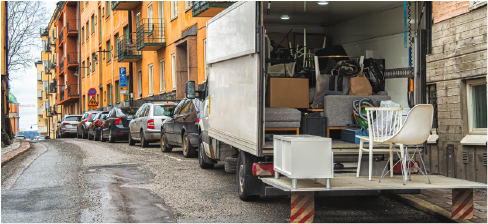 Updated March 13, 2023
Looking for junk removal services in your area but want to make sure you're hiring the right company for the job?
Getting 2-3 quotes is always recommended when hiring any contractor or company. This helps to ensure you get the best customer service for the best price.
However, each junk removal quote is not the same, so it's important to know what to look out for in order to ensure you know which estimate and which junk hauling company is the best option for your junk removal project.
In this guide, we'll go over the main things to consider when comparing junk removal quotes—besides cost—to ensure you make the best decision.
Jump to:
---
---

Are They Licensed and Insured?
The first and main deciding factor that should come into play when hiring any contractor is whether or not they are licensed and insured to perform the work.
Regardless of your project's size or complexity, there is always a potential risk for accidents to happen, and you want to be sure that you and your property are protected.
For example, if a crew member is injured during your junk removal project, an uninsured company will not have the coverage needed to pay for any damages, and you could end up being stuck paying for their medical bills, workers' compensation, and any potential legal fees.
This is why it's so important to ensure any company you hire to work on your property is qualified, licensed, and insured.
In addition to safety and legal risks, hiring an unregistered or unlicensed company can put you at risk of becoming a victim of theft or other property damage.
Keep reading: Why You Should Hire a Licensed and Insured Junk Removal Company
Do They Have a Good Reputation?
Another important factor to consider when hiring a junk removal company (or any company for that matter) is their reputation with customers.
If a company has bad reviews (or no reviews) from past customers and/or is unwilling to provide references of their work and customer service, this may be a red flag warning you to hire someone else.
At Hometown, we collect reviews from verified customers to ensure all reviews on our site are real, and also to assist future customers in finding the right junk removal company in their area.
Local friends and family, as well as your neighborhood Facebook group or Nextdoor app, can also be very helpful in learning a local company's reputation.
If several others have had positive experiences working with a certain company, chances are you'll have a positive experience, too.
Another great gauge of a company's level of customer service is their willingness to answer any questions a customer may have with kindness and patience.
If a contractor or company seems impatient or irritated with you at any point, this isn't a sign of great customer service.
Instead, look for a company or contractor who is patient, responsive, and able to answer your questions in a timely manner without pressuring you in any way.
When Are They Available to Do the Work?
A company could be the best in the business—reliable, attentive, fairly priced, and customer-oriented—but if they aren't available to assist with your junk removal project when you need them, you'll need to find a company that is.
Oftentimes, junk removal companies can provide services within 24 hours, but during the busier seasons, like spring, it may take them a bit longer to get out to your site.
If you're in a hurry to get your junk removed, even a minor delay can be a headache.
Getting multiple quotes from local junk removal companies increases the chances of finding a great company with the availability you need.
At Hometown, we specialize in helping people find qualified junk removal companies in their area.

Finding the right junk removal company in your area is easy:
Click the "Find Pros" button in the upper right corner of this page, and select "Junk Removal" (or click the "Find junk removal services near you" links on this page).
Enter your zip code in the search bar, and click the "Find Pros" button.
Browse a complete list of locally-owned junk removal companies in your area.
From there, you can read about each company, see a list of services they offer, their
minimum fees for junk removal services
, and reach out to them for a quote whenever you're ready.
To be sure you choose the best junk removal company, we recommend reaching out to
multiple junk removal companies for quotes
and
getting answers to the most important junk removal questions
from each one in order to accurately compare project estimates and make the best decision.
---
---
Read on: