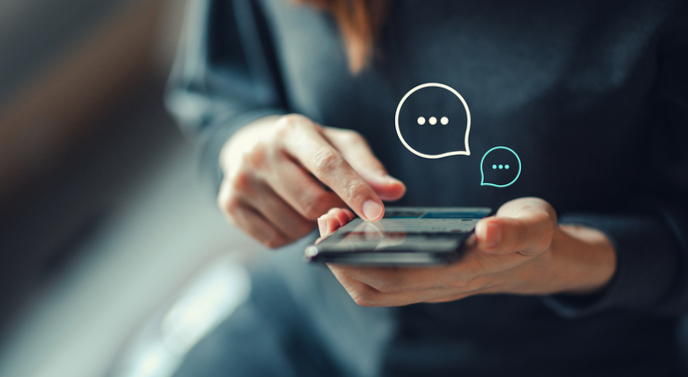 Updated July 1, 2022
It's important to rent from a qualified dumpster rental provider that is thorough in communicating the details and gathering information from you.
The more details you can provide, the more accurate the dumpster rental company can be in helping to meet the needs of your project.
A reputable dumpster rental company will take the project details you provide them and recommend the most cost-efficient and convenient dumpster solution to meet those needs. They can help minimize the risk of incurring overage fees, additional dumpster charges, and other fees.
This guide will cover the key details to share with a dumpster rental company when renting a roll-off container or trailer dumpster.
Jump to:
---
---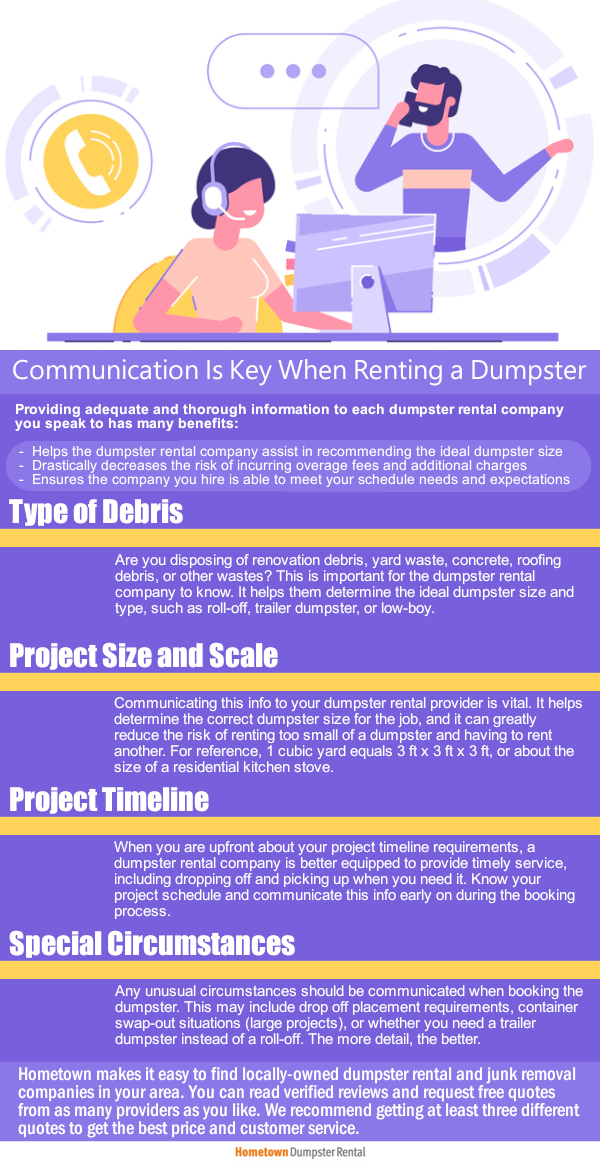 Type of Debris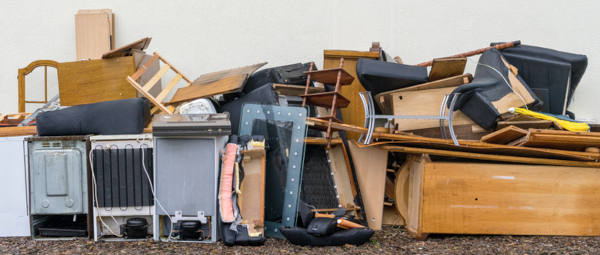 Always be sure to share the details of the type of waste, junk, or debris you're disposing of.
One of the main factors dumpster rental companies will need to know is the type and amount of debris you have to get rid of.
Dumpster rental companies have rules when it comes to dumpster loading.
Some rental providers don't allow certain types of mixed loads, such as mixing concrete debris with general household trash.
Certain debris needs to be clean loaded. Local laws often regulate how certain types of debris are handled, such as whether it is recycled or landfilled.
When calling to get a quote or book a dumpster, know exactly which types of debris will be loaded in the dumpster.
Common types of debris include household trash, yard debris, concrete/asphalt, construction debris, furniture, appliances, roofing materials, or dirt/inert debris.
With the above information, the dumpster rental company will be able to suggest the most appropriate dumpster rental solution to accommodate the job.
Read more:
Project Size
Your project size is immensely important in helping to determine the proper dumpster size for the job as well.
Reputable dumpster rental companies are incredibly accurate at knowing which size dumpster(s) are ideal for various projects.
You don't need to know the exact cubic yardage, but you do need to know the details of the project.
For example, when renting a dumpster for a shed demolition, it's important to know the size of the shed and the materials it's made from (wood, plastic, etc.).
By giving the dumpster rental company a descriptive summary of the project, they will be able to suggest the right dumpster solution.
If you want to estimate the amount of debris yourself, 1 cubic yard of debris measures 3 ft x 3 ft x 3 ft.
You may find it easier to visualize a standard kitchen stove, which is approximately equal to 1 cubic yard.
Schedule Expectations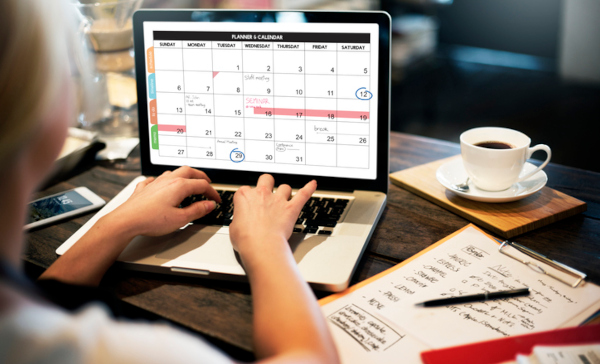 Discuss your project timeline with the dumpster rental company to ensure it aligns with their drop-off and pick-up schedule.
This will help keep the project moving smoothly and minimize the risk of delays.
Call the dumpster rental company well in advance of the project to ensure they can meet your schedule requirements.
Discuss when you need the dumpster dropped off as well as when you need it picked up. If the rental company cannot meet those needs, try a different company.
Special Circumstances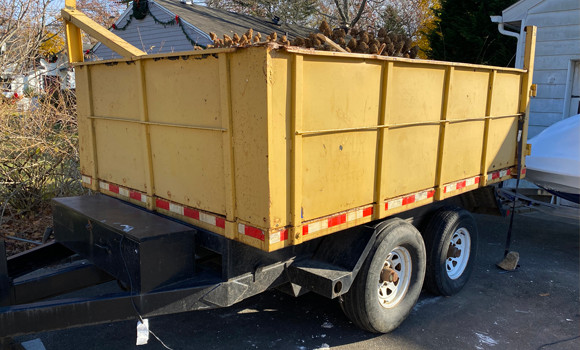 Not all projects are the same. Every construction project, estate cleanout, roofing job, or any other job requiring a dumpster has special nuances that may need to be communicated to the dumpster rental company.
Here are some examples:
There are any number of special circumstances that may apply to your situation.
Anything that may help the dumpster rental company be more accommodating to your situation should be discussed when you call for a dumpster quote or book online.
---
---
Learn more: