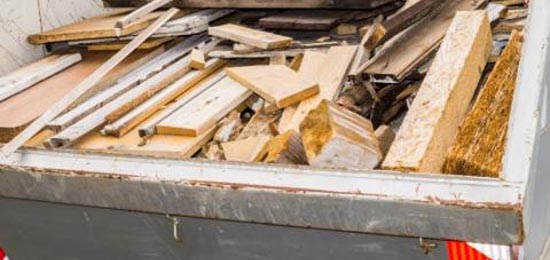 Updated May 3, 2022
A small shed demolition project can be considered a DIY job if handled safely with the proper tools.
One of the most essential tools for DIY shed demolition is a dumpster to handle the cleanup and debris disposal.
In this guide, we'll discuss:
---
---
How Much Debris Does a Shed Demolition Produce?
Shed demo is a pretty straightforward project, especially if there is no electric or plumbing to deal with.
It may or may not require a permit depending on your local city demolition laws.
Sheds come in various designs, so the disposal needs can vary significantly based on size and materials used.
It's common to underestimate your dumpster size needs when disposing of debris from a shed demolition project.
To avoid this problem, choose a dumpster slightly larger than you think you need.
For reference, a typical 8 ft x 10 ft wood shed with a gable roof can consist of around 100 2x4 and 2x6 boards for the frame in addition to roof trusses, siding, flooring, trim, hardware, window(s), and shingles.
Needless to say, that's a lot of debris to dispose of, and usually a Bagster or equivalently-sized bag dumpster won't cut it for this project.
Learn more about shed demolition:
---
---
Which Dumpster Size is Best for Shed Demolition Debris?
Average size sheds are generally 8 ft x 8 ft, 8 ft x 10 ft, or 10 ft x 12 ft.
A 10 yard dumpster will accommodate most shed demolition projects, oftentimes with room to spare, especially if you take care when loading the debris.
Many dumpster rental companies offer other similar options, too, like 12 yard and 15 yard dumpsters or trailer dumpsters.
The cost of these dumpsters generally ranges from $250 to $450 depending on where you live.
Shed demolition debris is allowed in roll-off dumpsters and not your curbside trashcan, so avoid putting lumber, roofing material, or metal scraps in your curbside trash container.
When booking the dumpster, be sure to tell the dumpster rental provider(s) you speak to about your project, the types of debris you'll be disposing of, and how much.
This ensures all the debris is allowed in the dumpster and no problems or additional fees will be incurred later on.
Don't wait until the last minute to rent a dumpster either.
We recommend booking your dumpster a week or more in advance of the drop-off date to ensure the container you need is available.
A trailer dumpster may be a great option if the dumpster is to be positioned in a yard, or when damage to a driveway is a concern.
Being on tires, these dumpsters are driveway-safe alternatives to roll-off containers but are not as widely available.
Clear a path for the dumpster truck driver to drop off the dumpster in a convenient location for easy loading.
Remove cars, trash bins, outdoor toys, etc. to make it easier for the truck to drop off and pick up your dumpster.
Learn more:
How Do I Find the Best Dumpster Rental Company?
Find a dumpster rental company near you by searching your location on Hometown.
Browse companies serving your area, read customer reviews, and easily request dumpster rental quotes from multiple companies, and use the tips above to make a more informed decision next time you rent a dumpster.
---
---
Keep reading: