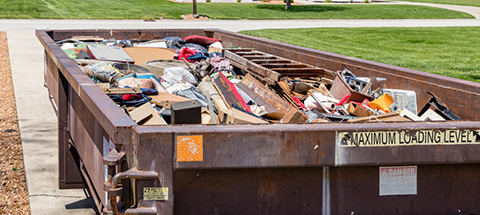 Updated August 1, 2022
When you need to rent a dumpster, Hometown understands that you want to get great service for the best price.
Dumpster rentals range in pricing from one area and one provider to the next, so understanding the tricks to getting the cheapest dumpster rental possible is key.
Jump to:
---
---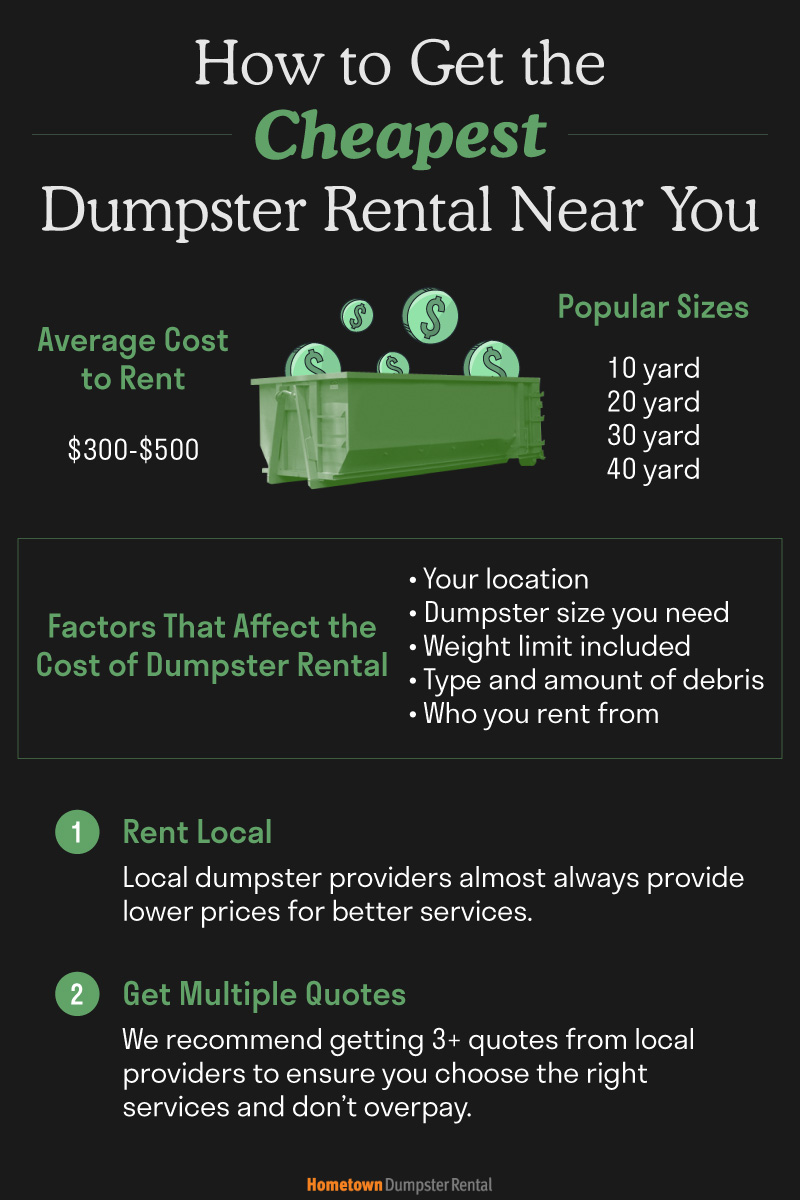 Average Dumpster Rental Costs and Factors
The national average cost to rent a dumpster is $300-$500.
However, there are a number of factors that come into play when it comes to dumpster pricing, like...
Your location
Dumpster size you need
Weight limit included
Type and amount of debris going in the dumpster
Who you rent from
Having a thorough understanding of what affects dumpster pricing will help to ensure you pay a fair price for your dumpster rental.
Learn more:
Utilize Hometown to Compare Providers
Hometown Dumpster Rental is the number one place for finding local dumpster providers in your area.
You can read customer reviews and request free quotes from as many service providers as you'd like.
This will help to ensure you choose the best services for the best possible price.
We always recommend hiring from a local dumpster company because they generally provide better customer service and better prices than the big name services.
---
---
Get Multiple Quotes in Advance
Getting quotes from at least three providers is ideal because it allows you to compare prices, including weight limits, availability, and more, all of which will help to ensure you pay the lowest possible price for your dumpster rental.
Because so many factors affect your actual price, you'll want to be sure to have a decent understanding of your project and the debris you'll be tossing before reaching out to providers.
Dumpster providers are great at recommending the right dumpster size for specific projects, but they need certain information to be able to accurately do so.
Be prepared to answer the following questions when speaking to different dumpster service providers:​
Where are you located?
What type of debris will you be putting in the dumpster?
Roughly how much debris will you have?
When would you like to rent the dumpster?
How long do you need the dumpster?
Likewise, be prepared to ask the providers you speak to the following questions in order to clarify what is included in your dumpster quote:
How much weight is included in the price?
What happens if I go over the included weight? How much does it cost per ton? Is this fee prorated?
How many days are included in my rental period?
What happens if I need to rent the dumpster for longer?
---
---
Learn more: