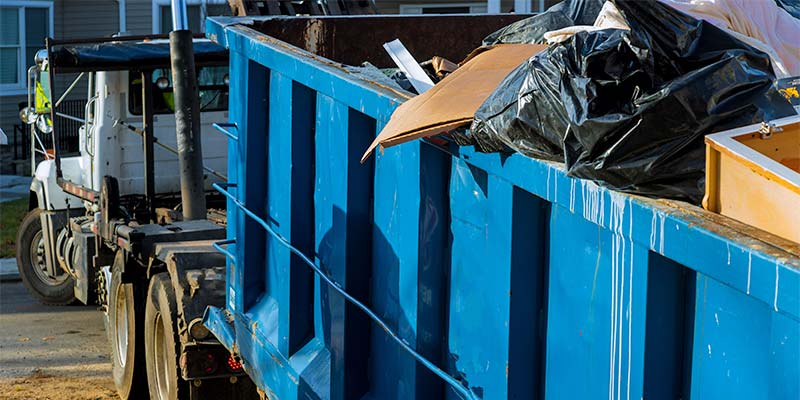 Updated April 3, 2023
When you need a dumpster dropped off at your property to help dispose of household junk, yard waste, construction and demolition debris, or another type of waste, it's important to make sure you're renting from a company that has a good reputation and is capable of delivering a high-quality container in a timely, affordable fashion.
It's common to hyper focus on pricing when hiring any service provider—and dumpster rental services are no different—but professionalism and reliability are just as important as pricing.
One of the best ways to research a company is to read reviews from real customers who have worked with the company and can shine an honest light on the type of service you can expect from them. There are several things to look for when reading dumpster rental reviews that can help you determine who the best company for your job is, and we'll go over them all in this quick guide.
Jump to:
---
---
Does the Review Seem Real?
There are many motivations behind someone leaving a fake review, negative or positive, which is why it's important to make sure that the reviews you check out are verified and from real customers. You don't want a company's competition, loving mother, or the company themselves influencing your purchasing decisions, which is why it's best to only consider reviews from customers who have actually rented a dumpster from the company you're considering.
The best way to ensure you're reading verified reviews from real dumpster rental customers is to read the reviews on Hometown. Our team personally verifies every review that is submitted before publishing it, good or bad. Our only motivation behind accepting company reviews is to help inform future customers like you, so you never have to wonder if the gleaming 5-star review or scathing 1-star review is left by the owner's wife or competition; you can trust that our reviews are real.
When visiting other sites to read reviews about a dumpster rental company, look for an indication that those reviews are real before giving them too much weight in your consideration. For example, do they use go-to marketing language? Do they speak in absolutes and extremes? Are they vague about their experience? These are all potential signs of a fake review that you should make note of.
Is the Review Relevant to the Services I Need?
While this doesn't happen on Hometown due to our review verification process, it's not uncommon for reviews to be left for a product, service, or company that either don't match the product/service description or were out of the company's control. There are plenty of instances where a quick look at a company's 1- to 2-star reviews reveals they are actually completely irrelevant to the service they're reviewing.
For example, you may see a "negative" review for a company in which the entire review actually compliments the company and their employees on all their hard work, but the author of the review only gave them 2 stars because of circumstances that are irrelevant to the service or were out of the company's control.
Here are some examples:
"ABC Dumpster Rental's service was great, but there was construction on 10th street so they got stuck in traffic and arrived 20 minutes later than expected. That's the only reason I'm leaving 2 stars, but the actual company and service was great!"
"Dumpster Kings was friendly, professional, and was available immediately to deliver our rental. They had to reschedule our pick-up due to severe weather, but other than that, the service was excellent."
As you can see, though these may technically not be 4- or 5-star reviews, the actual customer service and workmanship that these companies provided was 5 stars, so be sure you take all aspects of the reviews you read into consideration.
Does the Company Value Timeliness?
When you have a project schedule to keep up with, you'll need a dumpster rental company that is responsive and on-time. A significant delay in dumpster deliveries or pick-ups can cause your schedule to derail, costing you time and money in the long-run. So, when reading dumpster rental reviews, look for mention of how fast or efficient their service was. The timeliness of the actual service is important as well as the timeliness of their customer service and how quickly they respond to your quote request or any questions you may have.
Are they available to chat when they're contacted, or at least able to get back to you in a reasonably punctual manner? Are emails and questions answered in a timely fashion so that you aren't left waiting on a response for days? Any mention of dumpster rental services that are slow-moving and seemingly unmotivated is an immediate red flag.
Most dumpster rental companies train their employees to be as time-efficient as possible so they can quickly move on to the next job and make as much money as possible each day. Being fast and efficient not only benefits you as a customer, but it should be the business strategy of a successful dumpster rental company, too.
Read more:
Is the Company Professional?
You should expect a certain level of professionalism from any company you do business with, regardless of the type of service they offer, and it's not unusual for those leaving reviews to touch on this. If you notice more than one person mentioning a lack of professionalism from the company in question, they could end up being a headache to deal with for you as well.
Respectful, punctual, and helpful communication should be the standard for any company you spend your hard earned money on.
Reviews that mention how professional, friendly, and eager to help their customers a company is should be given higher standing as you consider all your local options.
The dumpster rental industry is large and it can be overwhelming and take up a significant amount of time to find companies in your area that are competitively priced, have a good reputation among their customers, have availability when you need it, and are locally-owned and operated.

Finding these quality companies for your disposal needs has been made simple with Hometown. Our easy-to-use search engine allows you to enter your zip code and find reputable services in your area that are licensed, insured, and locally-owned! You can read verified reviews from customers who have hired them and make the most informed decision based on the experiences of their customers and the price they quote you.

Our quote request form allows you to get multiple quotes from up to 3 qualified companies in your area so that you don't have to keep answering the same questions about your disposal needs every time you want a company to provide a dumpster rental quote. We do all the legwork for you free of charge, so you can focus on more important matters.
---