Updated December 6, 2022
Whether replacing an old wood deck, removing it completely, or upgrading it to a composite board decking system, one of the first actionable steps is tearing down the old deck.
Depending on the size of the deck, this process can take a day or longer and several hundreds of dollars to complete, sometimes $1,000+.
It's important to plan your project right in order to minimize costs and maximize efficiency.
Basic Tools Needed
Drill driver or impact driver
Deck wrecker (long pry bar)
Sledgehammer
Safety gear (gloves, eye protection, and boots)
Sockets and breaker bar if lag bolts or other bolts need to be removed
Circular saw (optional)

Debris Disposal Options
Choose your desired disposal method.
Demolition debris cannot be mixed in with general wastes, so your best options include:
Renting a dumpster
Hiring a junk removal company
Hauling the debris to the landfill or transfer station yourself
Rent a Dumpster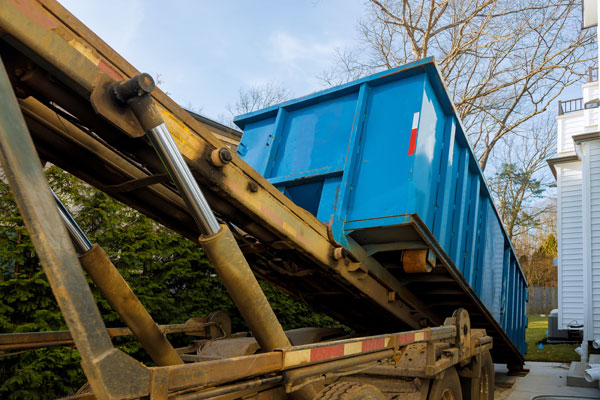 With 10 yard dumpster costs averaging $300 nationally and 20 yard dumpsters averaging under $400, dumpster rental is a great value when disposing of deck demolition debris.
Deck boards, screws, and other project debris can simply be tossed into the container, and the dumpster rental company hauls it away at the end of the rental period or when you're finished, whichever comes first. Simple and efficient.
Key Tip: A 20 yard dumpster accommodates the debris from a 1,200 square foot deck when loaded tightly. Choose a larger or smaller dumpster based on the square footage of your deck.
Keep reading:
---
---
Hire a Junk Removal Company
Junk removal is the most convenient option of the three.
Junk removal service costs vary based on your location, the amount of debris you have, and accessibility to the debris.
Pricing can be comparable to that of renting a dumpster, but junk removal service generally costs more because the crew loads up the debris for you, hauls it away, and properly disposes of it.
It's a hands-off approach to disposing of deck boards and other debris.
---
---
Haul the Debris Yourself
While this is potentially the most cost-efficient disposal method, the time and effort required for this method—along with several often-overlooked costs—make it the less desirable option in many cases.
Costs include:
Landfill fees (possibly multiple)
Fuel to haul the debris
Wear-and-tear on your vehicle and trailer
Loading time, driving time, and time spent at the landfill/recycling facility
Read more about the advantages and disadvantages of DIY waste and debris hauling.
Deck Board Removal
With tools in hand and disposal method in place, it's time to remove your deck.
Demolishing a wood deck is relatively straight-forward.
The condition of the deck and the way it was built will determine the most efficient removal method.
For example, if screws were used and the heads are still in good shape, you may be able to unscrew each board and remove it.
If nails were used or the screw heads are damaged, a deck wrecker, sledge, and pry bar come in handy.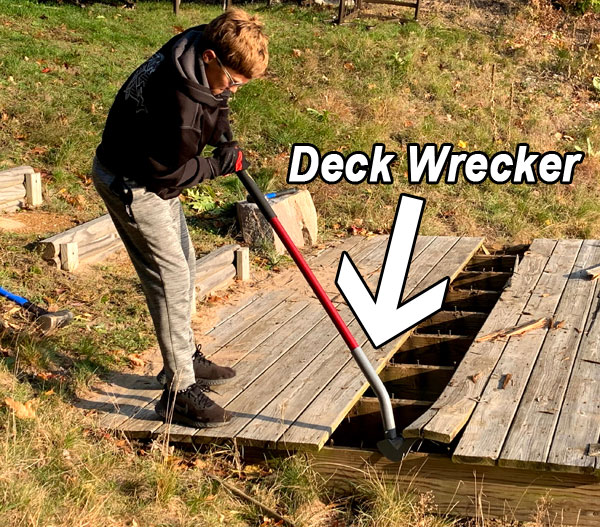 Keep reading: Demo 1-2-3: How to Remove a Deck
DIY Deck Demolition Tips
These tips will help you avoid potential pitfalls of a DIY deck demolition project:
Use a tool like a deck wrecker.
Using the right tool(s) will save you time, effort, and your back.
Deck wreckers cost $50-$60 on average, but you may be able to rent one from a local hardware store.
Do the project when the boards are dry.
Wet boards are heavier, plain and simple.
Not only does this make the manual labor of removing them more intensive, but it also adds weight to your dumpster that could potentially send you over your alotted weight allowance.
Load the dumpster uniformly to minimize air space.
You don't want to come to the end of the project and realize you have 20 boards left and no space left in the dumpster.
Reduce the risks of this happening by loading the dumpster in an organized fashion.
Size up if you're unsure which dumpster to choose.
It's much more cost-efficient to choose a larger dumpster than it is to pay for two smaller dumpsters.
Find out more: Why Large Dumpsters Sometimes Cost Less Than Smaller Dumpsters
Don't hesitate to consider having a demolition company handle the job for you.
Costs are variable but generally range from $500 to $1,000 for the work. (Other fees may apply.)
Get a free deck demolition estimate today.
---