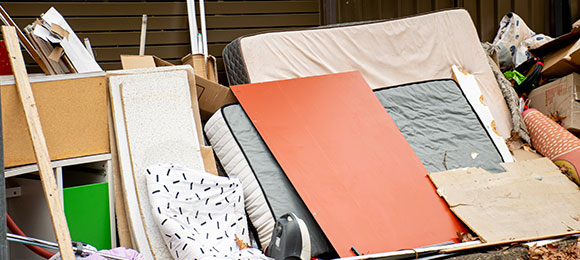 Updated August 31, 2023
Hiring a junk removal company isn't complicated, but if you've never used a junk removal service before, you may be a little unsure of where to start or what to expect.
To get the most out of your junk removal experience without overpaying, you'll want to understand a few key things first.
This junk removal guide will go over everything you need to know to ensure you hire the best junk removal service provider and your project is as stress-free as possible.
Jump to:
---
---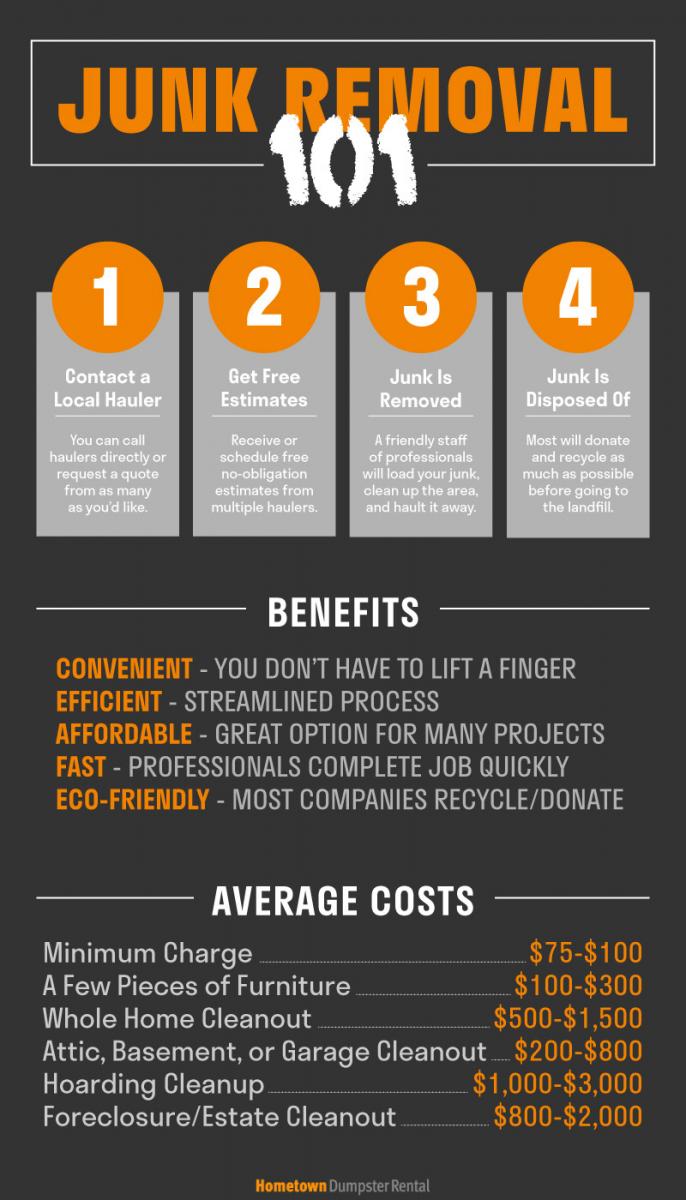 How the Junk Removal Process Works
Find Local Companies in Your Area
Hometown makes it easy to search for junk removal services in your area.
From there, you can compare the services they offer, read customer reviews, and request quotes from as many service providers as you'd like.
Hometown asks local removal experts to verify their services, the items they accept and remove, the areas they serve, and more, all of which makes it easy for customers like you to find the right company for your junk removal project.
Get Multiple Quotes
If you have just a couple of bulky items to toss, like an appliance or a small furniture set, then the junk hauler may be able to give you a quote before coming out to your site.
If you have more than a few items to get rid of, the junk removal service will likely need to see your junk in person to give an accurate estimate.
Typically, a crew of two people will come out to your property to assess the junk's volume and the amount of effort necessary to remove it.
They then provide you with an exact quote, and if you're satisfied with the price, the team removes the junk on the spot.
Say Goodbye to Your Junk
If you don't like the price they quote you, then no worries—estimates are free, and you're not obligated to move forward with the service.
Payment is only taken after the job is completed and your junk is gone.
If the price works for you, then most haulers will remove the junk on the spot.
The crew who gave you the estimate will then load all your unwanted junk onto their trucks and haul it away, leaving you with a clean-swept space.
Relax and Enjoy Your Clean Space
After your junk is hauled away, relax and enjoy your clutter-free space.
It feels great to get rid of unwanted or unneeded items cluttering up your life, especially when someone else did all the heavy lifting and dirty work for you.
Most junk removal experts will handle your debris responsibly, donating reusable items in good condition and recycling when possible.
Keep reading:
---
---
Benefits of Junk Removal
Junk removal is the simplest way to be free of your debris.
No matter how many items or how much debris you have, junk removal is a great option if you would rather pay someone to handle the heavy lifting and dirty work for you.
Hiring a junk removal expert is a convenient, pain-free way to get rid of any unwanted furniture, appliances, junk, bulk trash, and just about any unwanted items you have cluttering up your home or business...all without lifting a finger.
You might be asking, "What can I get rid of using a junk removal service?"
Generally speaking, junk removal companies accept more items than dumpster rental companies are willing to accept.
A junk removal service may be more willing to remove some of the items that you can't put in a dumpster, like tires, refrigerators, or old cans of paint.
This is because junk removal companies often prioritize recycling and donating recovered items that can't be taken to the dump.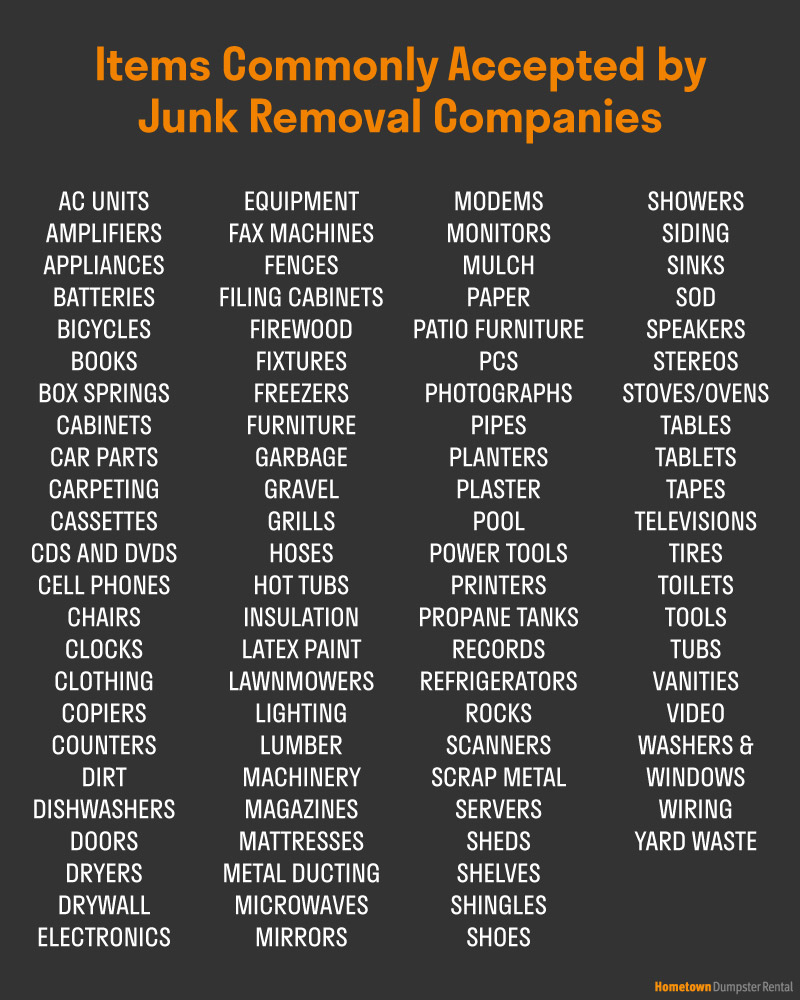 If you're ever in doubt about whether or not a junk removal company will accept an item you have, just ask.
We recommend requesting estimates from multiple contractors (three or more whenever possible) and asking them whether or not they accept your particular item(s).

Pick-up of non-standard items, like concrete, dirt, paint, tires, and yard waste vary from company to company. Most junk haulers do NOT accept hazardous chemicals of any type.
---
---
Junk Removal Average Cost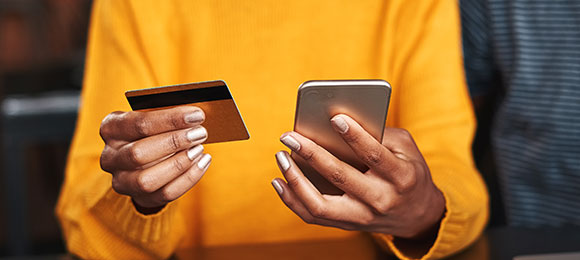 Getting a quote from a junk removal company is always free, but the cost for your specific junk removal project will depend on a number of factors.
Most junk removal services have a minimum charge of $75-$100.
This will generally include the pick-up of a couple small pieces of furniture, or a small pile of lightweight junk.
As you might imagine, one of the biggest factors influencing cost is the amount of items you have.
The more items you have to remove, the more labor hours and people it will take to get the project done.
Similarly, most companies will quote a price based on the expected volume of the debris in the truck (i.e., a full truckload, 1/2 truckload, or 1/4 truckload).
So the more space your items take up in the truck, the more you can expect to pay for your junk removal project.
The effort required to remove your debris and where you're located may also impact your quoted price.
For example, if you have heavy or large items to get rid of, it will take more than one person to haul them away, which results in a higher cost.
Likewise, if you live in a remote, rural area, it will cost the company more to get to your property and haul the junk to the nearest recycling facility or landfill, and you will have to cover that cost difference.
If you have an entire house worth of debris, you can expect to pay $500-$1,500 on average, or more in hoarding situations or for other large volume cleanup projects.
Learn more:
---
---
How to Save Some Money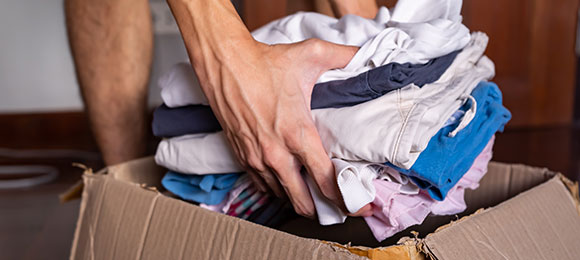 If any of it your junk is in reusable condition, you may be able to donate it or sell it on a local marketplace, like Craigslist or Facebook.
Similarly, if any of your items are recyclable, it could save you quite a bit of money if you recycle the items on your own before calling a junk removal company to haul away the rest.
It's always a good idea to do a quick once-over of the stuff you're getting rid of before requesting a quote from a junk hauler.
If you have some furniture or items that still have usefulness and could be donated, give your local charities a call first.
Your local Salvation Army, Habitat for Humanity ReStores, or Goodwill would likely be happy to accept any donations you have.
The Freecycle Network is another great resource for finding ways to recycle or donate items in your area.
If your items are able to be donated or recycled, another option to consider that might save you some money is renting a dumpster instead of hiring a junk removal company.
Dumpster rental is a great option if you...
Have lots of different types of junk in multiple areas of the house.
Have enough stuff to fill a 10 yard dumpster (or bigger).
Have a high quantity of relatively lightweight junk.
For example, a 10 yard dumpster costs $300 on average to rent for a seven-day period.
A 10 yard dumpster can typically accommodate a small- to medium-sized cleanout project, like an attic, shed, or garage, quite nicely.
If the dumpster rental costs $300 on average, and junk removal services for the same amount of items costs $200-$800 on average, you may be able to save as much as $500 by renting a dumpster instead.
Find out more:
Hire the Right Junk Removal Service
As previously mentioned, we recommend reaching out to multiple junk removal providers before hiring.
This will ensure you get a fair price, good customer service, and the services you need when you need them.
Contact a minimum of two to three junk removal companies to be sure you have a good understanding of your options and that you pick the right company for you and your project.
---
---
Learn more: