Updated June 2, 2023
A 10 yard dumpster is a popular choice for small to medium size cleanups and is useful for a wide range of projects, like remodeling, basement cleanouts, spring cleaning, roofing, and more.
Because it's a relatively compact container, it's important to be sure a 10 yard dumpster the right size to accommodate your project's needs before renting.
Underestimating the full scope of your project's disposal needs could end up costing you more money in the long run.
Although the base price of a 10 yard bin is attractive in comparison to its larger counterparts, extra fees have the potential to drive up the final cost.
In this guide, we'll discuss:
---
---
Ideal Projects for a 10 Yard Dumpster
10 yarders are cost-efficient, widely available, and have a relatively compact footprint.
10 yard roll-offs also fit well in driveways, making them a great option for home cleanouts, renovations, roofing projects, cleaning your house before a move, and more.
The key to making the most of your 10 yard rental is planning ahead, estimating the type/amount of debris accurately, and abiding by the weight-limit and load-height requirements.
Common Dimensions and Capacity

Unlike larger 30 and 40 yard dumpsters, 10 yarders come in a wide range of shapes and sizes.
There are roll-offs, trailer dumpsters, lowboys (dumpster walls are shorter), and commercial front-load dumpsters.
Roll-off containers are the most common, followed by rubber-wheeled trailer dumpsters.
The typical 10 yard roll-off container measures 12 ft L x 8 ft W x 4 ft H.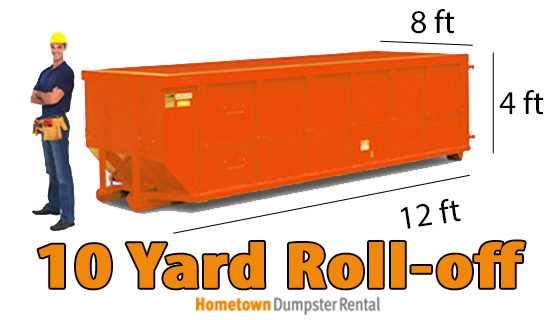 Lowboys and flat-bottom dumpsters have shorter sides for easier loading of heavy debris.
Keep in mind that dimensions vary, so it's important to ask the dumpster rental provider what type(s) of 10 yard dumpsters are available, as well as the approximate dimensions of each type.
If you have tight or limited space, be sure to measure the area you plan on placing your rental to make sure delivery goes smoothly.
Some 10 yard dumpsters make more sense than others depending on the type of waste or debris.
For example, a lowboy is great for loading heavy dirt or roofing shingles, while a container with tall sides is better for disposing of bulky items, like sofas, chairs, appliances, and the like.
This depends on the type, weight, and volume of waste.
Below are some examples of projects and how much of that type of debris a 10 yarder will accommodate.
| | |
| --- | --- |
| Project/Debris Type | Approximate Amount a 10 Yard Will Hold |
| Shingle roof tear off | 1,500 sq ft of shingles |
| Deck demolition or fence removal | 250 sq ft deck or fencing |
| 10x15 ft concrete patio demolition | 2 cubic yards of debris (4 tons of weight) |
| Appliance removal | Medium-size kitchen appliances and washer/dryer |
| Furniture removal | Sofa, loveseat, and several small pieces |
| Home cleanout | Junk from a single area (garage, attic, shed, or similar small area) |
| Renovation / remodeling | Medium-size kitchen or bathroom |
| Flooring removal | 2,000 sq ft wood laminate = 1.5 tons (average) |
| Dirt or heavy inert debris removal | 1 cubic yard (1 ton) |
| Construction debris | Small structure construction (shed, garage, etc.) |
| Light demolition project | Interior demo (1-2 rooms) |
Find out more:
Average Cost
The current national average cost to rent a 10 yard dumpster is $365 for a standard seven-day rental.
Costs are highly variable depending on:
Where you live (local cost of living, disposal fees, etc.)
Dumpster availability
Type and amount of debris
Who you rent from
For example, you can expect to pay $500+ to rent a 10 yard roll-off container in New York City, while the same size container in Cleveland, OH can cost as little as $225.
To ensure the best pricing, be sure to call or get quotes from at least 2-3 dumpster rental companies in your area.
Potential Overage Fees
Overage fees can turn a great deal into an expensive nightmare if you aren't careful.
Filling the dumpster too high or exceeding the included weight limit can lead to costly additional fees.
Overage fees can cost $100+ per ton in some markets, with the average national cost around $75 per ton.
These fees can add up fast, especially if the debris is dense and heavy.
For example, 5 sq ft of roofing shingle debris can weigh around 2 tons, while a 20 sq ft roof would generate about 8 tons of roofing shingle debris.
A typical 10 yard dumpster comes standard with 2 tons of included weight.
Going 6 tons over could cost hundreds of dollars in additional fees which could have been avoided if you ordered an appropriately sized container.
---
---
Keep reading about dumpster rental: