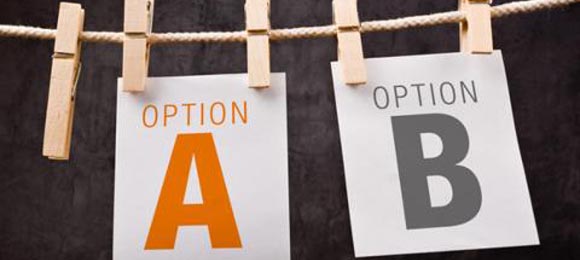 Updated April 26, 2022
Big projects require big dumpsters and the largest roll-off containers generally stocked by dumpster rental companies are 30 and 40 cubic yarders.
Deciding when to use one over the other is tough in many situations, but we can help sort it out.
Jump to:
---
---
When a 30 or 40 Yard Container Makes Sense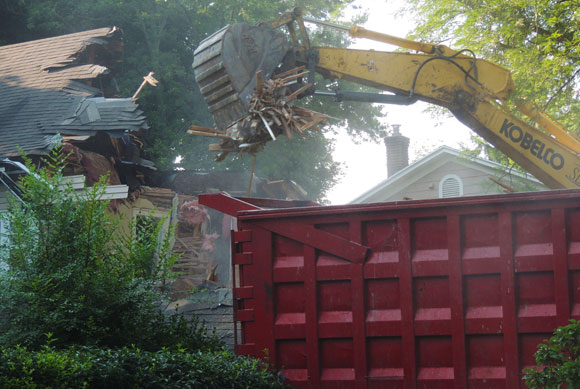 Large dumpsters are certainly overkill for light disposal projects, such as a small shed cleanout or disposal of flooring from a single room.
However, it's the perfect solution for handling bigger jobs, like:
Many dumpster rental companies require heavy debris, such as concrete, be loaded into smaller containers.
10 yard bins are common due to the weight of concrete debris. A 30 or 40 yard bin filled with concrete debris is oftentimes too heavy for the roll-off truck to pick up and haul away.
Some (not many) rental companies offer larger dump trailers, or 50 cubic yard dumpsters, for disposal of very large amounts of debris, such as a commercial building demo.
If you're in need of a very large dumpster, call 4-5 rental providers in your area to see if any offer such a large capacity option.
Comparing 30 Yard & 40 Yard Dumpsters
| | | | |
| --- | --- | --- | --- |
| Size | Dimensions | Average Weight Included | Average Cost |
| 30 Yard Dumpster | 22 ft x 8 ft x 6 ft | 2-8 tons | $450-$650 |
| 40 Yard Dumpster | 22 ft x 8 ft x 8 ft | 4-8 tons | $550-$750 |
Factors That Affect Your Decision
There are multiple good reasons why you'd want to go with a 30 yard bin versus a 40 yarder, and vice versa.
The obvious factors that play a role in choosing are price, amount of debris, and availability of the desired container.
Price: Do you mind paying $50-$100 more to get the 40 yarder?
Capacity: Do you need the extra 10 cubic yards of volume offered by the 40 yard bin?
Availability: Does the dumpster provider even offer a 30 yard bin? What about a 40 yarder?
These may be the first questions to ask yourself before calling to get quotes. These are also great questions to ask each dumpster rental company before hiring them.
Now let's dig deeper into each of the above factors…
Price
While a 40 yard bin typically costs $50 to $100 more than renting a 30 yard box, that doesn't necessarily mean a 30 yarder is the better, or even the less expensive, option.
Here's why…
Say you rent a 30 yard bin, load it up, and find out that you have another few yards of debris to go. You would then need to rent a 10 or 20 yard dumpster to finish the job at an expense of usually $250 more.
For an extra $50-$100 or so, you could have rented a 40 yard bin in the first place and saved the money (and the hassle).
This is why, when on the fence, renting a larger dumpster is the safest option.
Capacity
When deciding between a 30 and 40 yard dumpster, choose the 30 yard bin only if you feel you have about 25 cubic yards or less of waste, junk, or debris.
Don't choose a 30 yarder if you have 30 cubic yards of debris. It may sound counterintuitive, but there's a good chance you could exceed the loading capacity and/or weight allowance of the container, and that will increase your final bill.
Usually, a 40 yard dumpster is a safe bet for handling the disposal requirements of a demolition, major remodel, or new construction project.
However, large projects may require multiple dumpsters. Since most rental companies do not carry containers larger than 40 cubic yards, that would be your only option.
Availability
You're limited to the dumpster provider's container inventory. If they don't carry a 30 or 40 yard bin, your options are obviously limited to what they do have. It may require renting multiple bins to get the job done.
Don't hesitate to negotiate prices when renting multiple dumpsters from a rental company. Oftentimes when working with a local company, they'll do what they can to get your business.
Check with at least 2-3 different dumpster service providers to ensure you fully investigate all the options available in your area.
While one dumpster company may not carry a certain container size or they are in short stock, another company may have the container with the capacity you're looking for.
Learn more:
---
---
Advantages of Each Size
30 Yarder

Rental fees are slightly lower.
Shorter sidewalls make it easier to side-load debris, junk, and wastes.
30 yard dump trailers (on rubber wheels rather than steel wheels/feet) are more readily available compared to 40 yard dump trailers.
It may be the largest dumpster offered by your chosen dumpster provider, so it may be the best and largest option by default.
40 Yarder

They provide maximum loading capacity.
40 yarders only cost about $50-$100 more to rent compared to a 30 yarder.
They are a more cost-effective and time-saving choice if you're on the border with which size to choose.
Ideal Container Sizes for Various Projects
How much fits inside a 30 yard roll-off container? Is a large dumpster necessary to accommodate the debris from my deck removal project?
One cubic yard is equal to a 3 ft x 3 ft x 3 ft space. That's approximately equivalent to the size of one standard-size kitchen stove.
This visual trick can help when estimating the amount of junk or debris you have to get rid of.
Below, you'll find some common projects and the right size dumpster for each.
30 Cubic Yard Containers
Roofing shingle tear-off – up to two layers of shingles on a 2,000 sq ft roof
Large deck demolition – up to 1,000 sq ft
Average size kitchen or bathroom renovation
Whole-home cleanout
Pole barn or large shed cleanout
40 Cubic Yard Containers
New home construction
House or other large demolition projects
Roofing shingle tear-off – several layers of roofing shingles
Commercial building cleanouts, demolition, or construction
Major renovation or whole-home remodeling project
Hoarding situations
Dumpster companies are very good at estimating the amount of debris various projects will generate. They are an excellent source of information and a
reputable dumpster rental company
will help you choose the right container for the job. Be sure to take advantage of their vast knowledge.
Read more:
Final Tips and Considerations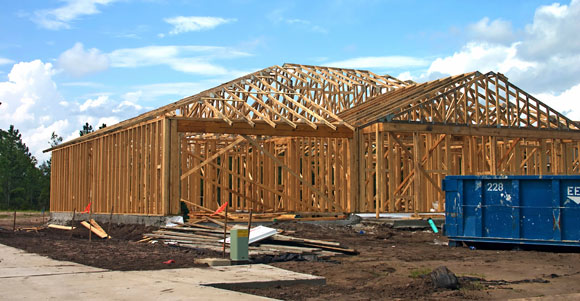 30 and 40 yard bins usually have a similar footprint. An average size container takes up about 22 ft L x 8 ft W of space, so you'd need the same amount of space for placement no matter which one you choose.
Household junk and wood tends to be much lighter compared to other construction materials, such as roofing debris, drywall, carpeting, tiles, and concrete.
Dumpster companies may be willing to offer a discount if you load the dumpster with one type of recyclable material (known as a "clean load") rather than mixed wastes. Recyclables are less expensive to dispose of, so you can usually get a better rate.
Renting a large dumpster and splitting the costs with a neighbor is a cost-effective strategy.
Clear out a space for the dumpster in a location that makes it easy to load. It will save time and make the loading process easier. Don't forget to add about 8 ft of clearance to open the door(s) on the rear of the dumpster.
Keep the roll-off tarped or covered in some way when not in use. Rain and snow can saturate debris and add weight, possibly pushing you over your weight allowance. It also discourages other people from dumping their trash in your dumpster.
---
---
Keep reading: