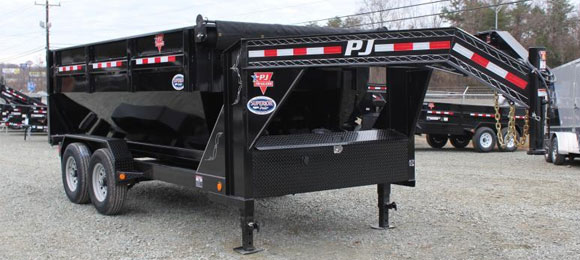 Updated February 14, 2023
Dumpsters come in a wide range of sizes and types.
You've likely seen traditional roll-off dumpsters at construction or demolition sites.
Dumpster trailers are a variation of a traditional roll-off that works great in many situations. These bins are also referred to as trailer dumpsters, rubber-wheeled dumpsters, and dump trailers.
This guide will cover the differences between traditional roll-off dumpsters and trailer dumpsters, and go over the benefits of each, including when one container type might be a better choice than the other.

Sometimes a traditional roll-off container just doesn't suit the job or location.
Maybe you're nervous about a traditional dumpster causing damage to your driveway, or perhaps the dumpster needs to be placed on soft ground, like in a yard or sandy location. Rubber tires may appeal to you more than steel wheels.
Or maybe trailer dumpsters are the only available option in your area at the time you need it.
We'll go into a bit more detail on these and other reasons for renting a dumpster trailer below...
Jump to section:
---
---
Anatomy of a Dumpster Trailer
The design of a dumpster trailer is pretty simple. The primary difference between a traditional roll-off dumpster and a trailer dumpster are its feet.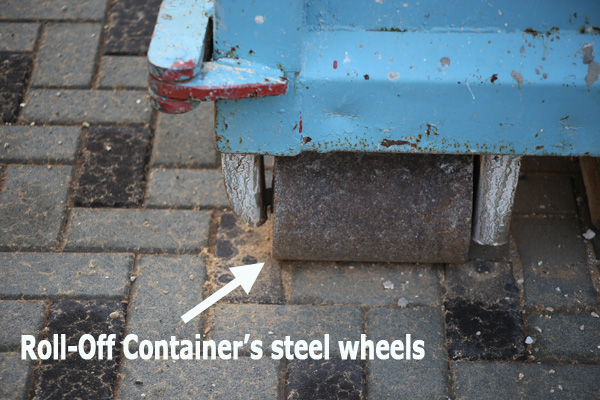 Traditional roll-off containers feature steel feet and wheels.
Dumpster trailers sit on rubber tires, just like those on a travel trailer or heavy-duty utility trailer. These durable tires are designed to handle the weight of heavy loads.
Many trailer dumpsters feature a dual design, meaning it has two tires on each side of the axle, which allows for heavier loads and stability.
Because dumpster loads can oftentimes exceed 4 - 6 tons, this is an important feature for cleanups of heavy debris.
Keep reading: Weight Limits for 10, 20, 30, and 40 Yard Dumpsters
Trailer Dumpster Sizes
Most often, you'll find trailer dumpsters ranging from 10 to 20 cubic yards.
It's not common to find trailer dumpsters with 30 yard, 40 yard, or larger loading capacities, although these large-capacity wheeled dumpsters do exist.
Learn more: Complete Guide to Roll-Off Dumpster Sizes
Dumpster Trailer Prices
In general, roll-off container prices are the same as trailer dumpster rates. For example, the national average cost to rent a 10 yard roll-off dumpster is around $300 per week, and there is little to no difference in the cost of a dumpster trailer; the price only goes up when you choose a larger bin.
If price is a concern when choosing a dumpster, be sure to ask the rental provider if one dumpster costs less than the other and why.
Though both types of dumpsters—roll-offs and trailers—may have the same loading capacity, they could have different weight limitations placed on them or other rental terms. This varies by company, so make sure you discuss this with the contractors you speak to.
Benefits and Limitations of Trailer Dumpsters
Rubber-tired dumpsters are an excellent option in some situations but may not be suitable for others.
Let's start with the benefits of using a trailer dumpster vs. a roll-off style dumpster:
Benefits
Being on rubber tires, these dumpsters provide a more cushioned load on concrete or asphalt compared to roll-off containers with steel wheels, which may reduce the risk of damage to driveways, parking lots, etc.
Trailer dumpsters can be maneuvered and placed into locations roll-off containers sometimes can't.
Easier to move to a different location on the property compared to roll-offs
Because they are considered trailers, dumpster permits are not required in certain instances were it would be for a roll-off container. An example would be parking it on the side of a city-owned street. (Check your local permitting requirements to see specific rules and regulations in your area.)
Read on: Do I Need a Permit to Rent a Dumpster?
Limitations
Trailer dumpsters are not widely available. You'll find that most dumpster rental providers carry traditional roll-offs, not trailer-style dumpsters.
Container swap-outs are usually not available and are usually quite expensive. Rental companies will need to drop off the load at the landfill and return the trailer dumpster to your job site, and this can take several hours depending on your location.
Larger capacities, like 30 and 40 yard trailers, are generally not available.
---
---
When a Trailer Dumpster Is a Good Choice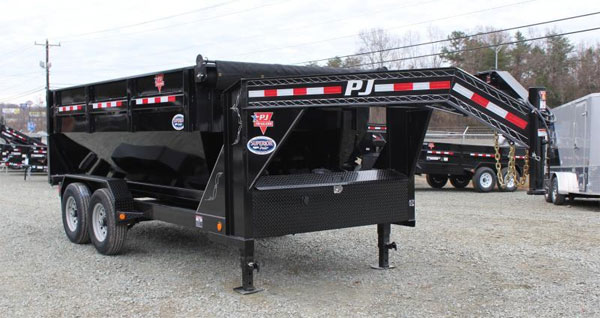 For small-to-medium sized cleanups where limited space is available for dumpster placement and/or the drop-off zone is on a delicate surface, like the lawn, a trailer dumpster is a great option.
As stated previously, rubber-wheeled dumpsters are not available in all areas. So if you are determined to rent a dumpster trailer over a traditional roll-off, you'll likely have to call several rental providers to find one that offers them.
Read through the company profile pages at Hometown Dumpster Rental to find the companies that offer trailer dumpsters in your area.
Alternative to Trailer Dumpsters
A great alternative to dumpster trailers are mini dumpsters, like the ones offered by Bin There Dump That and other companies.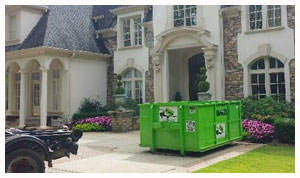 These are residential-friendly containers that range from 6 to 25 cubic yards in size, and boards are placed beneath the dumpster to greatly reduce the risk of driveway damage. The footprint of these specially-designed bins are about the size of a minivan, so they take up a relatively small amount of real estate in driveways.
There are several options out there to be aware of when hunting for a dumpster rental. From bag dumpsters to trailer dumpsters to full-size 40 yarders, and everything in between. It's important to be aware of these options to ensure you're getting the right one for your project.
Start your search for a dumpster today by heading to HometownDumpsterRental.com and entering your city in the search box. If you'd like to learn more about renting a dumpster, check out the links below.
---
---
Learn more: