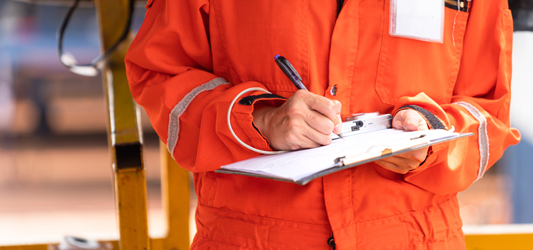 Updated July 28, 2022
If you've never rented a dumpster before and you need one for a cleanout or home renovation, it's important to know what's required in order to legally use one.
In some cases, this includes obtaining a permit from your local permit or public works office.
Many dumpster rental companies take care of the basic permit requirements necessary for you to obtain the container or will at least point you in the right direction regarding how to obtain one.
Not acquiring the proper permit could result in fines.
If you plan to have a roll-off container placed somewhere on your property, like a driveway, you generally won't have to obtain additional permits to do so.
Jump to:
---
---
When You Need a Dumpster Permit
In situations where the dumpster will be dropped off and placed in the public right-of-way, a permit is required in most cities.
The public right-of-way includes public streets, sidewalks, and city-owned property.
You cannot block or hinder the flow of traffic or block sidewalks without first applying for and obtaining a permit from the local permitting office.
To find the department in charge of permitting in your area, search online for "[your city] dumpster rental permit.'
Generally, the Public Works Department will handle it.
Most cities do not require a permit if placing the dumpster on private property, like your own driveway or yard.
Keep in mind that HOA/neighborhood rules may apply in some situations, so be sure to look into that to ensure your dumpster placement complies.
Roll-Off Dumpster Placement Tips
The dumpster rental company you hire can help determine the ideal location for the placement of the container.
Here are some tips to help you prepare for drop-off:
Make sure the rental company has easy access to the area they'll be placing the container.
Avoid having the container placed on soft ground, such as grassy areas.
Have some plywood on-hand to place underneath the container's wheels in case the company doesn't provide their own. This will help protect your concrete/asphalt from any potential damage.
Acquire all necessary permits and check any applicable HOA requirements before your dumpster is delivered to prevent getting hit with any added fines.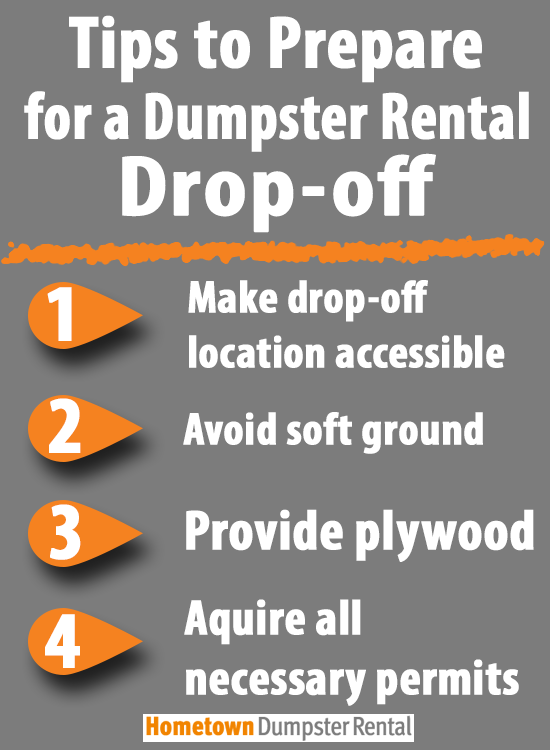 Following these simple tips will help ensure you follow your city's dumpster placement regulations, minimize damage to your property, and speed up the time it takes to drop-off the container.
---
---
Read more: