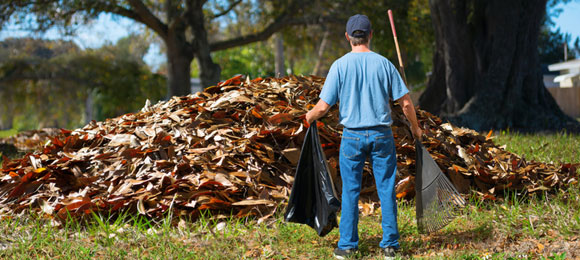 Updated August 30, 2022
When it's time to clean up your yard or property, you likely will have to round up quite a bit of yard waste.
There are several efficient ways to tackle a yard waste removal project, and this guide will discuss the most efficient ways to properly manage said debris.
Jump to Yard Debris Removal Options:
Keep in mind that disposal options can vary from one location to the next.
For example, some rural areas allow burning of yard debris, like tree limbs and leaves, while other locations ban this type of activity.
Check with your local or county laws to determine if this is an option for you.

Do a Google search for 'open burn laws in [City, State]' before taking this route. However, even if you can legally burn wood or leaves in your area, it's not necessarily the best option for the environment. Wood smoke contributes to smog, acid rain, and other environmental issues worth considering.
---
---
Composting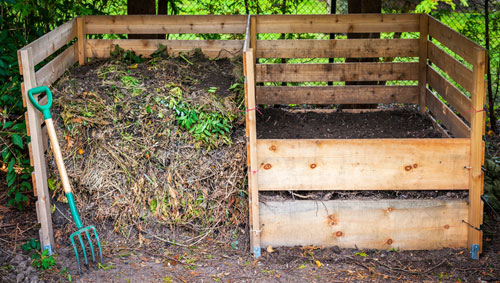 The most eco-friendly way to handle green waste is by composting it.
If you have the space and time to allow the composting process to do its work, it is hands down the most cost-effective and eco-friendly yard waste disposal option.
Green waste includes:
Leaves
Grass
Hedge clippings
Brush
Plants
Flowers
Fruit and vegetable food scraps
All green waste is compostable, and you can use this to your advantage.
Not only does composting reduce disposal costs, but it also produces a valuable resource: compost.
Compost is great for growing plants or flowers both indoors and outdoors.
Gardens, flowerpots, flowerbeds, and any area with poor soil would all benefit from the addition of nutrient-rich matter, like compost.
DIY Drop-off
Yard waste bags are an ideal way to gather and transport leaves, grass, brush, and small twigs.
Coming in both disposable and reusable options, both types can be purchased from home improvement stores, most local grocery stores, and Amazon.
Load your yard waste into your transport bags of choice, load them into your car, truck, or trailer, and drive them to the nearest yard refuse collection center.
Oftentimes, if you're a resident of the city providing the service, all you have to do is show them your I.D. or proof of address in order to dump your yard waste free of charge.
These locations compost and repurpose this yard waste to act as mulch or firewood, which is also free for use to taxpaying residents in some cases.
Curbside Yard Waste Pick-up
Check with your waste service provider to see if they provide leaf bags, yard waste roll carts, or some type of leaf/yard debris collection event on a weekly, monthly, or annual basis.
This is a good option if it's available in your area, and most cities provide at least one of these services.
Some waste haulers do not accept bulk yard waste pick-ups, but many will pick up certain prepaid yard waste bags or bags marked with prepaid tags..
Confirm with your trash provider if yard waste pick-up services are available to you.
This may not be the most cost-efficient option, but it may be one of the easiest disposal solutions for some.
Yard waste is typically not allowed to be mixed into the general waste stream, so be sure to use designated yard bags, or hire the waste hauler to come pick up the debris.
Yard Waste Dumpster Rental
A 10 yard or 20 yard dumpster is typically large enough to accommodate residential or light commercial yard waste disposal projects, like disposing of downed trees, garden wastes, or large amounts of brush and leaves.
However, you also will need to ensure that the dumpster can accommodate the weight of your debris.
It can be difficult to estimate yard waste weight, especially when fallen trees are involved.
For example, the weight of a 50 ft pine tree is anywhere from 2,000-5,500 lbs on average.
The right size dumpster would accommodate this weight, but the logs will also have to fit inside the container.
Every scenario is unique, but an experienced dumpster rental company will be able to help you decide the best solution for the job.
The cost of renting a dumpster is $300-$500 on average, but this cost varies by location, availability, and local landfill fees.
Check with a local dumpster rental companies in your area to get free quotes.
You may be able to get a discount for 'clean loading' your dumpster with just yard waste that can be broken down, composted, or repurposed.
At Hometown, we recommend checking with at least two or three different dumpster rental (or junk removal) companies before hiring someone. This helps to ensure you pay a fair price for your particular cleanup by comparing quotes from multiple waste haulers.
Professional Cleanup Services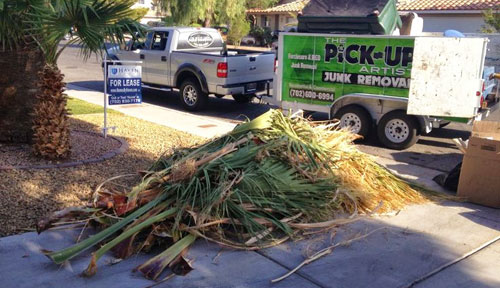 Cleaning up after a major storm can be daunting.
Big cleanups require big disposal solutions, making dumpster rental and junk removal companies great options.
Fallen trees must be processed before disposal, and this job is typically best left to the professionals.
A tree removal company can handle this job quickly, and some junk removal companies also have the right equipment and expertise to process a tree and use loading equipment to lift heavy logs into trailers or dumpsters.
This may be one of the quickest ways to get rid of yard debris.
You can expect to pay $1,000 or more to clean up major storm damage.
The vast majority of junk removal companies offer basic yard waste pick-up, and the process is simple:
Call the junk removal company and request an estimate. For larger jobs, they may need to show up in person to give you an accurate estimate.
Once you agree to a price, hire the junk removal company. They usually get right to work.
They load up the yard waste.
You pay them the agreed price.
They haul the debris to the appropriate facility.
Insurance may cover all or some of the cost to clean up after a major storm. Document the extent of the damage with photos, and call your insurance company to inquire about filing a claim.
---
---
Find out more: