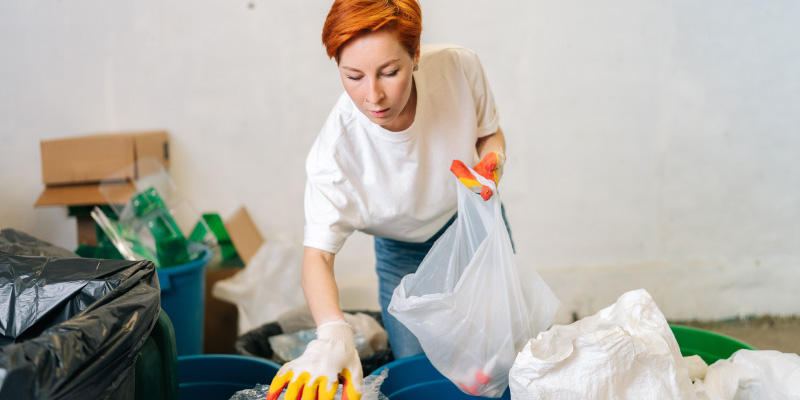 Updated August 31, 2023
Whether it's a renovation project, new construction, home cleanout, furniture removal, or any other type of waste or debris removal project, a junk removal service or dumpster rental are the top two solutions for the job.
But, when is it better to rent a dumpster vs. hiring a junk removal company, and vice versa?
In this guide, we'll explore the difference between the two and determine which is best for your situation.
Jump to:
---
---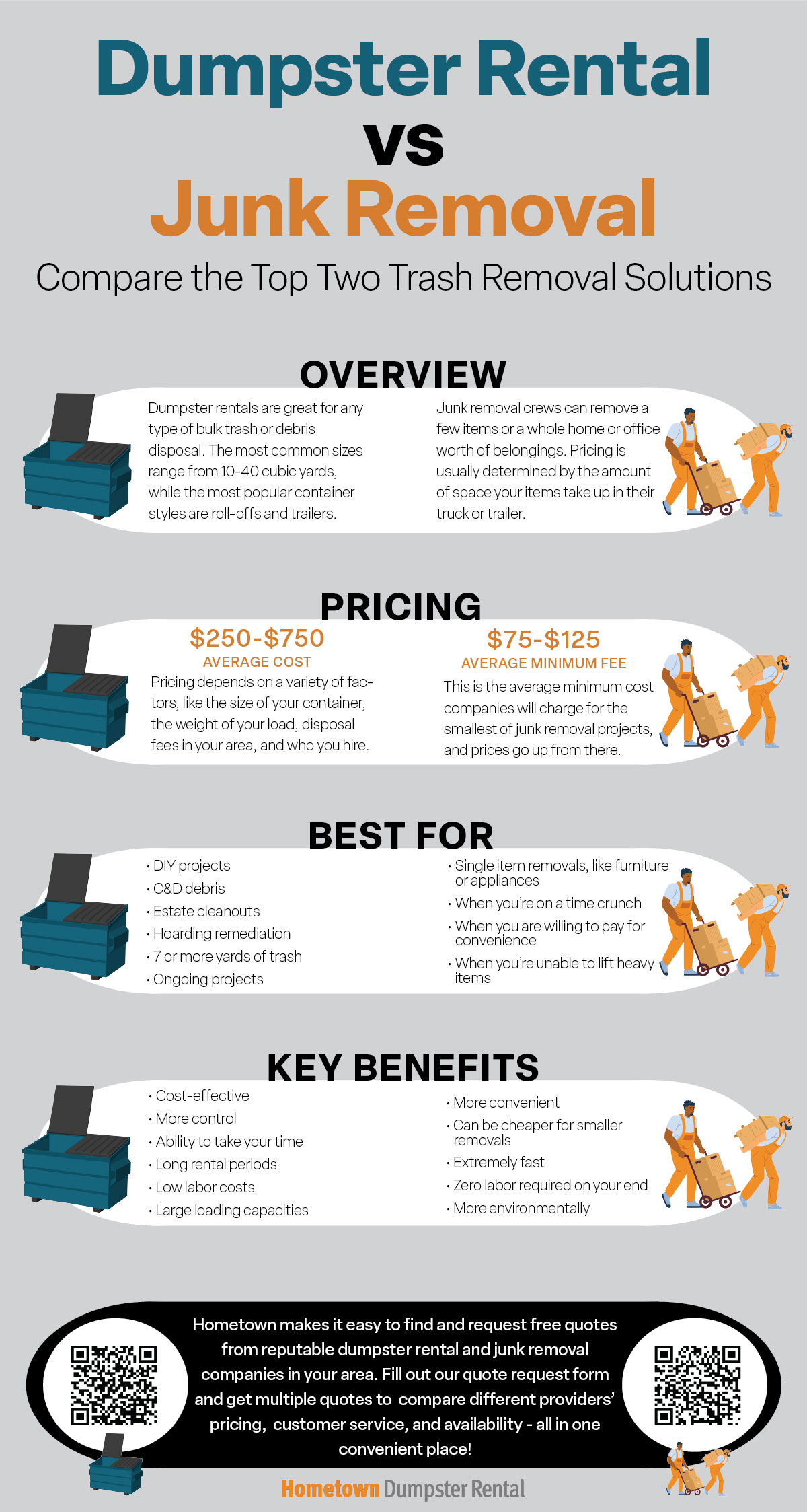 When to Rent a Dumpster
When you'd prefer to clear out the junk/debris yourself, renting a dumpster is the way to go.
It's a simple process that involves calling the dumpster rental company, choosing a container size, having it dropped off at your property, filling it up, and having it hauled away.
Here are examples of situations where renting a dumpster is a great idea:
You want the flexibility to load the container over time (a typical rental includes up to 7 days).
You don't mind loading the junk or debris yourself to save a little money on labor.
You have at least 7 cubic yards or more of debris. Roll-off containers typically start at 10 cubic yards, so if you only have 3 or 4 cubic yards of material, you're paying for more dumpster than you need.
In some cases, you may also have to secure a permit. The dumpster rental company can help determine if this is necessary in your case.
Roll-off dumpsters come in several capacities, including the most common dumpster sizes: 10, 20, 30, and 40 yard bins.
When renting a dumpster, yards refers to the cubic yard capacity of the dumpster. For reference, a 10 yard dumpster is ideal for a garage or shed cleanout, while a 40 yard dumpster is the best solution for construction projects or complete re-roofing jobs.
The dumpster rental company can help you choose the perfect container size for your project.
Many dumpster rental companies are focused on eco-friendly waste removal, so most of the debris you toss in the dumpster will head to recycling centers. This is particularly true for clean loads containing all of the same recyclable materials, like concrete or asphalt shingles.
Dumpsters are heavy, particularly when filled up with junk and debris.
There are two main things to consider when it comes to dumpster weight: protecting your driveway/property and avoiding exceeding the weight limit.
Guard Against Damage
A roll-off dumpster can easily weigh several tons once filled with debris.
For example, a single layer of shingles torn off a 1,500 sq ft roof as part of a re-roofing project can easily weigh two tons (4,000 lbs).
This amount of weight can wreak havoc on a concrete driveway, yard, patio, or asphalt.
Many dumpster rental companies will place plywood or 2x4s beneath the dumpster when dropping it off to protect against damage.
Learn more: How to Prevent (and Address) Driveway Dumpster Damage
Weight Restrictions
Nearly every rental company enforces weight restrictions on the load. These restrictions are determined based on local regulations and landfill dumping fees.
If your load exceeds the weight restriction set by the rental company, you may incur additional charges. This is why it's so important to make sure you thoroughly understand the rental company's weight restrictions.
By discussing in detail the type of debris you plan to get rid of, the rental company can estimate the total weight of the load before you fill the container.
To be safe, always over-estimate to ensure you don't go over.
Keep reading:
---
---
When to Hire a Junk Removal Service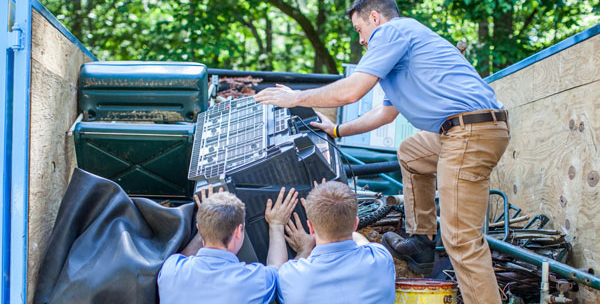 Like renting a dumpster, junk removal companies can help with spring/fall home cleanings, estate cleanouts, yard waste, construction/demolition debris, or general rubbish removal.
The difference is that the junk removal company takes care of all the heavy lifting for you.
Here are some examples of times when hiring a junk removal service is the best option:
You want someone else to load your debris.
You want the junk to be removed and out of sight quickly.
You only have a few large, bulk trash items (junk removal service is typically cheaper than renting a dumpster in this situation).
You have a lot of debris in a central spot and are willing to pay a little extra for someone else's labor to load and haul the junk.
Hiring a junk removal company is just as easy as renting a dumpster, and the cost is determined by the type and volume of junk or debris to be hauled away.
The junk removal company will give you a free on-site estimate for large projects or will give you a quote over the phone for smaller projects, like furniture or mattress removal.
Junk removal companies are pros at removing bulky, heavy items (furniture, appliances, etc.) and large quantities of debris (demolition debris, yard waste, etc.). They work quickly but are also focused on making sure no damage is inflicted to your property in the process.
The majority of junk removal companies recycle a portion of each load. They may also donate gently used items to local charitable organizations, like Salvation Army or Goodwill, and give you a tax-deductible receipt for it. There are a number of places that accept appliance donations as well.
Read more:
Dumpster Rental Costs vs Junk Removal Service Costs
The cost of renting a dumpster or hiring a junk removal service varies based on several factors, including your location, volume of junk/debris, duration of service, and other factors.
In general, junk removal services cost more than renting a dumpster because of the added labor costs involved.
The one exception to this rule is for smaller cleanups, such as moving some furniture out or getting rid of a refrigerator.
Here's a hypothetical example of how this works:
You have an old couch and a few boxes of junk in the garage you want thrown out. Your local dumpster rental company offers a 10 yard dumpster rental for $250, which would do the trick. However, a local junk removal service quotes you their minimum pickup charge of $125 to haul it all away for you. In this case, junk removal is the better choice.
In the example above, the volume of junk wasn't enough to make renting a dumpster the more affordable option. However, a dumpster rental would be the more cost-effective option for larger debris removal projects, such as a whole-home cleanout or roofing project.
Below you'll find costs associated with renting a dumpster and hiring a junk removal company. These are national averages based on a sample set compiled by Hometown.
The figures below are meant to give you a general idea of what it costs for these services. Costs can vary depending on where you live, additional disposal fees, permits, and the scope of the debris removal project.
National Average Dumpster Rental Prices:
National Average Junk Removal Prices:
Costs are generally higher in cities with a steep cost of living, such as New York City or Los Angeles, and lower in areas with a low cost of living.
The distance the dumpster or junk removal company has to travel to/from your property, as well as to the landfill or recycling center, may also influence pricing.
---