Updated August 8, 2023
The price of junk removal varies from company to company, including their minimum fee.
All junk removal companies have a minimum fee that they charge for their services that are reserved for the smallest, least complicated jobs.
Minimum fees vary from company to company but typically range from $75-$100 based on U.S. averages.
In this guide, we'll go over:
---
---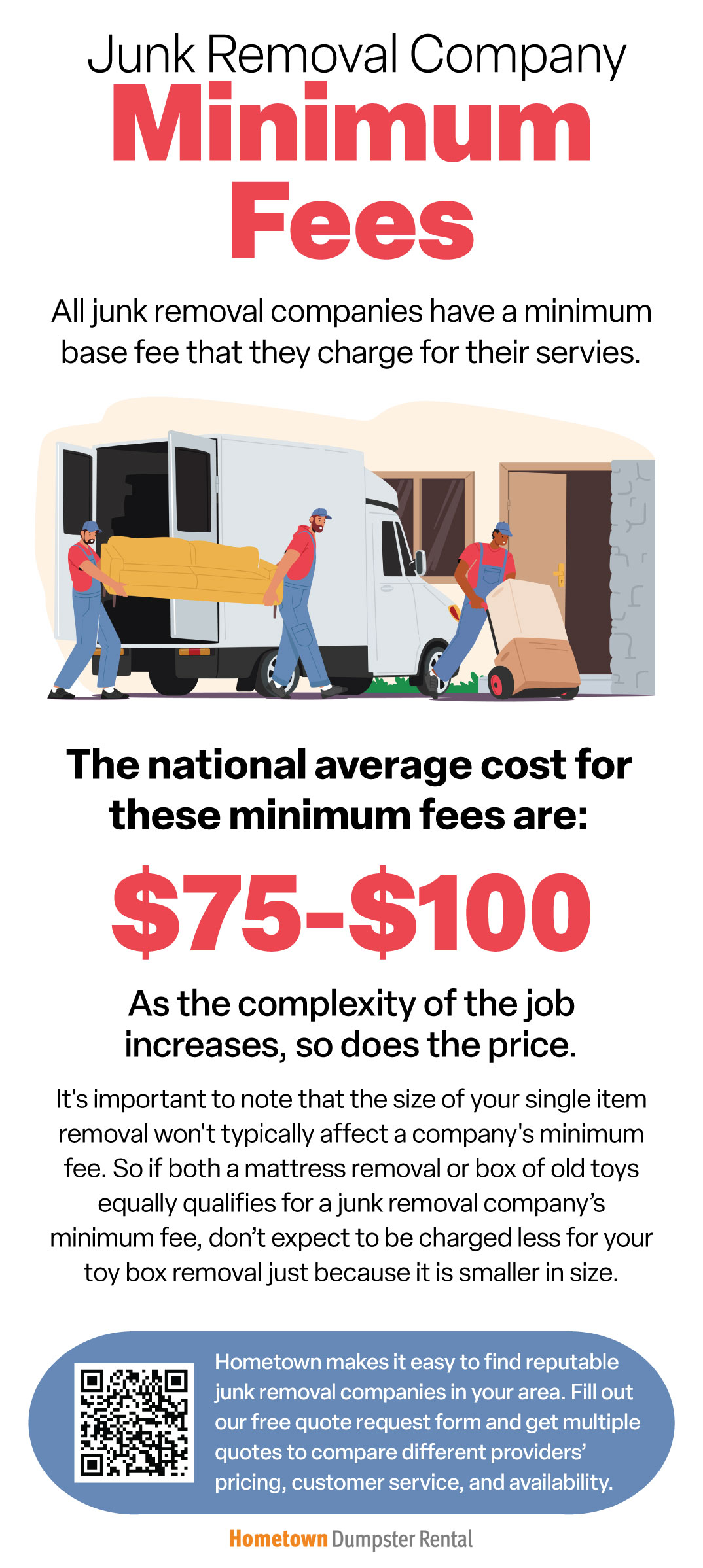 What Is a Minimum Junk Removal Fee?
Every junk removal company has a base fee that they charge for their services and as the complexity of the project increases, so does the price.
The minimum fee a junk removal company will charge a client for their service is reserved for jobs that require the least amount of resources and space in their hauling vehicle.
These projects usually involve the removal of 1-2 items, like a mattress or a couple garbage bags full of old clothing.
It's important to note that the size of your single item removal won't typically affect a company's minimum fee.
For example, if both a mattress removal or box of old toys equally qualify for a junk removal company's minimum service fee, you won't be charged less for the box of old toys just because it's a smaller item than the mattress. Minimum junk removal fees are the smallest amount a company is willing to charge to come haul away your single items and the price increases with each additional item you need hauled away.
Much like the price of services, different junk removal companies will have different definitions of projects that qualify for their minimum fee.
The national average minimum fee that junk removal services charge is $75-$100, but can be more or less depending on the cost of living in your area, disposal fees near you, and who you hire.
Learn more:
What Is the Average Cost of Single Item Removals?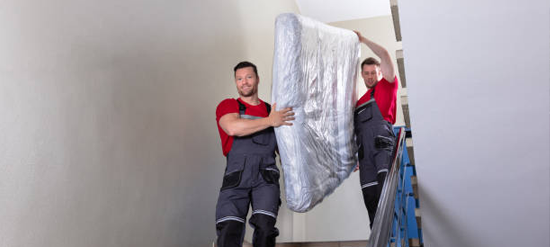 If you only have one item that you need a junk removal company to remove, it doesn't necessarily mean that you will be charged their minimum fee.
Appliance removal costs around $100 on average for a single item and usually adds around $30 per additional appliance in the same trip. So if a junk removal company's minimum service fee is $75 and you only have a single appliance you need hauled away, you won't necessarily qualify for their minimum fee. Appliances are heavy, usually require 2 workers, and often times require special handling. This all factors into the cost a junk removal company will charge to haul away single items like large appliances.
Furniture removal costs slightly more on average due to higher disposal fees at the landfill versus the cheaper fees to recycle appliances.
You can expect to pay around $150 for a junk removal company to haul away your unwanted pieces of furniture, like a couch or dining room table.
If you need to hire a junk removal company but only want to pay their minimum fee, having them remove recyclable items or items that can be donated will help you save on costs. The cheaper it is to dispose of your items, the better chance you have of saving on junk removal costs.
The best way to get the best price for junk removal services is to get multiple quotes from locally-owned and operated companies in your area.
Hometown makes it easy to find licensed and reputable junk removal services and request free quotes with our single quote request form. By simply entering your zip code and answering a few short questions about your junk removal needs, you'll be shown qualified companies in your area. You can read more about each company, read verified reviews from real customers, and get free estimates—all on one easy-to-use site!
---
---
Continue reading: