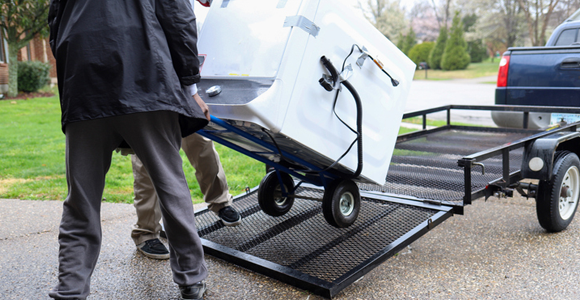 Updated March 29, 2023
Replacing your old appliances can be incredibly gratifying, but figuring out what to do with your old models is an important, less glamorous part of the process.
There are several different ways that you can get rid of appliances, but hiring a junk removal company is arguably the fastest and easiest solution.
This article will explain the process of hiring a junk removal service to remove your appliances so you know what to expect.
How appliance removal services work:
---
---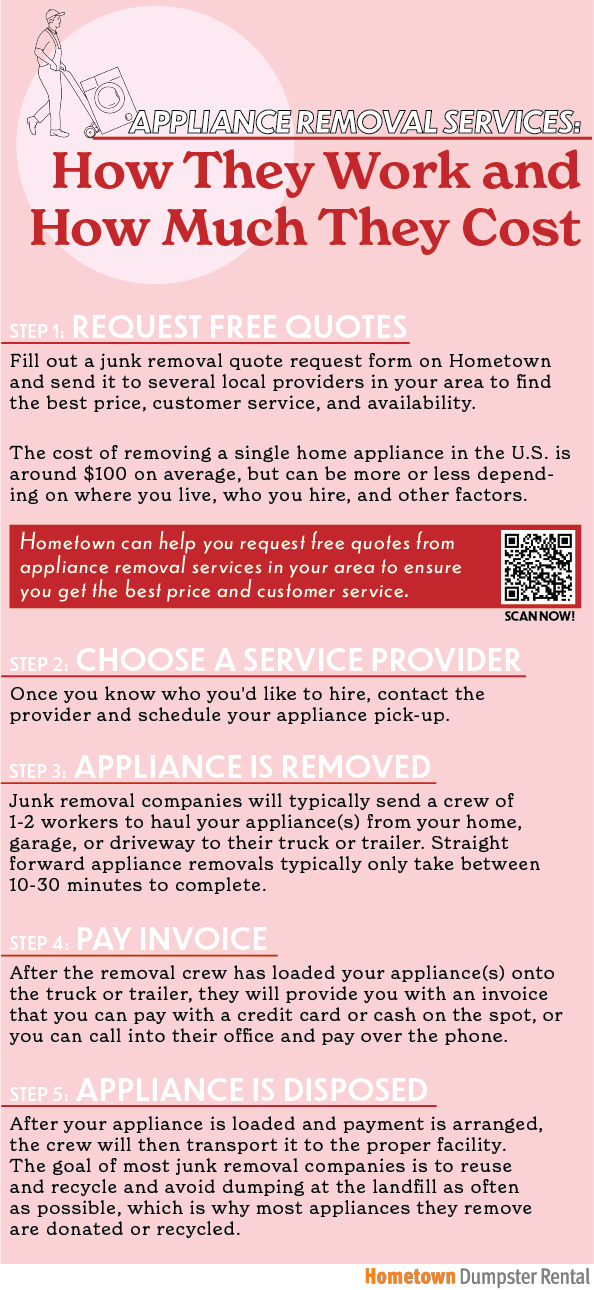 Request Free Quotes
When looking for the best appliance removal services, there are multiple factors to consider, like:
The best way to find a company that can meet all of your needs is to get different quotes from multiple junk removal providers in your area.
Rather than spending a ton of time searching the web for different services and reaching out to them individually, streamline the process with Hometown.
Our quote request form allows you to quickly describe your appliance removal project and send your quote request to multiple qualified companies in your area at once with the click of a button.
Unless you have many appliances to remove or your project is unusually difficult for whatever reason, the junk removal companies you speak with will likely be able to give you a quote based on your description, or they may ask you to send them photos and/or measurements, or to confirm the width of your doorways.
If your appliance removal project isn't so straightforward, they may need to send someone to your location to asses the scope of your appliance removal to give you the most accurate quote possible.
Whether you get quotes virtually or in-person, there will never be a charge for a project quote and you are never obligated to hire.
Junk removal companies understand that it's common practice for consumers to shop around, which is why they should never put pressure on you to hire before you're ready.
However, if you get an on-site estimate and you like the price they quote you, you can choose to hire them on the spot and they'll likely get to work removing your appliance right away.
Average Cost of Appliance Removal
The cost of removing a single home appliance in the U.S. is around $100 on average.
Removing additional appliances usually only adds around $30 per item (give or take), so if you have the need, schedule multiple removals at once to make the best use of your time and money.
The cost of appliance and junk removal services varies based on a number of different factors, like:
Cost of living in your area
The weight of the appliance
How much space it will take up in their truck/trailer
Method of disposal
Complexity
Who you hire
As mentioned, Hometown makes getting the best junk removal price easy.
Learn more: How to Determine Which Junk Removal Quote Is Best
Choose a Service Provider
After you've received different quotes from local junk removal companies, compare the information they've provided and choose the service that will best suit your appliance removal needs.
While it's important to make sure you're getting a competitive price, customer service and availability are equally important, so be sure to keep that in mind when choosing a junk removal company.
Once you know who you'd like to hire, contact the provider and schedule your appliance pick-up.
Read more: How to Choose the Best Junk Removal Company
Appliance is Removed
Junk removal companies will typically send a crew of 1-2 workers to haul your appliance(s) from your home, garage, or driveway to their truck or trailer.
In most cases, they will use dollies or other equipment to help them with the safe loading and unloading of the appliances.
Unless your appliance is located in a difficult to reach area or there is a large amount of appliances to remove, the removal should be fairly quick and completed within 10-30 minutes.
Pay Invoice
Once the removal crew has loaded your appliance(s) onto the truck or trailer, they will provide you with an invoice.
They'll typically take payment via credit card or cash on the spot, but some may allow you to call into their office to pay your invoice over the phone.
Be sure to discuss payment before hiring so that expectations are clear ahead of time for both parties.
Appliance Is Properly Disposed
After your appliance is loaded and payment is arranged, the crew will then transport it to the proper facility.
The goal of most junk removal companies is to reuse and recycle, and to avoid dumping at the landfill as often as possible.
For this reason, most appliances that junk removal companies remove are either donated or recycled. (Be sure to ask for a receipt of donation if your appliance is still usable.)
If you are concerned about this, be sure to ask the different companies you speak with how they intend on disposing of your appliance(s).
Once you've paid your invoice and your appliance is removed, all that's left to do is enjoy your renewed space and new appliance!
---
---
Keep reading: