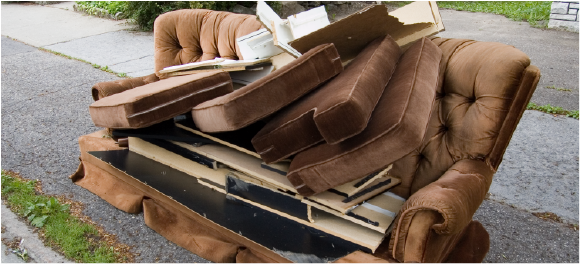 Updated February 22, 2023
Junk removal services offer a fast, convenient solution for removing furniture, appliances, and all kinds of household junk, debris, or heavy items.
If you have an old couch, large piano, old appliances, or other bulky items you want to get rid of, trust Hometown to help you find local haulers in your area.
Jump to:
---
---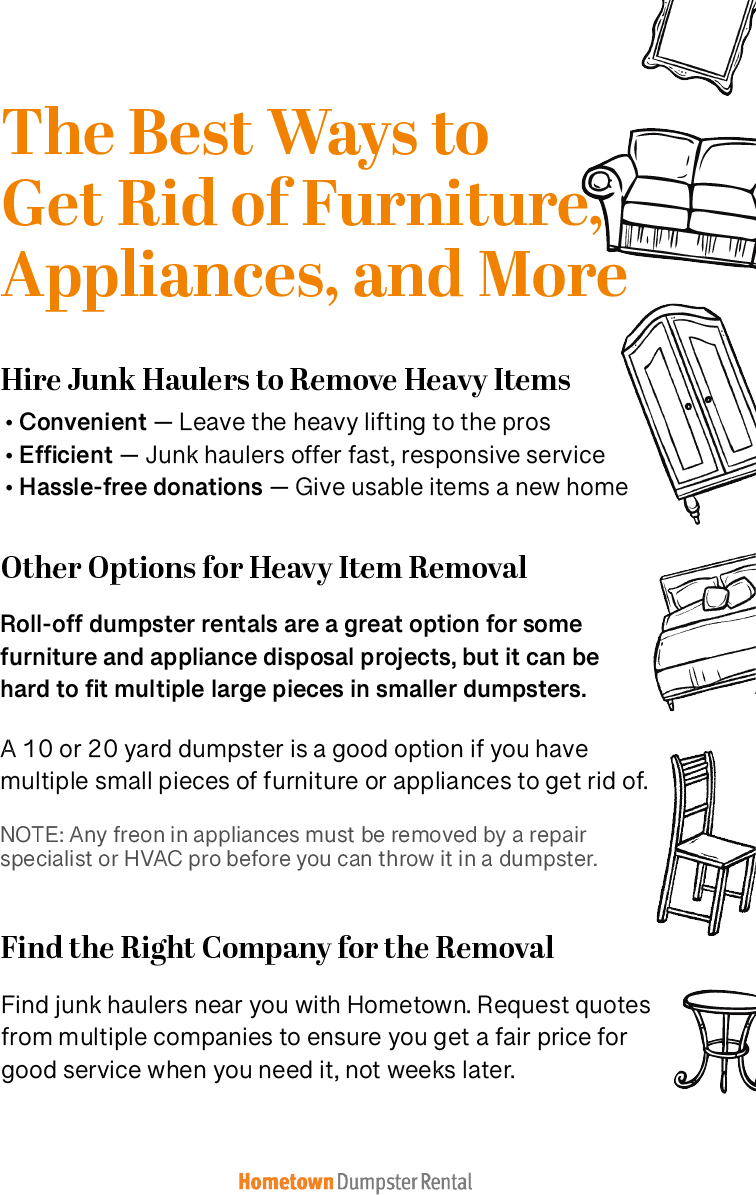 Why Hire Junk Haulers to Remove Heavy Items
No matter how many heavy items you have, junk removal is a great option if you would rather pay someone to handle the heavy lifting and disposal or donation process for you.
Junk haulers offer a convenient, stress-free disposal option for furniture, appliances, and all kinds of junk.
Junk removal companies often prioritize recycling and donating recovered items whenever possible, and if you're donating large furniture or multiple items still in good shape, these companies will often provide you with a donation receipt.
Learn more:
Additional Furniture and Appliance Disposal Options
Temporary roll-off dumpster rentals are a great option for some furniture and appliance disposal projects.
Bulky items, like furniture and appliances, are typically awkward shapes and sizes, making it hard to fit multiple large items in a small dumpster.
A 10 yard dumpster or 20 yard dumpster is a good option if you have multiple small pieces of furniture or appliances to get rid of.
If you have a freon-containing appliance, like a refrigerator, freezer, air conditioner, dehumidifier, or water cooler, you will need to hire a professional, like an appliance repair specialist or HVAC pro, to remove the refrigerant before putting it in a dumpster.
Dumpster rental prices vary based on your location, who you rent from, what you're getting rid of, and how much it weighs, but you can expect to pay around $200-$350 to rent a 10 or 20 yard dumpster.
If you have a trailer, or you'd rather do the work yourself and pay for a U-Haul, you could haul your items to the nearest donation center or landfill yourself.
However, this depends on your physical ability to safely lift and haul the furniture or appliances onto the truck/trailer as well as the cost of U-Hauls and gas in your area.
In many situations, the all-in costs involved with a U-Haul—not to mention the time and effort it takes—can be higher than having a junk hauler handle your furniture or appliance removal for you.
Find the Right Company to Remove Heavy Items
We recommend reaching out to multiple junk removal providers before hiring one to be sure you get a fair price for good services when you need them.
When you have a good understanding of your options, you're better able to pick the right company for you and your project.
---
---
Find out more: