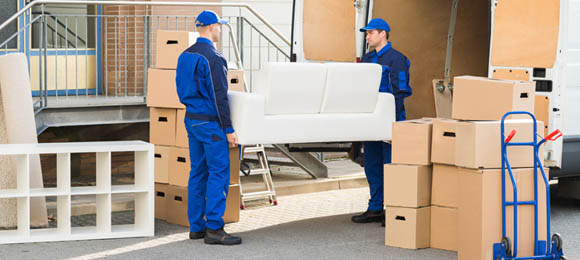 Updated July 10, 2023
Hiring a junk removal company can be beneficial for a number of reasons. Regardless of your project size, it's helpful to know what exactly to look for in a service provider if you've never had to hire one before.
Large home cleanouts due to evictions or estate settlements can be a huge undertaking that could benefit from the help of seasoned pros.
On the other hand, hiring a junk removal service can also be a great way to remove single pieces of furniture or appliances that might otherwise end up in a landfill.
These considerations should be at the top of your list when deciding which junk removal company to choose:
---
---


1. Make Sure They Are Insured
Confirm that any junk removal company you consider working with is properly insured.
This should be considered a non-negotiable because if any unforeseen or unfortunate circumstances arise, you want to know that you, your property, and the laborers are protected by the insured company.
Continue reading: Why You Should Hire a Licensed and Insured Junk Removal Company
2. Ask About Disposal Methods
Part of the reason that junk removal services can be a better solution than approaching your project DIY-style is because of their easy access to recycling facilities and donation centers.
An estimated $11.4 billion worth of recyclable material enters the United States landfills each year.
The stress relief of not having to do all the manual work yourself is only made better by knowing that in hiring the right company, you could also be minimizing your environmental impact.
Learn more:
3. Research Their Reputation
If you do not personally know anyone who has used the company in question, your first instinct is likely to look at online reviews.
While this can shed great insight into the integrity and quality of a company's services, it can also provide a sounding board for phony reviews that are written with an agenda.
Finding junk removal services with verified reviews in your area has never been easier than with Hometown.
Hometown personally contacts customers who have hired service providers through their site to collect a review of the company's performance.
From there, reviews are only published if the authenticity of the customer and the completed job can be verified, so you never have to wonder if the gleaming 5-star review is coming from the owner's mother or if a review describing a horror story was submitted by a competitor.
4. Find Out Their Availability
If by this point on your checklist, you've found a local company that recycles and donates as much salvageable material as possible that also has positive verified reviews, none of it will matter if you're on a strict timeline that they can't accommodate.
Spring and summer are considered the busy seasons for these types of services and, depending on where you live, can sometimes be booked solid days to weeks in advance.
If you are anticipating needing a junk removal company for an upcoming project, planning early can help prevent delays.
5. Clarify Your Project Time Frame
Most junk removal companies will send someone to your property to provide a quote and will perform the service on the spot if you accept their pricing.
This is not always the case and can be dependent on several factors, so clarifying your time limitations and expectations are importan prior to booking any services.
Read on: What Is an On-Site Junk Removal Estimate?
6. Consider Final Costs
Since many junk removal quotes are provided in person, it's important to have a budget in mind before you have one or more companies come to your project site.
As previously mentioned, it is not unusual for junk removal companies to perform same-day services if you accept their in-person quote. That being said, you should never feel pressured or obligated to book services if their pricing is not something that makes financial sense for you.
It's important to keep in mind, however, that by saving time, you also save money. This is especially true for business owners in the real estate, construction, and property management industries.
The Bottom Line…
Don't be surprised or put-off if you speak with a junk removal service that will only provide in-person quotes, but don't feel intimidated into hiring them if you feel like their pricing is outside your budget.
With so many locally-owned junk removal companies dedicated to recycling or donating the majority of the junk they haul away, it's worth finding out how your junk will be disposed of.
Supporting environmentally ethical companies has never been easier with so many pledging to do their part.
Easily find locally-owned and operated junk removal companies in your area by searching your zip code on Hometown. Our single quote request form makes it quick and easy to get multiple junk removal quotes at once so that you can compare each company's pricing, customer service, and availability. Quotes are always free and we never sell your information.
---