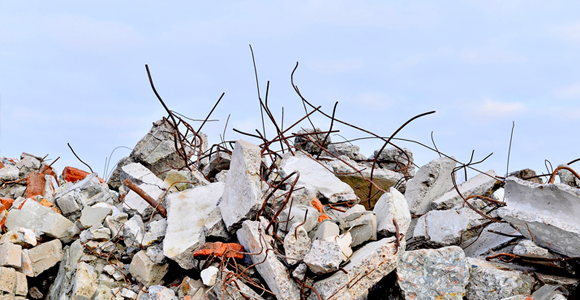 Updated January 19, 2023
A very important and sometimes overlooked aspect of construction and demolition projects is the cleanup and disposal of the debris once the project is done.
DIY construction and demolition removal is no easy task, so planning ahead and making sure all your bases are covered is important.
There are multiple debris disposal solutions available for most areas, and we recommend considering all your options to ensure you make the best choice for your project without overpaying.
In this guide, we'll outline the most common debris disposal options and the info you need to make the best choice for you.
Jump to:
---
---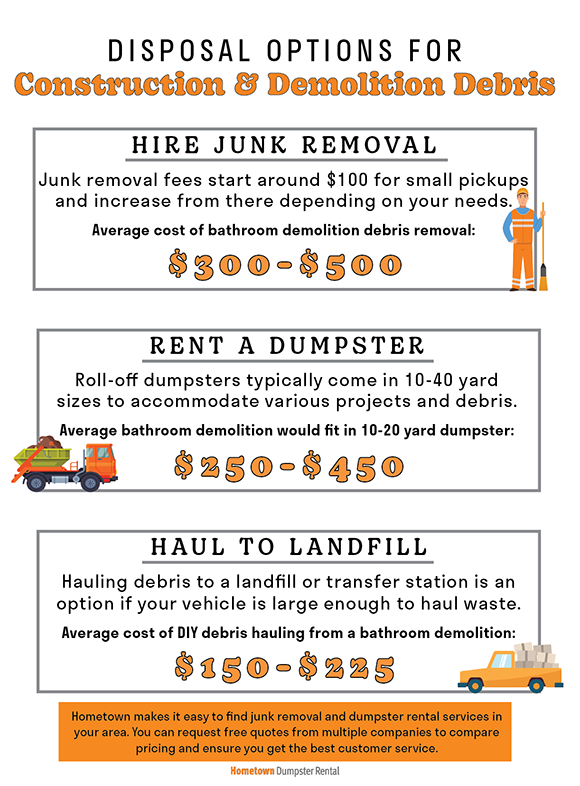 Hire a Junk Removal Company to Remove Debris
The fastest and easiest way to get rid of your construction and demolition (C&D) debris is to hire a junk removal service to do it for you.
While large professional debris removal is typically more expensive than renting a dumpster or hauling the debris to a landfill yourself, the value of a labor-free service cannot be understated.
Rather than spending hours cleaning up your worksite, you can work on other projects and leave the mess for the pros to handle.
Junk removal is especially helpful in situations where you are physically unable to maneuver heavy debris yourself or you simply don't have the time.
C&D debris can contain safety hazards, like sharp objects, rusty nails, insulation, moldy surfaces, etc.
This is also a great reason to hire a professional cleanup service to remove the material from the worksite for you; they are experienced in safely handling and disposal of debris.
Another benefit to hiring a hauling service is the efficient debris disposal or recycling they provide.
Junk removal companies are great at recycling and repurposing material, and construction and demolition debris should almost always be recycled to create new building material.
Instead of starting from scratch and trying to figure out how to safely and responsibly dispose of your debris, allow the experience of a professional C&D debris removal service take care of all the environmentally-friendly logistics.
Depending on the size of your project, a junk removal company will either request photos or send a crew to your location to provide you with an on-site quote.
If you agree to their pricing, they'll often get straight to work right then and there.
The best pricing for junk removal services most often comes from locally-owned and operated companies rather than large, national chains.
Junk removal minimum fees generally start at around $100 for small pickups and go up from there.
Hiring a junk removal service to haul away the debris from a bathroom demolition, for example, costs $300-$500 on average.
Debris removal costs depend on many different factors, like:
How much debris you have
What kind of debris you have
Presence of hazardous material
Where you're located
Who you hire
However, don't feel obligated to hire the first company you speak with.
Get quotes from multiple junk removal companies in your area to compare pricing, availability, and quality of customer service.
Hometown makes it easy to find reputable, locally-owned junk removal services in your area, request free estimates, and read verified customer reviews.
By entering your zip code and answering a few quick questions about your project needs, you'll be shown a list of licensed, bonded, and insured companies that service your area.
Keep reading:
---
---
Rent a Dumpster to Dispose of Debris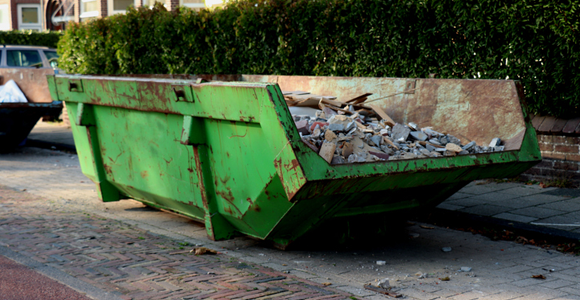 If you have the time, physical strength, and personal protective equipment to load the C&D debris yourself, renting a dumpster is a convenient and affordable solution.
Roll-off dumpsters are particularly cost-effective for large or ongoing demolition or construction projects.
Coming in sizes ranging from 10 yard-40 yard capacities, roll-off containers have an open top and swinging side door(s) for easy loading.
As the smallest size roll-off container, 10 yard dumpster can accommodate average size demolition projects, like:
Bathroom renovation
Deck removal
Flooring removal
Kitchen renovation
Removal of walls
Whole house baseboard/trim removal
The debris from an average size bathroom remodel or demolition would likely fit in a 10 yard dumpster or a 20 yard dumpster, costing $250-$450 on average.
When costs are similar, going with a junk removal service is likely the quickest option.
Common factors that affect dumpster rental costs:
Dumpster size
Weight of debris
Type of debris
Local disposal fees and permit fees
Overage fees or other surcharges
Where you live
Who you rent from
Renting the smallest dumpster size can end up costing you more in the long run if you aren't careful when calculating the volume of your C&D debris weight.
Going over your designated weight limit or, worse yet, having to rent a second dumpster could easily double your disposal fees.
Opting to rent a larger dumpster size from the beginning can help prevent these costly mistakes.
The best way to save money on a dumpster rental, much like junk removal, is to rent from a locally-owned company rather than their large chain competitors.
As is the case with junk removal, Hometown can help you find local dumpster rental services in your area with the click of a button.
From there you can easily request multiple dumpster rental quotes to compare pricing and quality of service.
Learn more:
Haul Debris Yourself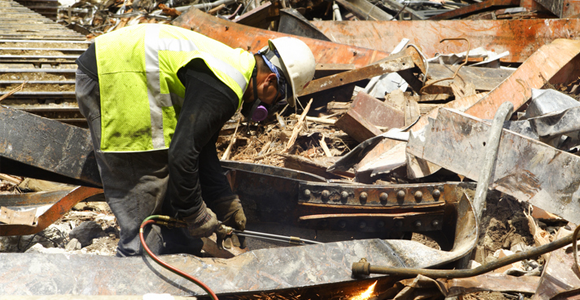 A third option for getting rid of C&D debris is to fully commit to DIY by hauling the debris to your area's landfill or appropriate recycling facility.
Unless you have experience in dumping at a landfill, you may be surprised to find out that once you take your time, effort, and travel expenses into consideration, it's no where near the easiest disposal option.
When planning to haul the debris yourself, consider the following:
How close is the nearest landfill or transfer facility that accepts the waste you're hauling?
Is your trailer or truck big enough to handle the debris you have?
Will you need to rent a truck or trailer in order to handle the transport of your debris?
Will you need to make multiple trips to complete the cleanup?
Do you know the waste transport and disposal laws in your city?
The bottom line is that your time is valuable.
If it is going to cost you a lot of time and money to haul the items to the proper facility yourself, you're better off having someone else do it for you.
If the amount of C&D debris you have to get rid of is relatively small, hauling debris to the landfill yourself might be a great option.
If the project you've completed produces a significant amount of waste, however, we highly recommend seeking professional help by way of dumpster rental or junk removal services.
---
---
Continue reading: