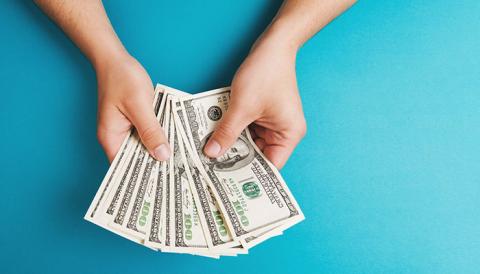 Updated August 1, 2022
Renting a dumpster can get expensive if you fail to do your research.
Luckily, there are several ways to ensure you're getting the best price on a dumpster rental for whatever your disposal needs are.
Jump to:
---
---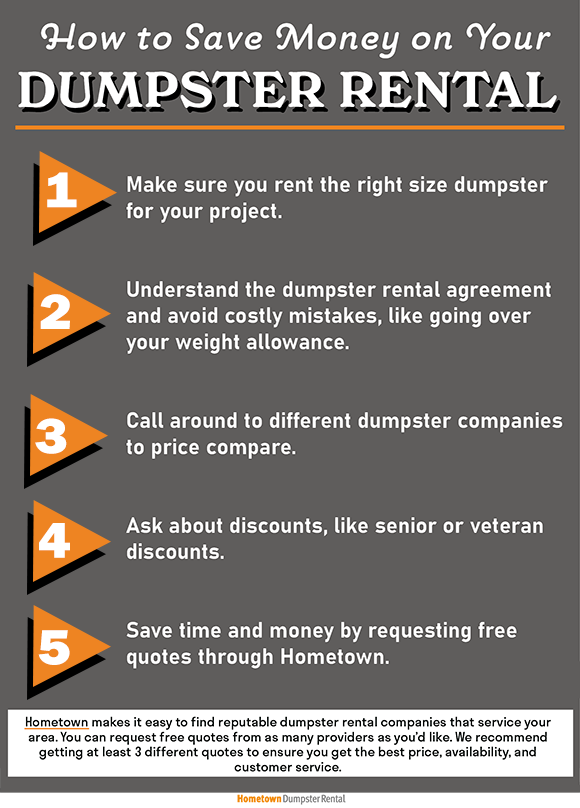 Pick the Right Dumpster Size
One of the biggest mistakes people make when renting a dumpster is ordering the wrong size.
It's extremely important to know exactly what and how much material you plan on dumping.
Renting a dumpster that's too small can result in you needing to rent a second dumpster, doubling your original disposal budget.
You can also incur overage charges if you pack your dumpster too tight and go over the weight allowance.
Likewise, renting a dumpster that's much larger than you need is likely more expensive than opting for a smaller size.
Estimating the weight of your debris can be difficult, but experienced dumpster rental professionals are great at helping customers anticipate which size will best suit their project needs.
Read more about dumpster sizing:
Know the Added Expenses
Overage charges, tipping fees, and late charges are all common expenses associated with renting a dumpster.
Some fees will be included in your quoted price, but others will not.
Always ask about additional fees and charges associated with the rental.
Overage fees can get particularly expensive if you're not careful.
These are fees you pay to the rental company if you go over the weight limit for the rental.
These fees can cost $40 or more per ton in addition to the normal rental cost of the container.
This is just another very important reason to be as accurate as possible when describing the types and amount of material you plan to dump when talking to the service rep over the phone.
Keep reading about overage fees:
Call Around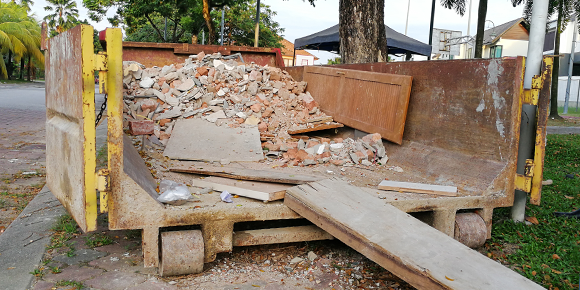 It's always a good idea to call at least 2-3 dumpster rental companies before renting a container.
A simple price comparison can reveal a cheaper option in your area, which can give you negotiating power when speaking with other service providers.
Many times, local dumpster rental companies will not only match their competitor's pricing, but beat it.
Ask About Discounts
Some dumpster rental companies offer special discounts for people in the military, seniors, veterans, or members of certain area organizations.
Sometimes you won't find out about these discounts unless you ask the service rep if any are available.
You can receive discounts of 10% or more using this simple tip.
Use Hometown to Save Money and Time
Hometown's website makes it easier than ever to save time and money when shopping for a dumpster rental service.
You can quickly find companies in your area, read verified customer reviews, and request free quotes from as many providers as you'd like - all in one easy-to-use place.
We work with local dumpster rental companies across the nation who already offer some of the lowest dumpster rental prices around.
We make it convenient for customers to get quotes from multiple providers in order to get the best possible price and customer service.
---
---
Continue reading: