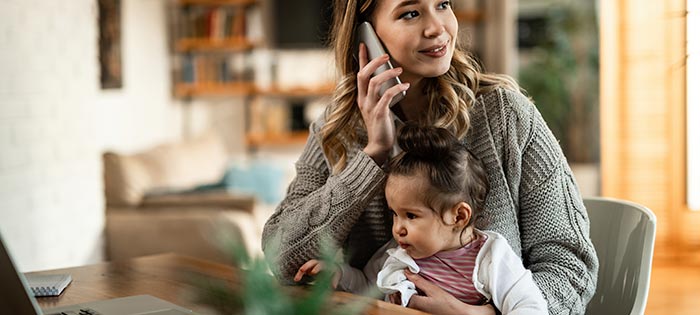 Updated July 28, 2022
The process of renting a dumpster is an easy one, but if you've never done it before, you may find yourself wondering where to begin when the time arises.
Dumpsters are extremely versatile, making them great for all kinds of projects, from spring cleaning, to pre-baby cleanups, home remodels, and more.
Use this easy-to-follow guide to ensure your dumpster rental experience is stress-free.
We'll go over:
---
---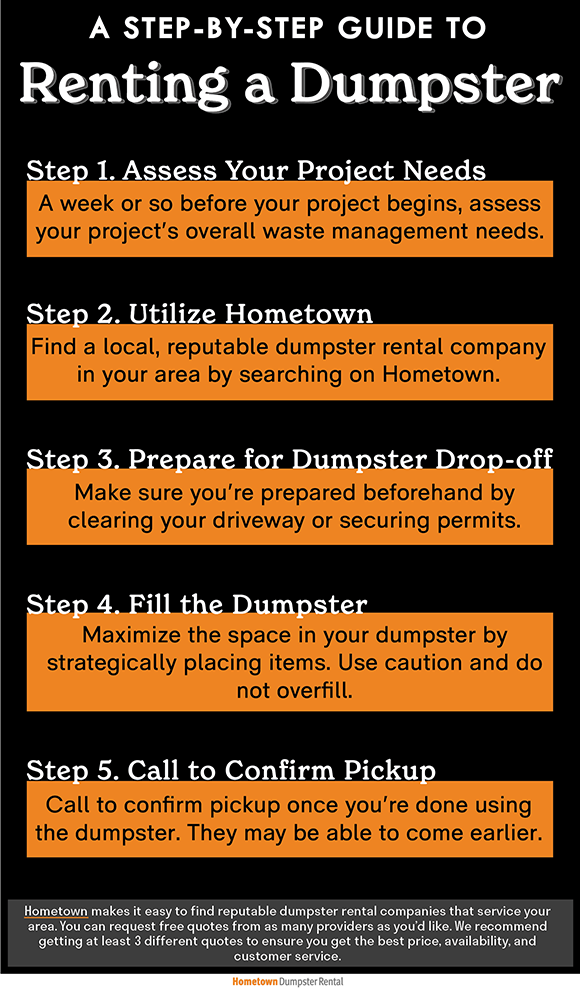 Step 1: Assess Your Project Needs
A week or more before you plan to begin your project, assess your project's overall waste management needs.
For example, if you plan to remodel your kitchen, you know you will need a dumpster that can accommodate old cabinets, a sink, flooring, and maybe some other kitchen furnishings or random junk lying around the house.
If you are doing a complete home cleanout, you will need a dumpster big enough to accommodate general junk, papers, old furniture, etc.
The more information you can give a dumpster rental company or junk removal service provider, the better they'll be able to quote your project and provide the best solutions for your specific needs.
We understand you're not an expert at estimating how much debris you have, especially when you have a lot of different things in a lot of different rooms.
Dumpster rental companies are experts at helping homeowners and business owners choose the right container size they need, but as previously mentioned, the more information you can give them, the better they'll be able to help you.
Step 2: Utilize Hometown Dumpster Rental
At Hometown Dumpster Rental, we specialize in helping customers find qualified dumpster rental providers in their area.
You can learn about each company, read customer reviews, and access contact information all in one place.
We recommend getting quotes from multiple providers so you can compare prices and availability, plan out a budget, and determine the best course of action.
We recommend contacting 3+ different companies to make sure you get great service without overpaying.
Make sure you understand what is included in each quote before signing, like:
How much weight is included in the price.
Overage fees if you exceed your dumpster weight limit.
What items are prohibited from the dumpster.
Drop-off and pick-up procedures.
Any other pertinent details or potential fees.
Call to schedule your roll-off container rental at least a week in advance to ensure the size you need is available when you need it.
This is especially important during busy times of the year (i.e., spring cleaning season and summertime).
We also recommend getting a slightly bigger container size than you think you'll need.
If you get a container that's too small, you may have to pay for a second container to complete the job
A bigger container is significantly less expensive than renting two smaller dumpsters.
You may want to consider a junk removal service for your project if:
You're physically unable to load the dumpster yourself.
The project load only consists of a few large items, like furniture or appliances. (Junk removal services may actually be cheaper than renting a dumpster in this case.)
You don't have time to do the cleanout yourself.
You don't want a dumpster sitting on your property for a week or longer.
Keep reading:
---
---
Step 3: Prepare for Dumpster Drop-Off
The next step to a smooth dumpster rental experience is ensuring your location is ready and that you prepare for the dumpster drop-off.
The container will need to be set on hard, level ground.
If you plan to have it dropped off in your driveway, make sure it's clear of cars and all other items so it's easily accessible for the drop-off.
If the only option is to park the container on a city street, make sure to obtain the proper city permits required to do so.
Your dumpster rental provider should be able to help you with any necessary permitting.
In addition to clearing a spot for the container, it's important to make sure you're ready to start loading it once it arrives.
If you have the rental for seven days, which is the standard timeframe, be sure that's enough time to get the job done.
If it's not, you may incur additional fees for keeping the container beyond the agreed-upon timeframe.
Learn more:
Step 4: Fill the Dumpster
Once the dumpster has arrived, you can fill it up with all your junk.
This is the fun part, but make sure you maximize the space of your dumpster by loading it in an organized fashion.
Make sure you don't overload the dumpster.
Most rental companies prefer you don't fill the dumpster more than 75% full, but all require that you keep items at least below the top of the container.
You may incur additional charges if you overfill the container.
Step 5: Call to Confirm Pick Up
Give the rental company a call if you finish the job ahead of schedule; they may be able to come pick up the container early.
Make sure your dumpster is easily accessible when it's scheduled to be picked up.
If cars, bikes, or other items are blocking it, you could incur an additional fee.
---
---
Keep reading: