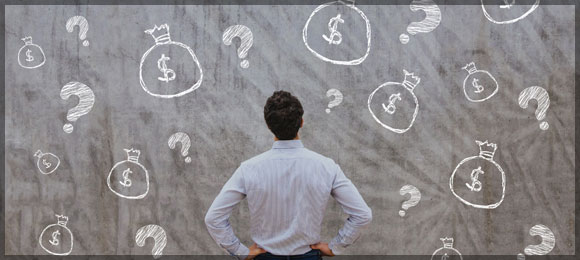 Updated August 31, 2022
The standard rental duration for most dumpster rental companies is seven days, although most companies are flexible in being able to meet the needs of your project.
We'll go over the average cost of renting a dumpster for one week and how to find the best price in your area.
Jump to:
---
---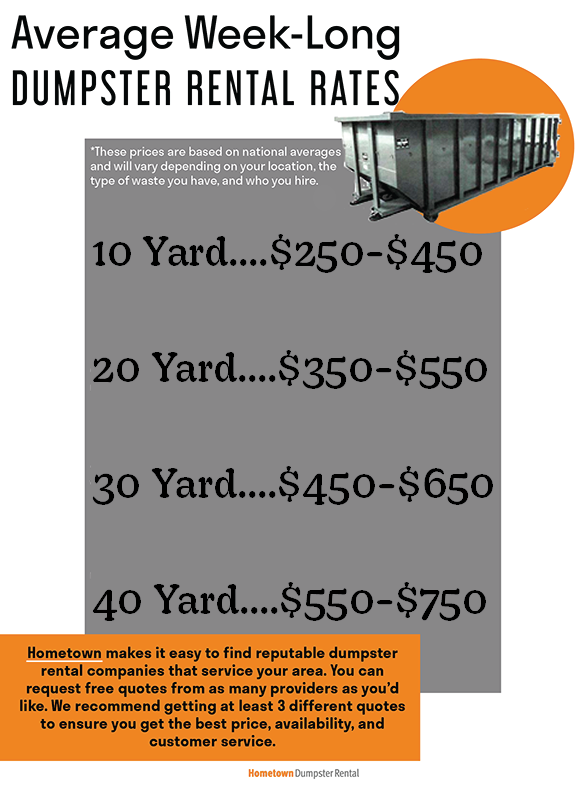 Average Dumpster Rental Prices Nationwide
The cost of renting a dumpster for a week varies based on your location, type of waste, volume of waste, and several other factors.
Nationwide Average Cost for a Week-Long Dumpster Rental
The cost of renting a dumpster is highly variable and largely based on the cost of living in your area.
For example, the cost of renting a 20 yard dumpster in New York City or Los Angeles could easily top $550 for a 1-week rental.
On the other hand, the same size dumpster in a city with a lower cost of living, like Fort Wayne, IN, could cost around $350 for the same 7-day rental period.
Furthermore, pricing may go up or down by season.
Winter is a slower time of year for dumpster rentals, so good deals may be more prevalent during these months compared to summer months.
How to Avoid Additional Fees
There are several factors you can control in keeping your dumpster rental costs down, including:
Ensuring the load does not exceed the weight allowance.
Sticking to the rental period.
Keeping prohibited items out of the dumpster.
The dumpster rental provider will let you know how much weight is allowed in their container.
This can range from 2 tons to as much as 10 tons or more.
It depends on the size of the container, and this limit varies from one dumpster rental company to another.
Overloading the dumpster or putting prohibited items in the container can cause delays and/or additional fees.
Federal and State environmental regulations prohibit mixing hazardous materials in with other wastes.
Hazardous wastes include, but are not limited to:
Paint
Freon-containing appliances (e.g., refrigerators)
Asbestos debris
Automobile fluids and batteries
Tires
Food waste (in some municipalities)
Ask your dumpster provider about prohibited items.
If you have items that aren't allowed in their dumpster, they can refer you to the best disposal method.
Learn more:
---
---
Cost of Keeping Your Dumpster Rental Longer
If you keep the dumpster longer than the standard 7-day period, you may be subject to a daily fee.
A $10 to $20 per day fee is a common additional fee charged to customers who keep the dumpster longer than the standard 7-day rental period, but this fee varies by rental provider.
Plan ahead and schedule the rental so that the disposal part of the project is completed within the 7-day rental duration.
Make sure that pickup and delivery expectations are clearly communicated so that you and the rental company are on the same page.
How to Get the Best Dumpster Rental Rates
The most effective way to get the best price is to call multiple dumpster rental companies to price compare.
We suggest contacting at least 2-3 local providers before booking a dumpster.
This provides a clearer picture as to what the going rate is in your location.
The other benefit of calling multiple rental providers is the ability to negotiate a better price based on competitor pricing.
It's entirely possible to score a 5-10% discount through negotiating.
Even if negotiating doesn't work, many dumpster rental companies offer discounts for veterans, current military, or seniors. Be sure to ask when getting an online or over-the-phone quote.
Keep reading:
How to Get the Best Service
It's easy to simply choose the lowest price when shopping for a dumpster rental, but renting a dumpster based on price alone can be a big mistake.
Going with the cheapest option could come back to bite you in the form of:
Late delivery and/or pick-up.
Rude customer service.
No regard for protecting your property during dumpster drop-off and pick-up.
Additional hidden fees that show up on the bill.
This isn't to say that the lowest cost dumpster rental company in your area is a bad choice; it very well could be the best option.
The key is to do your research to ensure you rent from a reputable company.
There are several things to research to help determine if a company is reputable, like:
Finding out how long they've been in business. You can check online or ask them.
Read online reviews to see others' experiences with a company.
Gauging their level of customer service over the phone. Are they friendly, accommodating, helpful, etc.?
Making sure they can meet your project's timeline and supply you with the dumpster size you need for the job.
If you find that there are two or more good dumpster rental companies in your area that pass the vetting process, then choosing the lowest price is a great option.
One of the easiest ways to do this research is to use Hometown.
You can read real, verified reviews and request quotes from dumpster rental companies in your area, completely free of charge.
---
---
Read more: