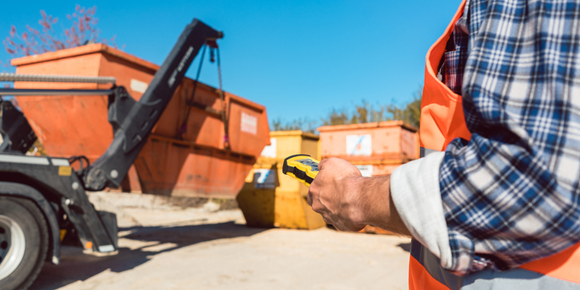 Updated February 23, 2023
Any time you're investing money in a project around the house, it's important to make sure you do research on the company you plan on hiring.
When it comes time to dispose of debris or junk, we strongly recommend making sure you rent a dumpster from a reputable company to avoid headaches in the future.
Hometown makes it easy to find qualified dumpster rental (and junk removal) companies in your area.
Here's how:
---
---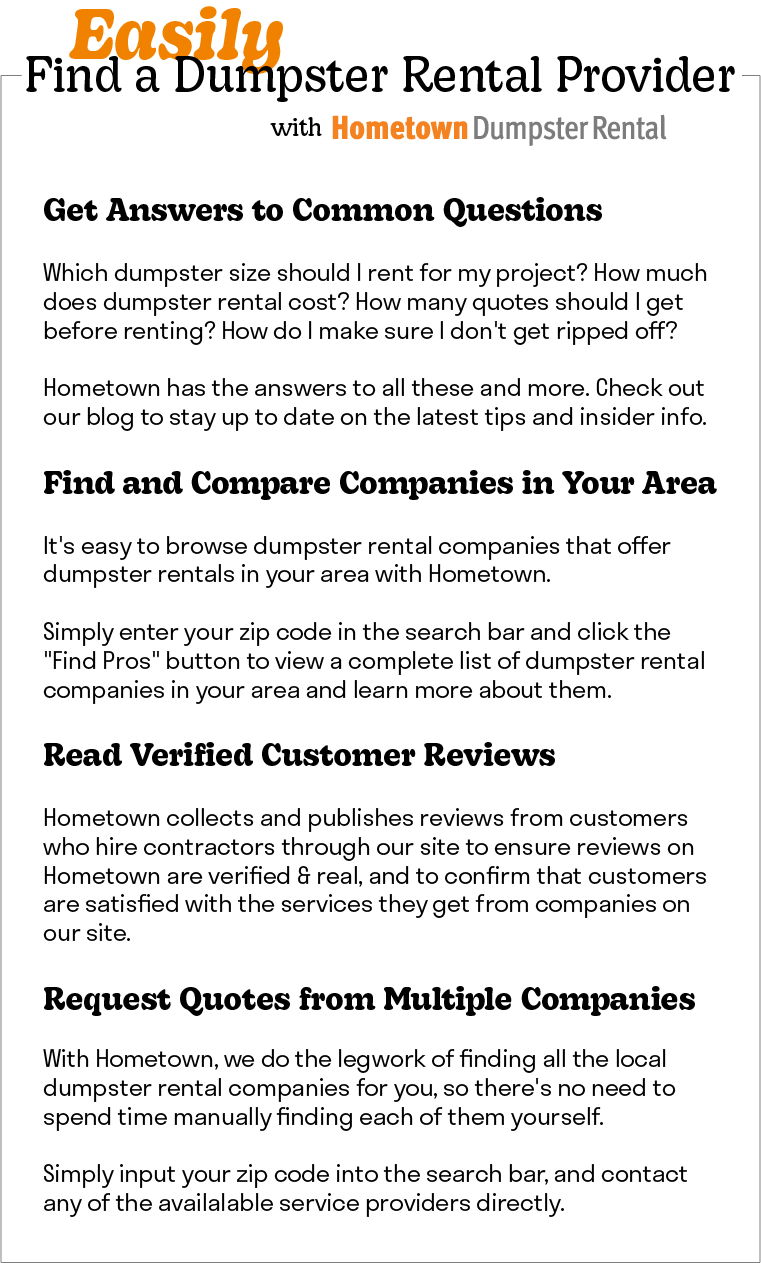 Get Answers to Common Questions
Before requesting quotes from dumpster rental companies, you may have some questions about your potential project you'd like answered first.
How much debris can fit into each dumpster size? Which dumpster size should I rent for my project? Is there any debris I shouldn't put in a dumpster? How much does dumpster rental cost? How many quotes should I get before renting? How do I make sure I don't get ripped off?
Hometown has the answers to all these and more.
All dumpster rental companies should have the appropriate licensing and insurance policies in place to safely do the job and protect their workers and your property in the event of an accident.
Renting a dumpster from a company that is not operating legally and with the proper insurance policies is a huge liability and puts your property (and bank account) at risk.
Hometown is a great resource for finding legally operating, locally-owned dumpster rental companies that serve your town.
Every company published has been vetted to ensure that you're only shown dumpster rental companies you can trust.
The more prepared you are for your project, the smoother it's likely to go. Lower costs, an efficient timeline, and less stress are all products of a well-planned debris disposal or cleanup project.
Check out our blog to stay up to date on all the latest tips and insider info.
Keep reading:
---
---
Find and Compare Companies in Your Area
It's easy to browse dumpster rental companies that offer rentals in your area with Hometown.
Simply enter your zip code in the search bar and click the "Find Pros" button.
From there, you can view a complete list of dumpster rental and junk removal companies in your area.
Read about each company, see a list of dumpster sizes and other services they offer, and access their phone number so you can contact them to get a quote whenever you're ready.
Read Verified Customer Reviews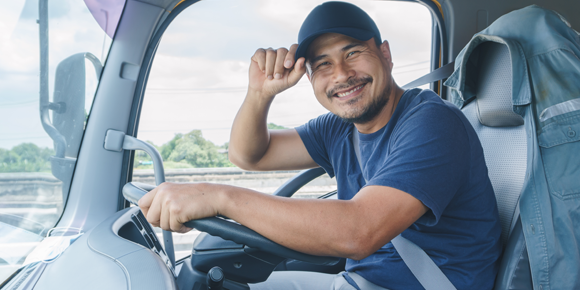 Hometown collects and publishes reviews from customers who find dumpster rental and junk removal services through our site.
Not only does this ensure that customer reviews on Hometown are verified and real, but it also confirms that customers are satisfied with the services they get from companies on our site.
When reading reviews on Hometown, there's no need to worry about competitors leaving phony reviews because we follow up with each customer to ensure all reviews on our site are legitimate, not faked.
Seeing what other customers have to say about dumpster rental companies' services can be extremely helpful in the hiring process.
Request Quotes from Multiple Service Providers
With Hometown, requesting dumpster rental quotes (or junk removal quotes) from debris disposal service providers in your area is as simple as inputting your zip code to show you all the companies in your area, then giving them a call.
We do the legwork of finding all the local dumpster rental companies for you, so there's no need to spend time manually finding each of them yourself.
Requesting dumpster rental quotes from multiple local companies helps to ensure you pay a fair price for services while getting great customer service too.
---
---
Find out more: