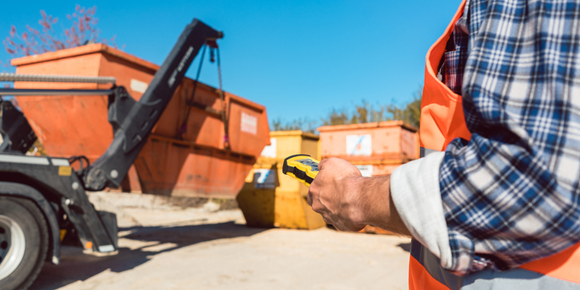 Any time you're investing money in a project around the house, it's important to make sure you do research on the company you plan on hiring.
Make sure you rent a dumpster from a reputable company to avoid headaches in the future.
Jump to:
---
---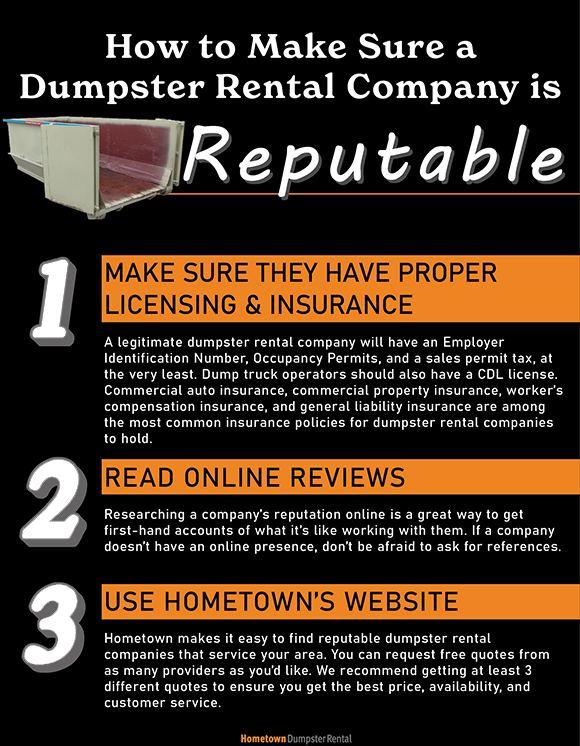 What kind of licenses should a legitimate dumpster company have?
Drivers that operate roll-off container trucks for dumpster companies need to have a Commercial Driver License (CDL) license.
There aren't specific dumpster rental business licenses but like all other businesses, they need to file the proper paperwork to be registered as a business entity.
There are general business registrations at the local, state, and federal levels that need to be properly filed in order for a company to legally operate.
A legitimate dumpster rental company will have:
Employer Identification Number
Occupancy Permits
Sales permit tax
Insurance
Depending on where you are located, they may be required to obtain additional credentials.
In addition to proper licensing, all dumpster rental companies should have insurance policies in place to protect their workers and your property in the event of an accident.
Commercial auto insurance, commercial property insurance, worker's compensation insurance, and general liability insurance are among the most common insurance policies for dumpster rental companies to hold.
Renting a dumpster from a company that is not operating legally and with the proper insurance policies is a huge liability and puts your property (and bank account) at risk.
Learn more:
How can you tell if a dumpster rental company is reputable?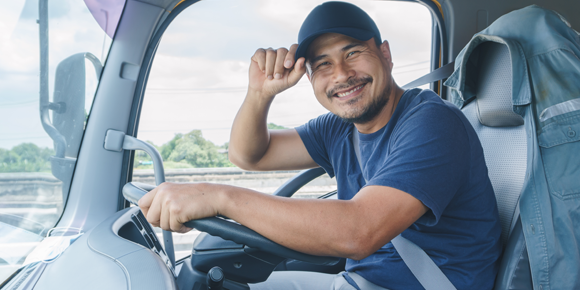 After you confirm that a dumpster rental company is operating legitimately, it's worth making sure they are reputable.
Just as making sure a company is operating legally is important, it's also important to make sure they provide quality, reliable work.
Researching a company's reputation online is a great way to get first-hand accounts of what it's like working with them.
Understanding how to spot fake reviews can be beneficial in making sure you aren't being duped into believing false reviews, whether they're negative or positive.
Websites like Hometown that personally verify every review published are great resources to learn more about the kind of reputation dumpster rental companies in your area have throughout the community.
Another great way to get an idea of the quality of work and customer service a company provides is to ask for references.
What are the potential risks of renting a dumpster from an illegitimate company?
The biggest liability is inviting a company that does not have worker's compensation insurance onto your property to perform any type of work.
In the unfortunate circumstance that a worker is injured, the property owner may be liable for any medical bills, lost wages, and potential legal fees.
There is also something to be said of a company that is bold enough to operate a service illegally.
If there is no paper trail to follow, who is to say that a company couldn't disappear overnight after taking partial or full payment?
A company that isn't registered and has no online presence is likely far less concerned with its reputation or level of customer service than a company that is.
Hometown is a great resource for finding legally operating, locally-owned dumpster rental companies that service your zip code.
Every company published has been vetted to ensure that you're only shown dumpster rental companies you can trust.
---
---
Continue reading: