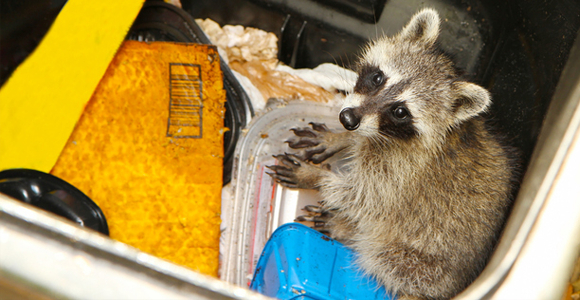 Updated November 12, 2022
Renting a residential dumpster or using a commercial dumpster service is an easy and cost-efficient way to manage and dispose of large amounts of junk and trash at once.
When some of this trash includes food, however, it's important to plan ahead to prevent critters from sneaking into your dumpster and creating an unsightly mess on your property.
We'll go over:
---
---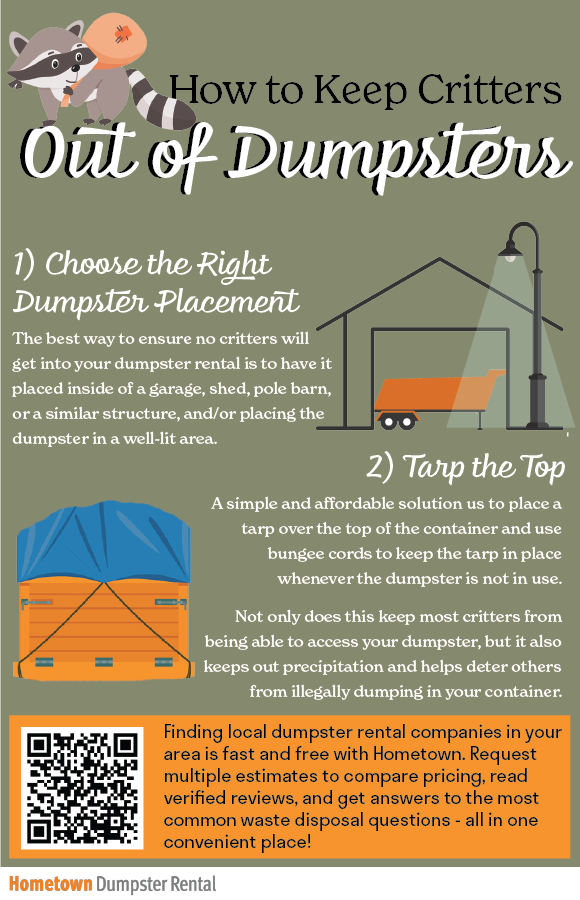 Choose the Right Dumpster Placement
The easiest and best way to make it harder for critters to get into your dumpster rental is to make sure any top flaps or doors stay closed when you aren't actively using it.
Because most residential dumpster rentals do not come with a top for enclosing the dumpster, the next best option is to place it where it is least accessible for critters.
For example, if you can place it inside of a garage, shed, pole barn, or similar structure, that is a great way to keep critters and the elements out of your dumpster.
If you're worried about your garage or barn's floor getting damaged by the dumpster, you can place wood boards underneath the roll-off container's steel wheels (check with your rental company to see if they provide these), or you can rent a trailer dumpster instead.
Trailer dumpsters can typically accommodate the same type of disposal projects that standard roll-off dumpsters can, but they feature rubber wheels that protect your driveway and garage floor from any potential damage.
If you don't have the option to place a dumpster in a structure, placing the dumpster in a bright, well-lit area often makes critters less comfortable making themselves at home in your dumpster, too.
If you don't have a structure or bright lights to place your dumpster under, don't worry.
There are other ways to keep unwanted pests and critters from digging through your dumpster.
Learn more: How Dumpster Rental Companies Protect Your Driveway
Utilize Tarps When Possible
Temporary residential dumpster rentals have open tops for easy loading, but these exposed openings can sometimes attract unwanted pests.
A simple and affordable solution is to place a tarp over the top of the container and use bungee cords to hold the tarp in place whenever the dumpster is not in use.
Not only does this keep most critters from being able to access your dumpster, but it also keeps out precipitation and helps deter others from illegally dumping in your container.
It's important to make sure rain, snow, and hail do not collect in your rental so that you don't go over your weight limit.
Learn more about weight limits, average dumpster rental prices, and more by reaching out to local companies near you.
Search your zip code on Hometown, fill out a single quote request form, and send it to multiple companies near you.
Getting multiple dumpster rental quotes will not only help you get the best price, but it will help you get the best customer service and the availability your project requires.
---
---
Learn more: