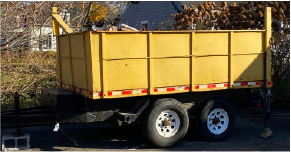 Updated September 29, 2022
When you shop around for a dumpster rental in your area, you'll often be presented with the option of choosing between a trailer dumpster and a roll-off container.
They both have their benefits, but this blog will go over the benefits of renting a trailer dumpster.
Jump to:
---
---

Rubber Wheels
One of the biggest benefits of renting a trailer dumpster is the rubber wheel feature.
The rubber wheels are beneficial for two reasons:
They prevent damage from being done to your driveway.
They make moving, maneuvering, and placing the dumpster faster and easier in comparison to a traditional roll-off container.
Open Top
Unlike the commercial dumpsters that you see behind businesses or at apartment complexes, trailer dumpsters (as well as roll-off dumpsters) feature an open top, meaning it has no lid.
Open tops make throwing your garbage or debris into the container more convenient so you don't have to constantly navigate a large top lid.
The open top can leave your container vulnerable to the elements, so we recommend using a tarp to cover the top if you're expecting a lot of snow or rainfall.
Learn more: Planning for Rain or Severe Weather During a Dumpster Rental
Compact Size
Trailer dumpsters are designed to fit into a parking space, making them a great choice when you need to fit your dumpster rental in a single-car driveway, garage, tight alleyway, etc.
For context, dump trailers are typically 8-14 ft long, 5-8 ft wide, 2-4.5 ft tall.
Keep reading: Trailer Dumpster Sizes, Weight Limits, and Rental Costs
Convenient
Having a dumpster on-hand during large cleanup projects is convenient in itself, but trailer dumpsters specifically offer flexibility that other dumpsters cannot.
The rubber wheels and trailer hitch make moving and maneuvering the dumpster a much faster and simpler process in comparison to a roll-off container, which requires a special dumpster truck to do so.
If your project site requires you to adjust the location of your container throughout the duration of your rental, a trailer dumpster is likely your best option.
Affordable
Trailer dumpsters tend to be similar in price to traditional roll-off container, which are also a very affordable large disposal solution.
On average, trailer dumpster rentals cost $250-$550, but can be more or less depending on where you live and who you rent from.
If you want to get the best price for your dumpster rental, we highly recommend renting from a locally-owned company.
National companies, like Waste Management, tend to have higher overhead fees which are passed onto the consumer.
It's also good practice to get multiple quotes to compare pricing, availability, and customer service.
At Hometown, we streamline the process of finding local dumpster rental companies and requesting multiple quotes to price shop.
By entering your zip code and answering a few quick questions about your disposal needs, you'll be able to submit your free quote request to several local companies that service your area.
We make choosing the right dumpster company easy so you can get to work on your project right away.
---
---
Continue reading: