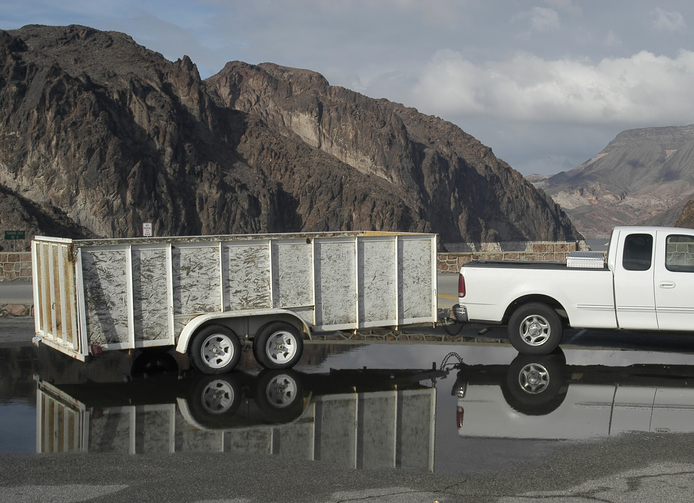 Updated January 14, 2022
The best way to get rid of large amounts of trash at once is with a dumpster, and when it comes to dumpster rentals, roll-off containers are by far the most popular option offered by disposal companies.
But sometimes you need a dumpster placed in a small or steep driveway, in a narrow alley, or a parking space.
Renting a trailer dumpster might be the best choice for your particular disposal project.
If you're curious about trailer dumpsters and what they offer in comparison to standard roll-off dumpsters, you've come to the right place.
We'll go over these benefits:
---
---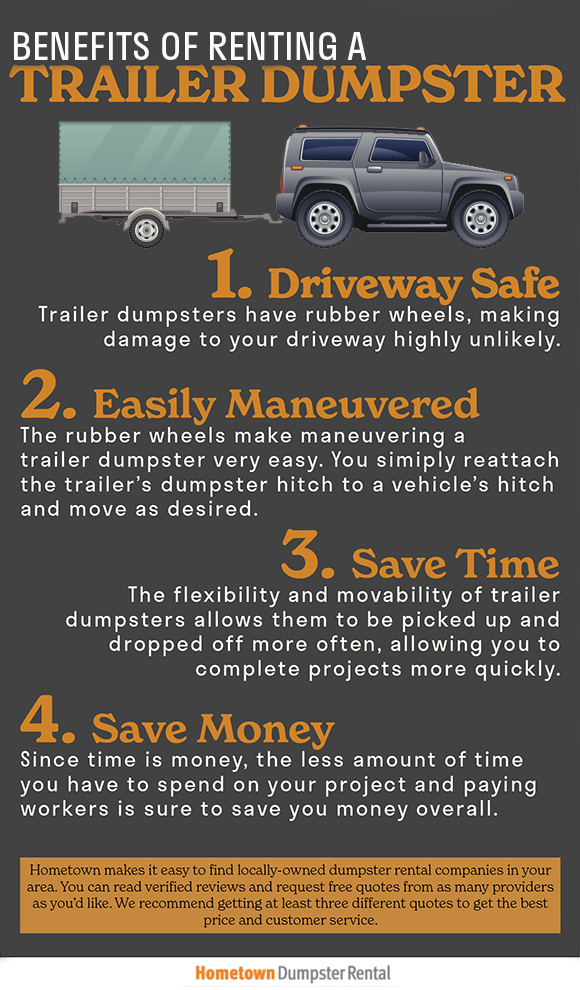 Driveway Safe
One of the best features of a trailer dumpster is that it's surface-friendly.
Dumpster damage to your driveway is unsightly and an inconvenience that can be avoided altogether with a trailer dumpster.
While a professional dumpster company should know how to avoid causing damage to your property, some accidents do occasionally occur.
Due to the nature of roll-off containers, they are more likely to accidentally crack or chip your cement or asphalt driveway than a trailer dumpster during drop-off and pick-up.
Roll-off containers are very heavy, have a flat bottom, and are gently rolled off a dumpster truck during delivery, hence the name "roll-off dumpster."
A dumpster trailer, however, is attached to wheels and is transported via hitch, making delivery as easy as backing it into your driveway.
All the weight remains on wheels, so you don't have to worry about the delivery person accidentally dropping a heavy container on your property.
Learn more:
Easily Maneuvered
Because of the aforementioned rubber wheels, trailer dumpsters are much easier to maneuver than a roll-off container.
If you decide to reposition or move your dumpster after it's already been placed, doing so with a trailer dumpster is quick and easy. You simply reattach the trailer dumpster's hitch to the delivery truck and move as desired.
To reposition a roll-off container, however, the entire dumpster must be properly hoisted back onto the dumpster truck before being delicately unloaded all over again in your desired position or location.
If you have a large property with multiple projects scattered across it, having a trailer dumpster might be the best option for you to move your container to each project location as needed.
Or, if you have multiple projects at multiple different locations, being able to keep a trailer dumpster attached to your vehicle so you can easily drive your disposal container from one location to the next is a great way to streamline a number of different cleanup projects.
Save Time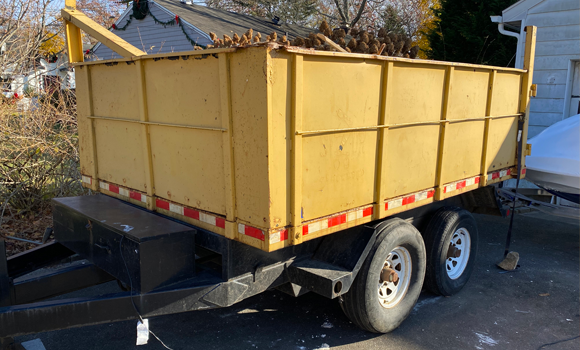 Roll-off dumpsters are great disposal containers for any project, don't get us wrong, but if your project requires a dumpster to be in and out within a matter of hours or a day, trailer dumpsters may make the most sense.
While it is certainly possible, it's not common for a roll-off container to be dropped off and picked up on the same day.
Roll-off dumpsters have to be delivered with a special truck designed just for the delivery and pickup of dumpsters while a trailer dumpster can be delivered and picked back up by basically any vehicle with a hitch to haul a trailer.
Also, as previously mentioned, if you have multiple projects to get to in a short amount of time, trailer dumpsters allow a faster and easier option to move your container from location to location.
This flexibility allows trailer dumpsters to be picked up and dropped off more easily and more often.
Keep reading:
Save Money
While trailer dumpsters are often the same price as roll-off containers, the flexibility they offer can end up making your project go by more quickly.
They say time is money, so if a trailer dumpster can save you time on your project, you can bet that it will save you money on your project, too.
Having to wait days for a roll-off dumpster to be emptied and returned for the continuation of your project can cause delays that cost you and your crew precious time and valuable money.
One of the best ways to get the best price is to rent a dumpster from a locally-owned company that is reputable, licensed, and insured.
Locally-owned dumpsters are almost always less expensive than rentals from large, national chains.
It's very important to make sure that the company you rent from is licensed and insured.
An illegitimate company may offer you a cheaper rental price, but the risks involved are not worth the small savings.
Finding reputable dumpster rentals that service your area is quick and easy using Hometown.
You can find services near you, read verified reviews, and request free quotes from as many providers as you would like.
We recommend getting at least three different dumpster rental quotes to ensure you're paying a competitive price and receiving quality customer service.
---
---
Read on: