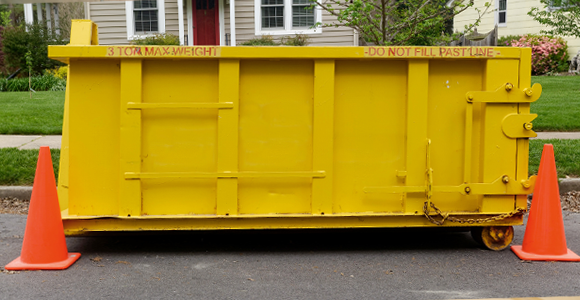 Updated June 2, 2023
Renting a dumpster isn't something most people are accustomed to doing, and there are a lot of misconceptions about this service as a result.
Many people don't realize that some companies offer single day dumpster rentals that are perfect for those who don't have the space or desire to have a container sitting on their property overnight for multiple days.
We'll go over some of the most frequently asked questions about single-day dumpster rentals so that you'll know what to expect when shopping around for containers.
Jump to:
---
---
Can I get a discount if I only need to rent the dumpster for one day?
Generally speaking, no.
Whether you need to rent a dumpster for one day, three days, or seven days typically doesn't impact the cost.
The primary factor affecting dumpster rental cost—for both the company and therefore the customer—is the type and weight of debris/trash.
The cost that the dumpster company incurs is the same regardless of your rental period length.
However, with that said, there are several other factors that affect dumpster rental costs.
Are dumpster companies willing to negotiate pricing for single-day dumpster rental?
Some companies may negotiate a slightly lower rate for a very short rental period, like one to three days, especially during very busy times.
If a company is experiencing a high volume of business and their inventory is low, they may be more motivated to provide a discounted price for a fast return of the dumpster.
Likewise, smaller dumpster companies with smaller fleets might also be more inclined to offer a better rate for the ability to get the dumpster back and rented out again more quickly.
Companies that have a large inventory of dumpsters in their yard ready to rent typically are not motivated to provide a discount for a short-term rental.
Calling around and asking companies if they offer any discounts for short-term rentals may turn up a company in your area willing to give you a better deal than the rest.
Your best bet for finding a company willing to offer such discounts is by renting from a small, locally-owned and operated dumpster company.
Finding locally-owned and operated dumpster companies in your area is easy with Hometown.
By filling out our single quote request form, you'll be able to send out your project details to several providers in your area.
Compare the quotes you receive to see who offers the best pricing, customer service, availability, and who can accommodate single-day dumpster rentals.
Learn more:
How much does it cost to rent a dumpster for a day or two?
The average cost for a 10 yard dumpster is $250-$450, while a 20 yarder will typically cost you between $350-$550.
See our list of dumpster rental costs in all 50 states to get an idea of the cost of a 10 yard or 20 yard dumpster in your particular area.
These prices are averages and include the standard 5-7 day rental period, but are a good point of reference when searching for competitive dumpster prices in your area.
---