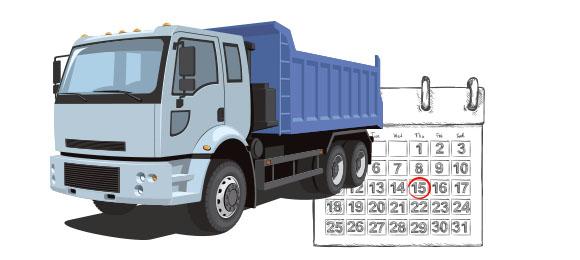 Below, we'll answer frequently asked questions, like:
Can I get a discount if I only need to rent the dumpster for one day?
Generally, no.
Whether you need to rent a dumpster for one day, three days, or seven days typically doesn't impact the cost.
The primary factor affecting dumpster rental cost—for both the company and therefore the customer—is the debris type and weight.
A majority of dumpster rental providers automatically include a standard rental length of a week for their rentals.
Why aren't discounts generally available for a one day rental?
As mentioned above, the length of the rental period does not affect the cost of waste disposal, so it generally will not have an affect on the price you pay for your dumpster rental.
The cost to the dumpster company is the same regardless of your rental period length.
However, with that said, there are several other factors that affect dumpster rental costs.
Do any dumpster companies offer a price reduction for short term rentals?
Some companies may negotiate a slightly lower rate for a very short rental period, like one to three days, especially during very busy times.
If a company is experiencing a high volume of business and their inventory is low, they may be more motivated to provide a discounted price for a fast return of the dumpster.
Likewise, smaller dumpster companies with smaller fleets might also be more inclined to offer a better rate for the ability to get the dumpster back and rented out again more quickly.
Companies that have a large inventory of dumpsters in their yard ready to rent typically are not motivated to provide a discount for a short-term rental.
Calling around and asking companies if they offer any discounts for short-term rentals may turn up a company in your area willing to give you a better deal than the rest.
How much does it cost to rent a dumpster for a day or two?
See our Big List of Dumpster Rental Costs in All 50 States to get an idea of the cost of a 10 yard or 20 yard dumpster in your area.
These prices include more than a day's rental, but are a good point of reference when searching for a competitive dumpster-for-a-day price in your area.
---
---
Keep reading: