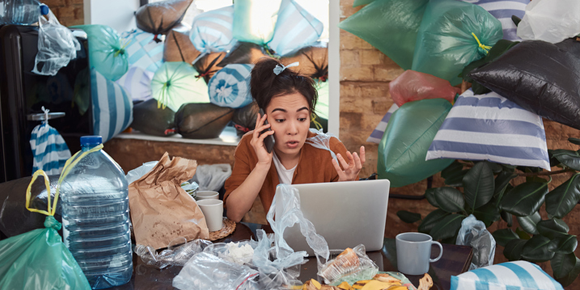 Updated February 22, 2023
Cleaning out a hoarder's home is never a fun project, but if you've never done it before, you might not realize that it can oftentimes be unsafe if you don't have the right equipment and experience.
Whatever your circumstance is, hiring a junk removal company to help clean out a hoarder home is an option worth considering.
We've gathered all the information to take into consideration when choosing professional services to assist with a hoarding cleanup.
Reasons to hire a pro:
---
---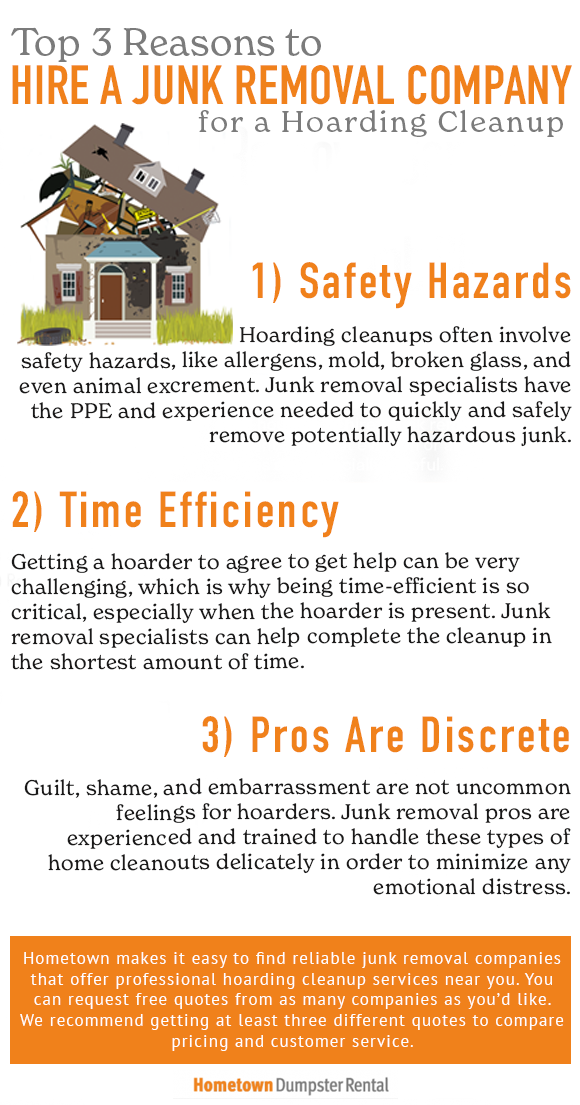 Hoarding Messes Can Contain Safety Hazards
The most important thing to keep in mind when cleaning up a hoarder's home (whether it's your home or not) is that there can be a number of different safety hazards lurking in the shadows of a hoarding mess.
Common hazards present in a hoarder's home:
Airborne: Dust, sand, insulation, particle matter
Biological: Mold, mildew, bacteria, asbestos, animal/human feces, insects, critters/animals, decomposing animals, decomposing food waste
Bloodborne Pathogens: Sharp edges, used needles, medical waste
Fire: Flammable materials, explosives, obstructed exits
Physical: Tripping hazards, animal/insect traps, weaponry, rusted metal, broken glass
Structural: Weakened flooring, ceilings, or walls from mold and/or water damage
Beginning a hoarding cleanup project without first taking the necessary safety precautions could result in temporary or long-term health concerns, like infections or respiratory issues.
Professional hoarding cleanup companies outfit themselves in PPE (personal protective equipment) to prevent unnecessary physical harm and are insured for instances when accidents occur.
While not recommended, if you insist on performing a hoarding remediation on your own, getting your own PPE is absolutely necessary.
The most common types of PPE used for hoarding messes include:
Biohazard suits
Boots/shoe covers
Goggles
Puncture resistant/heavy exposure gloves
Purifying face respirator/air filter mask
Keep reading:
Being Time Efficient Is Important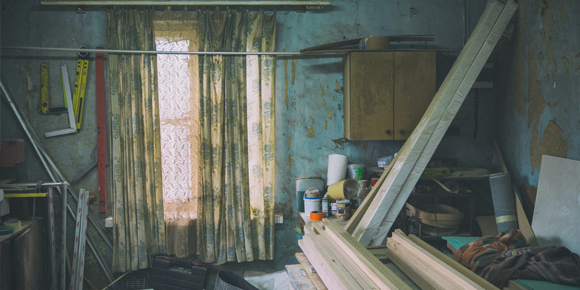 Hoarding is a type of anxiety disorder that causes severe stress to those suffering.
Sufferers of hoarding have an extremely difficult time getting rid of collected items and have difficulty differentiating essential items from unnecessary junk.
Getting a hoarder to agree to get help can be a very hard feat, so when a cleanup takes place with the hoarder present, being time-efficient is crucial.
If items are moved out slowly over time, a hoarder has more time to contemplate each item and change their mind if they're experiencing emotional distress.
The best case scenario for a hoarding cleanup is to have the tools and manpower to complete the task within a day.
If a hoarding cleanup takes place over several days, the emotional disruption caused after night one may make the homeowner change their mind and shut the entire operation down.
Getting as much done as possible in a short amount of time helps everyone involved and hoarding cleanup specialists are very attuned to this.
In circumstances where the cleanup must take place over the course of several days, it's critical to have professionals that are patient and sensitive to the special needs that some hoarders require.
Professionals Know How to Be Discrete
The fact that there are an estimated 3 million Americans suffering from a hoarding disorder surprises many people, but most people with hoarding problems go to great lengths to prevent their friends, family, neighbors, and the public from discovering their condition.
Feelings of guilt, shame, and embarrassment are common for those living in a hoarding home, so being discrete and respectful is not only important to the hoarder, but it should be a strategy of a qualified hoarding cleanup service.
Having professionals that are trained to delicately handle these types of large clean outs is critical in minimizing the amount of emotional distress that is caused.
Hoarding cleanup pros are great at being discrete to minimize any attention drawn to the hoarder's residence during their cleanup and can remove large quantities of unwanted items in a way that looks like an average home clean out.
Finding local hoarding cleanup experts is simple by searching on Hometown.
We publish licensed, insured, locally-owned and operated junk removal companies across the country.
By searching your zip code, you'll be able to read verified reviews and request quotes from as many companies in your area as you'd like.
We recommend getting at least three different junk removal quotes to ensure that you'll receive quality customer service at a competitive price.
---
---
Learn more: