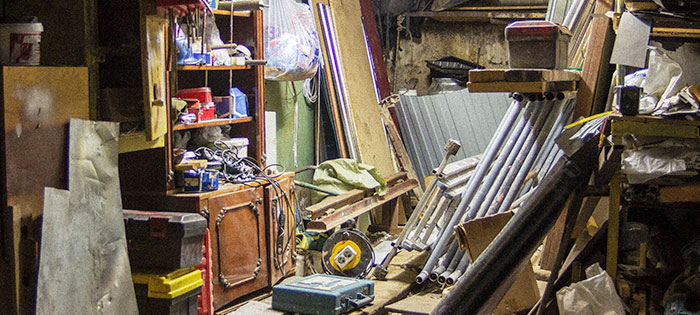 Updated April 28, 2023
Hoarding goes far beyond collecting items. Recognized as a mental health condition, hoarding is a rather common disorder, affecting as many as 1 in 20 people. When it's time to face a hoarding situation and come up with disposal solutions, this guide can help.
Jump to:
---
---
Benefits of Hoarding Cleanups
There are so many benefits to cleaning up a cluttered house, and it goes beyond that of the house itself. Cleaning your house promotes a calmer, more peaceful state of mind.
Cleaning out your home also...
Increases your property value.
Decreases the risk of fire, falls, and disease.
Creates a safer living environment.
Be Supportive
There's a definite line between being a collector and a hoarder. While both situations involve the accumulation of "things," collectors generally have a sense of pride in whatever it is they collect, and will keep things organized if not on display. Collectors tend to stick to a budget when adding to their collection and are well aware of the debt consequences of purchasing more than they can afford to spend.
A hoarder's mentality, on the other hand, is not connected to pride, and they often actually feel embarrassed of the amount of things they've accumulated. This is why it's so important to be supportive and work on the cleanup at a pace the hoarder is comfortable with. Helpers will need patience during most hoarding cleanups, so do your best to keep a positive, supportive attitude during the project. Aside from the mental preparation involved in helping during a hoarding situation cleanup, it's also important to prep for the potential dangers involved in such a project.
Risks associated with hoarding cleanups include:
Trip/fall hazards
Bacteria and other biohazards associated with unclean environments
Rodents, ants, other infestations
Sharp edges
Injuries caused by heavy, repeated lifting
Gather a Team of Helpers
The first step to addressing any hoarding situation is to assemble a team of supportive and motivated people that the individual trusts.
The decluttering and cleanout process is incredibly difficult on those who hoard, so it's important to have lots of support, motivation, and even a bit of tough love in some cases.
A family member or close friend should be in charge of assembling a team and addressing the hoarding cleanup plan with the hoarder.
Learn more:
Salvage What You Can
Separate items of value, like furniture, household items, unopened packages, and other items that could be of benefit to others. These items can then be sold or brought to local charitable organizations. Recyclables, like newspaper, cardboard, plastics, metals, and building materials, can also be separated and brought to the nearest recycling facility. Keeping as much junk and debris out of landfills as possible is the most eco-friendly solution.
Your dumpster rental provider can help you optimize an eco-friendly disposal strategy, and some even offer discounts for clean-loaded dumpsters containing only recyclables; just ask!
Organizations such as Habitat for Humanity will often come pick up gently used furniture and other home goods for free. Call your nearest Habitat ReStore or Salvation Army for details.
Utilize a Dumpster
With a team in place, it's time to determine how you will go about organizing everything. In hoarding situations, there is often a lot of junk mixed in with a lot of items that can be used or sold. A dumpster rental will give you a convenient place to catch all the items you need to throw out, like broken furniture, old newspapers and magazines, large quantities of trash, and other old household items. Hiring a junk removal company to handle the hoarding cleanup is a convenient alternative, but a large job will cost thousands of dollars for a whole-home complete cleanout. The cost of renting a dumpster is half that or less in most cases.
National Average Cost to Rent a Dumpster
Dumpster rental costs vary from city-to-city and from one contractor to the next, so it's important to get multiple quotes before signing a contract. This ensures you get the best services without overpaying.
---
---
Hoarding Cleanup Services
Specialty cleanup companies focused on hoarding situations may be an option in your area. These hoarding cleanup services are like specialized junk removal service providers. They are experts in safely and efficiently removing junk, but they are also experienced in handling hoarding specifically. Search local junk removal companies to find one who has experience handling hoarding situations.
It's common for a hoarding cleanup service to charge somewhere between $0.75-$2.50 per square foot of living space overtaken with junk, garbage, and waste, plus an additional cost of $25-$60 per hour, per laborer.
Reduce Disposal Costs
Hoarding cleanups are major projects. Not surprisingly, projects of this magnitude require a large dumpster or junk removal solution. A large hoarding project will generally require a 30 or 40 yard dumpster for the average-sized home, and disposal costs can add up quickly if multiple dumpsters are required to complete the job. Large dumpsters can cost $450 on the low end, and up to $750+ on the hight end for a seven-day rental period. If a junk removal service is hired for the job, you can expect to pay at least double the cost of renting a dumpster.
Get the Best Price On a Dumpster
Call several dumpster providers and get a quote from each. Use the information gathered to negotiate a discount or a longer rental period.
Plan ahead and contact several dumpster rental providers or junk removal companies 1-2 weeks or more in advance.
If you can't choose between two sizes, then go with the larger size. The difference in price is less compared to having to potentially rent a second dumpster to finish the job. Some dumpster rental companies offer discounts for seniors, military, veterans, etc. Be sure to ask.
Learn more:
---