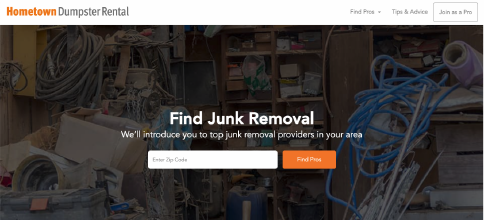 Updated June 3, 2022
Most people know what it's like to have junk that starts to pile up around their home or business, and wanting to get rid of it now.
Junk removal companies are able to provide fast, efficient waste removal services to homeowners and business owners, typically within the same business day.
Finding a junk removal company that is qualified to perform the work, has fairly priced services, and is able to complete the work in the same day is a balancing act.
Typically, this would involve scouring the internet for junk removal companies in your area, reading about each company on their website (if they have one), searching for real customer reviews, reaching out to companies, and waiting to hear back.
However, at Hometown, we specialize in helping customers achieve that perfect balance.
---
---
Getting rid of junk efficiently is what junk removal companies do best, and helping customers find a qualified local junk removal company is what Hometown does best.
Our expertise is streamlining the hiring process for homeowners and business owners looking for quality local junk removal services (and dumpster rental services) to be done quickly and for a fair price.
Simply select the service you're looking for: junk removal.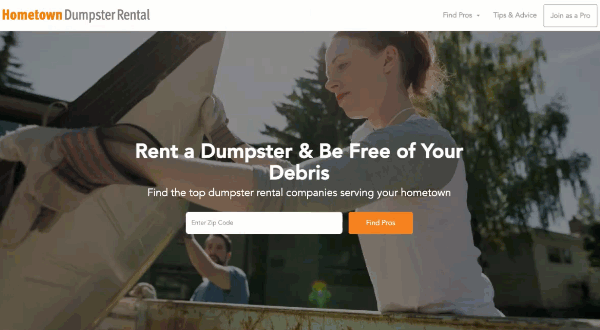 Next, enter your zip code to quickly see a list of junk removal companies serving your area.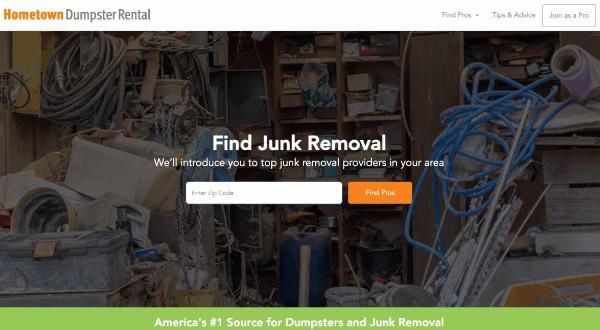 Then, you can learn more about them and read their verified real customer reviews to see how their service measures up.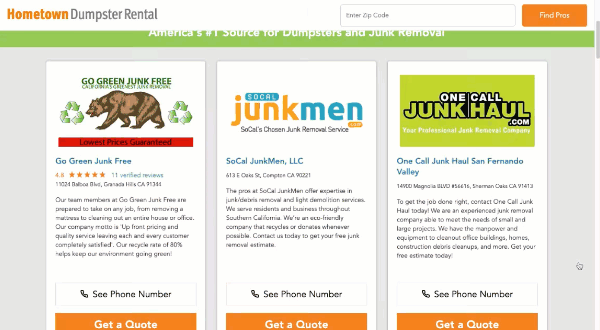 Finally, request quotes from as many as 3 different companies, from one single site.
Simply fill out our quote request form once, and choose how many junk removal companies you'd like to request a quote from.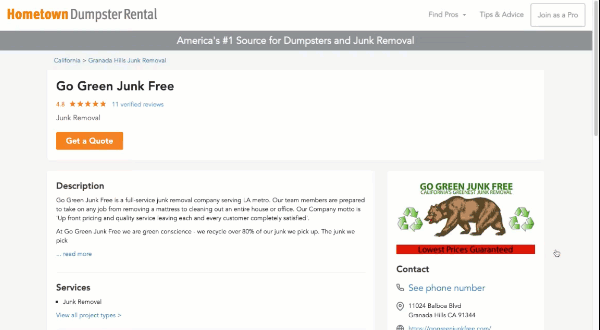 Once you've submitted your quote request form, your basic project information gets sent to the number of companies you selected.
Then, these companies will reach out to you directly to follow up on scheduling your junk removal project, typically within a matter of hours.
If you have more than a few items to get rid of, the junk removal company will probably need to come out to your site to see the junk in person in order to give you an accurate estimate.
Usually, a crew of one or two people will come out to your property to assess the junk's volume and the amount of effort necessary to remove it.
They then provide you with an exact quote for your junk removal project, and if you're satisfied with the price, the team gets to work removing the junk right then and there.
If you don't like that company's price, you're not obligated in any way to hire them, and estimates are free.
Payment isn't taken until after the job is completed and your junk is gone.
If a company's quoted price works for you, then most haulers will remove the junk on the spot.
The crew who gave you the estimate will then load all your unwanted junk onto their trucks and haul it away, leaving you with a clean-swept space.
Once your junk is hauled away, all that's left to do is relax and enjoy your clutter-free space.
---
---
Keep reading: