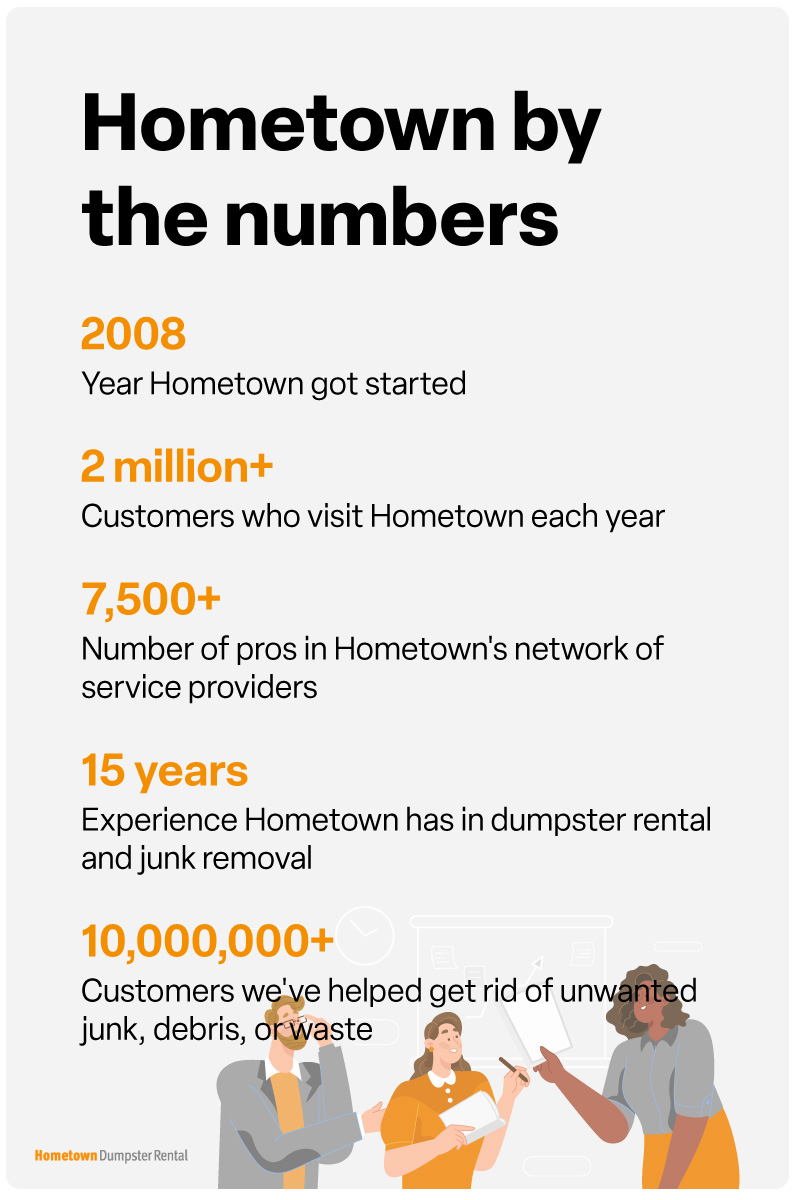 About Hometown
At Hometown Dumpster Rental, we specialize in helping everyday people find qualified dumpster rental, junk removal, and commercial waste management services in their area.
We help make renting a dumpster, hiring a junk removal company, or managing commercial trash convenient, easy, and affordable.
Getting our start back in 2008, we believed we could make it easier for homeowners, business owners, landlords, project managers, contractors, and other customers to find waste removal services near them, whether it be a dumpster for a DIY project or junk removal services for furniture removal or an estate cleanout.
Based in Grand Rapids, Michigan, our reach spans across the United States. Since we first opened our doors, we have grown by leaps and bounds due to our ongoing commitment to both the customer and the quality companies we advertise. Today, Hometown Dumpster Rental is the #1 source for finding reputable dumpster rental and junk removal companies online.
We love helping people get rid of their junk
At Hometown, we prioritize great customer service from start to finish. We believe renting a dumpster or hiring a junk removal company should be easy for customers to book, a stress-free process, and that requesting quotes from local service providers should be virtually instant. That's why we made it easy to request quotes from up to three different local companies with the click of a button.
Need a dumpster dropped off first thing tomorrow? Just enter your zip code and fill out our dumpster rental quote request form, then click "submit" to send it to three qualified local dumpster rental companies. Once you submit your quote, we do all the work to get you the number of quotes you requested. Learn more about what to expect after your dumpster rental quote request.
Need junk removal services ASAP? Fill out our junk removal quote request form to submit your request to up to three local junk removal service providers. Once you submit your quote, we do all the work to get you the number of quotes you requested. Learn more about what to expect after your junk removal quote request.
We prescreen every company that works with us to be sure they're licensed, insured, and have a positive reputation. Dumpster and junk removal service providers that don't live up to our high standards don't make it onto the Hometown website.
Along with initial screening, we collect and publish real reviews from customers like you, so you can get an idea of what to expect right from the start. We only publish reviews we can verify came from an actual customer. 100% of the reviews on Hometown come from real customers and real experiences.
On top of that, our "Instant Quote" feature makes dumpster rental quotes and junk removal estimates more transparent and accessible than ever before. This is unique in the industry—no other website does it quite like we do!
Learn more:
We help local companies get found by potential customers
We don't just help customers, we also work with dumpster rental and junk removal companies on our site to help them get found by customers looking for services in their area.
We believe local businesses provide the best service for customers, which is why we love working with local dumpster rental and junk removal companies across the nation to help increase their visibility on the web and boost their chances of being found by a customer looking for quality local services like theirs.
Keep reading: Top 10 Reasons Hometown Dumpster and Junk Removal Leads Are Better
Contact Us
Customers
Are you a customer with a question about how Hometown works? Reach out to our support team with your questions at support@hometownlocal.com.
If you're looking to get answers about your specific dumpster rental project, we recommend reaching out directly to local dumpster rental pros in your area. Likewise, if you're looking to learn more about your junk removal project, get in touch with local junk removal companies near you.
Reaching out to local companies directly about your project is the best way to get answers to common questions, like how much your project will cost, when you can schedule your dumpster rental or junk removal services, what's included in your service cost, and any other project-specific questions.
Service Providers
Are you a waste hauler looking for leads? If you're a dumpster rental and/or junk removal company and would like to learn more about working with Hometown, give us a call or email, or fill out our Get Started form. We'd be happy to answer any questions you may have.
Email: sales@hometownlocal.com
Phone: 877-994-6645, Ext. 1
Follow Us: