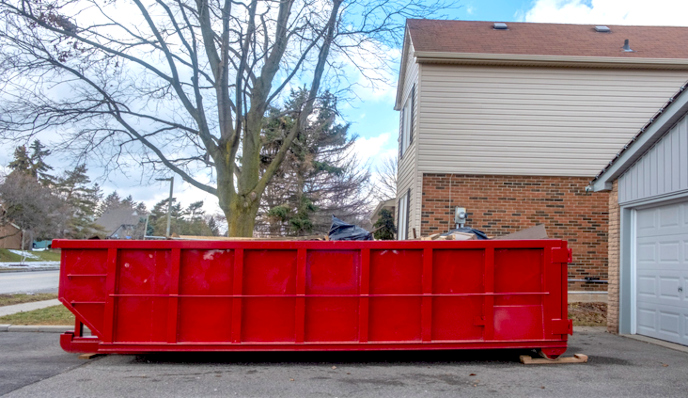 Updated July 1, 2022
Renting a trash bin (aka dumpster rental) is an easy process, but there are a few key things to keep in mind to ensure a smooth and hassle-free process.
This quick guide will walk through the simple steps to follow when renting a dumpster.
Contact dumpster rental companies at least a week in advance of your project to ensure container availability and drop off schedule.
Jump to:
---
---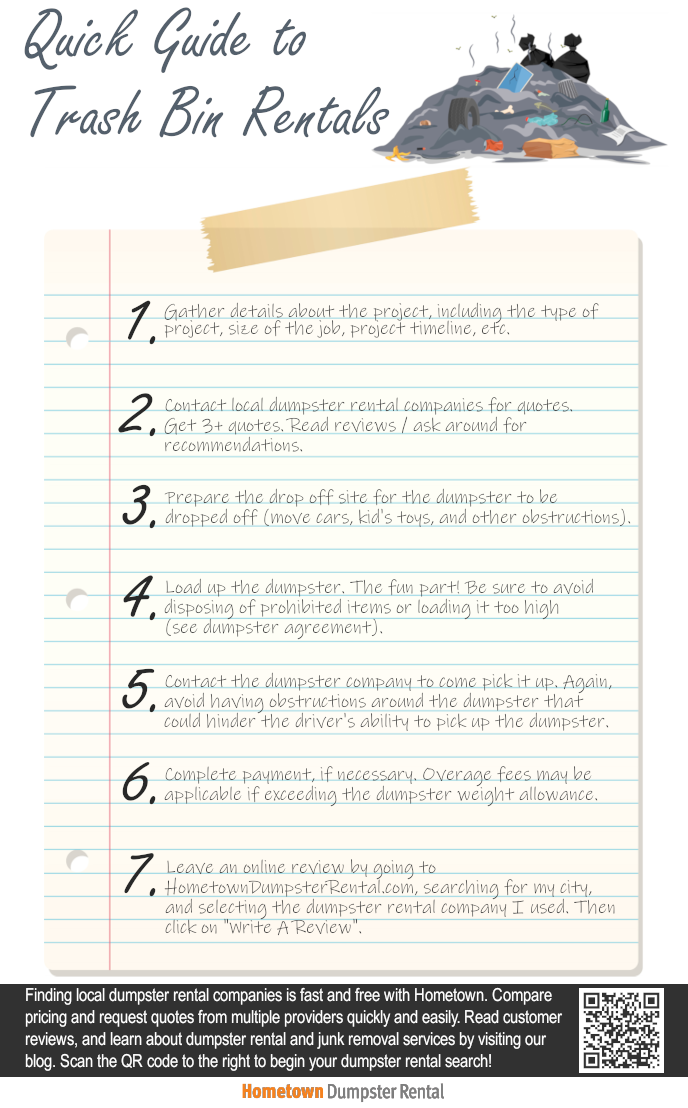 Dumpster Sizes
The most common roll-off container sizes include 10 yard, 20 yard, 30 yard, and 40 yard capacities.
You may also find that some dumpster rental companies have other sizes available, such as 8 yard, 12 yard, 15 yard, 25 yard, and others.
With various dumpster sizes available, it can be overwhelming for first-time dumpster renters to determine which dumpster is the right size for the job.
However, dumpster rental companies simplify this problem by recommending a container size based on the project and the amount of waste, junk, or debris you're disposing of.
When calling a dumpster rental company for information or a quote, be sure to have a description of your project ready.
For a kitchen demolition example, tell the rental provider the project (kitchen demo) and number of cabinets, approximate size and type of countertop, flooring, appliances, and other details.
The more details you can give them, the more accurate the dumpster rental company can be in recommending the right dumpster for the job.
Dumpster Costs
The cost of renting a dumpster will vary based on your location, size of the dumpster, type of debris, and other factors.
Based on data collected by HometownDumpsterRental.com, the national average cost to rent a dumpster is as follows:
Your dumpster rental rate may vary from the above figures, as these are national averages.
We suggest getting several dumpster quotes before booking a dumpster. Don't base your decision on price alone, as the reputation of a company should be a key factor in choosing a reliable waste hauler.
Step-by-Step Dumpster Rental Process
Now that you have a thorough understanding of dumpster costs and sizes, here is a step-by-step look at the basic dumpster rental process.
1. Analyze the project.
Gather as many details as possible about your project, such as debris type, size of the job, type of project (e.g., shed demolition), and project timeline details.
2. Contact dumpster rental companies.
Contact 2-3+ local dumpster rental companies to compare pricing and services.
Each rental company you speak to will be able to suggest the dumpster size they believe is best for your project, and each company may have slightly different weight allowances and pricing for the same dumpster size.
3. Prep for delivery.
Make sure the area is clear of cars and other obstructions prior to the dumpster getting dropped off.
4. Load up the dumpster.
Fill up the dumpster with the project waste, junk, or debris.Be sure to follow the rules regarding loading the dumpster too high and/or loading prohibited items (e.g., hazardous materials).
5. Call for pick-up.
Contact the dumpster rental company to come pick it up if you're finished with it before the agreed upon pick up date.
6. Complete any outstanding payments.
If you haven't already, pay for the dumpster rental. Beyond the base rate, other potential charges include overage fees. This is an additional fee that is only charged if you exceed the dumpster's weight allowance.
7. Leave an online review.
Help other customers by leaving an online review that describes your experience with the dumpster company, good or bad.
---
---
Find out more: