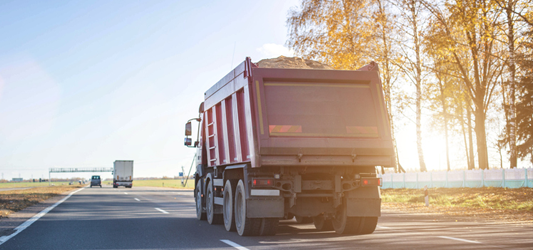 Updated March 21, 2022
Renting a temporary dumpster is an affordable and convenient solution for a wide range of disposal projects, like kitchen remodels, estate cleanouts, and hoarding cleanups, just to name a few.
Making an informed decision on who you rent from is important to prevent overpaying or getting poor service.
Hometown is here to help you find licensed, reputable dumpster rental companies in your area that you feel confident in.
The 3 things to look for when renting a dumpster:
---
---
Rent From a Locally-Owned Dumpster Company
There are three different types of dumpster rental companies hat homeowners and business owners rent from:
Dumpster brokers
National waste companies
Local dumpster providers
Dumpster brokers are by far the least cost-efficient when it comes to renting a temporary dumpster.
Dumpster brokers are the middlemen involved in a dumpster rental deal, and while they aren't exactly "bad guys," it's still best to avoid renting from these companies when possible if you're a customer.
National waste disposal companies, like Waste Management, service many states throughout multiple regions.
You would think that because they're a larger operation that they would be able to offer the best pricing, and while that can sometimes be true about weekly municipal trash pickup, it's not usually the case when it comes to their dumpster rental service.
Renting a dumpster from a company that is locally-owned and operated is by far the best, most affordable option.
Local waste haulers beat out competitors when it comes to both pricing and customer service.
You might be wondering, "How do I find a locally-owned dumpster rental provider near me?"
That's where Hometown comes in.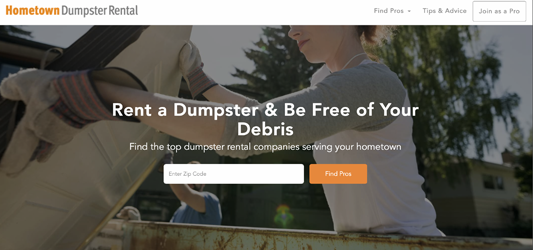 Our goal is to make dumpster rentals easily-accessible and affordable by publishing locally-owned and operated disposal companies.
We vet every company to ensure they are licensed, bonded, and insured to perform their services.
Hometown's site is easy to navigate and only takes seconds to show you personalized search results.
By simply entering your zip code and answering a few quick questions about your disposal needs, you'll be shown verified, local dumpster rental providers that service your area.
Learn more:
Make Sure They Have a Good Reputation
Making sure that any company you do business with has a good reputation can help prevent unnecessary headaches down the line.
Reading a company's reviews is a great way to learn about the type of service you can expect, but some websites allow anyone to leave a review, leaving the door wide open for false and misleading reviews that are intended to influence your purchasing decisions.
Hometown personally verifies every review that is left on our site to ensure they are accurate and only left by real customers, so you can read about others' experience with hiring each company.
When you read dumpster rental reviews on Hometown's site, you never have to worry that a family member or friend has left a false positive review to encourage you to hire.
The same is true with negative reviews. They are guaranteed to be accurate and not left by a scorned competitor trying to deter business from their competition.
Get Multiple Dumpster Quotes for the Best Pricing
Once you've used Hometown to find local dumpster rentals in your area, start by contacting a handful of them for free price estimates.
We always recommend contacting at least 2-3 different dumpster providers to ensure you get the best service for the best price.
Be as detailed as possible about your disposal needs to get the most accurate quote and to ensure your items will be accepted in each company's containers.
Pay attention to the conditions of your dumpster rental, like rental length, weight allowance, and allowed material.
Overfilling your dumpster will result in overage charges that can add up if you aren't careful.
Once you've found a dumpster company with the right availability and container size, schedule and prepare for your dumpster rental drop-off.
Once you're done, contact the rental company to pick the dumpster back up. They'll haul your items off to the landfill where your trash will be weighed to ensure you didn't go over your weight allowance.
From there, you'll receive a bill with the total amount you owe.
---
---
Continue reading: