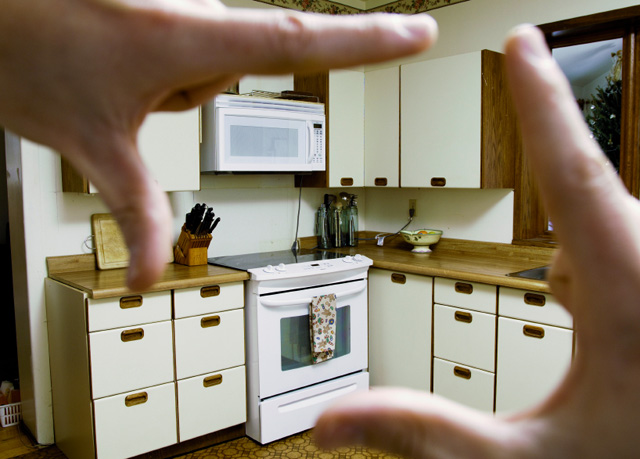 Tackling a kitchen remodel can be quite an undertaking. However, it's also one of the best ways to increase the value of your home and make it much more inviting and functional.
Outdated kitchens are an eyesore, but before tackling a kitchen renovation, it's important to be aware of the best ways to go about it in order to save money and minimize stress.
We've compiled a list of 10 essential kitchen remodeling tips straight from the experts in the industry.
Jump to:
---
---
Finding the Right Contractor for the Job
If your kitchen is large, or you don't want to handle the demo yourself, hire a demolition company to make sure the work is done right (and safely, of course).
Hiring a general contractor to oversee the remodel is a good idea in most cases, especially if you can afford it.
Contractors may charge a 15 to 25 percent fee for their services, according to Wallender.
This money is well-spent if you choose a good contractor.
This Old House Magazine says the best way to choose a contractor for a kitchen remodel is to consult friends, family, or trusted online home improvement communities/forums.
Be sure to ask about the contractor's work habits (i.e, shows up on time, works efficiently, seems engaged, etc.), and whether he/she was good at sticking to the budget and deadline.
Read more:
Make Sure You Have the Right Permits
If you're planning on doing the renovation yourself, don't forget to get the proper permits (i.e. electrical, building and plumbing) before starting your remodel.
Lee Wallender, the home renovations expert for The Spruce, points out several kitchen projects where permits typically are required, including:
Demolishing a load-bearing wall
Moving a sink or plumbing
Creating a new door/window
Electrical work
Placing a roll-off dumpster on a public street
Just to be safe, jot down your plans for the kitchen, being as detailed as possible, and give your local permit office a call.
Manage the Resulting Debris
You'll undoubtedly encounter some form of demolition during the project.
If you plan to do a complete kitchen renovation, you'll definitely need to rent a dumpster.
A 10 yard roll-off or 20 yard roll-off dumpster is ideal for most kitchens.
A 20 yard dumpster has the capacity to hold kitchen cabinets, countertop, drywall, flooring and appliances.
Make sure to call the dumpster rental company at least a week in advance to make sure they have a dumpster available in the size you need.
Expect to pay anywhere from $200 to $400 for a 10 yard dumpster rental (7 days).
More helpful information:
Follow Design/Measurement Guidelines
Although you have the freedom to design your new kitchen pretty much however you'd like, TLC Home suggests sticking to a few basic guidelines when doing so.
The distance between the cooking top, sink, and fridge should fall between 12 and 22 feet.
This is commonly referred to as the "pyramid" or "triangle" concept of kitchen design.
Also, allow for ample space next to the range and sink area.
TLC Home suggests about three feet of countertop to the right and 30 inches to the left of both areas.
Finally, 10-linear-feet of cabinets (upper and lower) is ideal for an average-sized kitchen.
Read on:
Opt for Paint Instead of a Stain
Stain is traditionally the choice when refinishing kitchen cabinets. However, a coat of paint offers its advantages.
According to StyleatHome.com, stained finishes are tough to alter in the future, but painted cupboards can easily be painted over whenever you feel like freshening up the kitchen.
A current trend is to paint the kitchen cabinetry white with chrome or satin nickel hardware. It really brightens up the kitchen.
Don't Forget the Hidden Details
Don't ignore the areas of the kitchen you don't see, such as under the flooring, inside cabinets, hardware, and countertop base.
It's critical that the flooring and countertops are level, and that the hardware for cabinets is replaced when necessary.
What good is a brand new kitchen floor when the underlayment is damaged?
You'll be replacing the flooring before you know it due to cracked tiles, dips, squeaks, and other damage.
Choose the Right Flooring
Tile, vinyl, and laminate wood flooring are popular choices for the kitchen.
All three choices are tolerant to moisture, resist scratching, and clean easily.
Avoid using hardwood flooring—it's not nearly as resistant to water as laminate wood flooring.
Engineered wood flooring is a hardwood alternative that is a bit more water resistant.
It's a good idea to continue the kitchen flooring into adjacent rooms, such as the dining room, for a more spacious feel and improved flow between rooms.
Find out more:
Find Countertops That Suit Your Life
When choosing new countertops – whether it be granite, tile, Formica, or other – it's important to make sure the color blends in well with the rest of the kitchen.
Have a carpenter or sub-contractor take all the measurements and do the cutting of the countertop.
If you do plan to do it yourself, have a specialized shop do the cutting for you.
Wallender recommends avoiding tiled countertop if possible. While it looks nice, is relatively inexpensive, and durable, most people prefer a flat countertop surface instead of the indentations of the grout.
So, it's best to avoid tile if you plan to sell your house before the next kitchen renovation.
Repurpose/Reuse When Possible
This one is common sense really.
Reuse cabinetry whenever possible—it can save you hundreds of dollars.
Sanding old cabinets and applying stain or paint can make them new again. If your kitchen flooring is hardwood, consider sanding and refinishing it instead of completely replacing it.
The same is true of hardware—clean it to remove tarnish, dirt, and grease.
The more you reuse, the more money you'll save.
Buy Used When You Can
You don't always have to purchase kitchen materials new.
You can save a few bucks by buying used or "unused" building materials at places like Habitat for Humanity's ReStores.
There are 825 ReStores located across North America.
You can pick up things like kitchen sinks, countertops, flooring, doors, and appliances at a fraction of the cost you'd spend at a home improvement store.
Most of the items are new items that were never used by Habitat or that were donated by local builders.
---
---
Learn more: