Updated September 2, 2022
When most people have a junk removal or debris disposal project, they tend to think about cost and labor first and foremost.
The two most common waste disposal methods for homeowners and business owners—junk removal services and temporary dumpster rental—are great options, but each method has its place.
To maximize cost effectiveness and minimize stress, do your research to be sure you choose the service that suits your physical ability, time constraints, and budget.
We'll go over:
---
---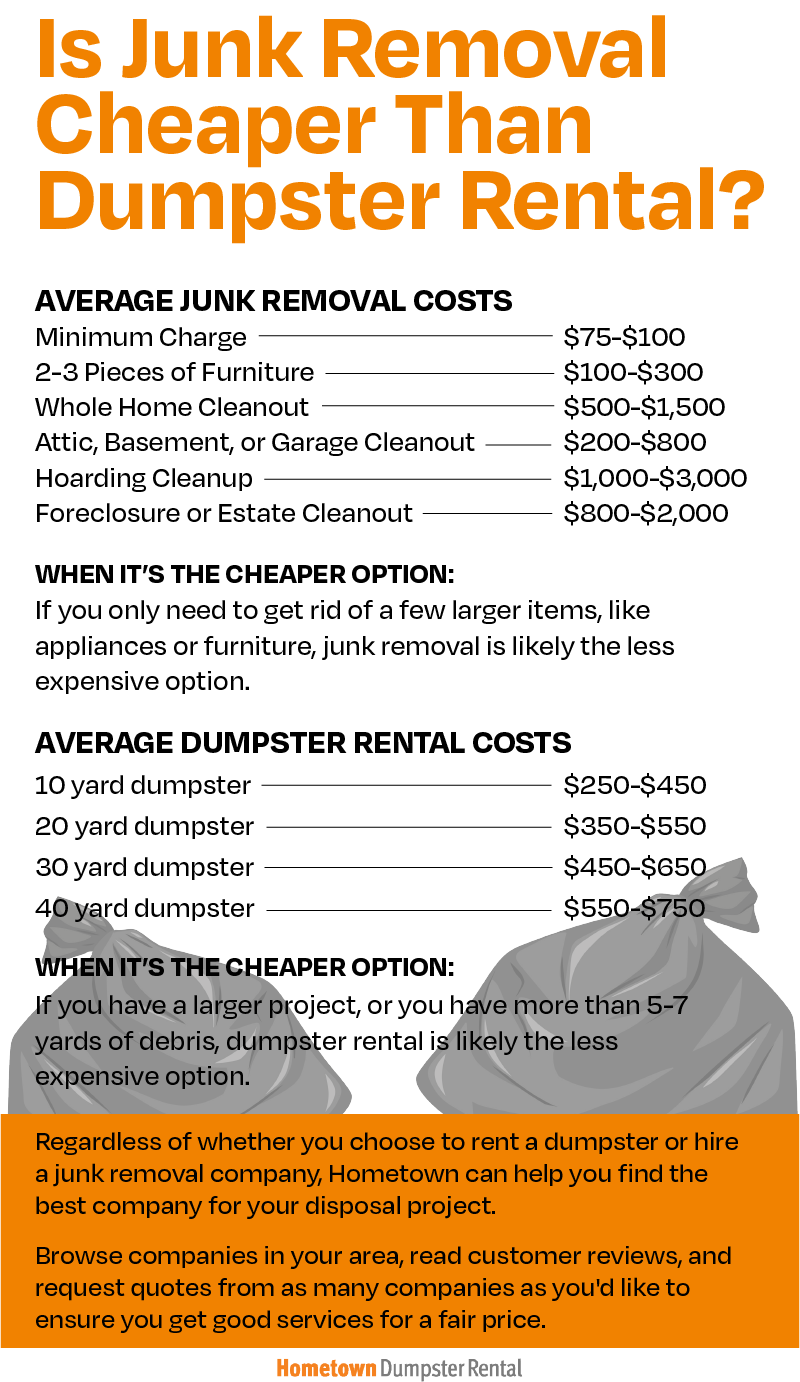 Average Junk Removal Costs
Junk removal pricing depends primarily on how much you have to get rid of, how much space your items take up in the truck or trailer, and whether or not your items require special care or handling, like with heavy, fragile, or hazardous items.
That being said, let's take a closer look at national averages for various size junk removal projects to get a better idea of what junk removal costs are like.
National Average Junk Removal Costs

| Project Type | Average Cost |
| --- | --- |
| Minimum Charge | $75-$100 |
| 2-3 Pieces of Furniture | $100-$300 |
| Whole Home Cleanout | $500-$1,500 |
| Attic, Basement, or Garage Cleanout | $200-$800 |
| Hoarding Cleanup | $1,000-$3,000 |
| Foreclosure or Estate Cleanout | $800-$2,000 |
Learn more:
Average Dumpster Rental Costs
The national average cost of dumpster rental is $250-$550, though dumpster prices vary depending on:
Size of the dumpster you rent
Fees at your local landfill or recycling facility
The company you rent from
Average Cost to Rent a Dumpster

Container Size
Average Cost
When It's a Good Option
10 yard dumpster
$250-$450
Attic, garage, or basement cleanout
Bathroom remodel
Small kitchen remodel
Patio or walkway removal
Yard cleanup
20 yard dumpster
$350-$550
Kitchen remodel
Small home cleanup project
Driveway removal
Small to medium interior demolition
30 yard dumpster
$450-$650
Medium home cleanup project
Medium remodel or demolition project
40 yard dumpster
$550-$750
Large home cleanup project
Large remodel or demolition project
Though these averages give you a good idea of what a dumpster costs to rent, your local prices may vary, and we want to help you get the best price for your disposal project.
Keep reading:
Comparing Disposal Costs for Your Project
In most cases, dumpster rental prices fall between $250 and $550 for a seven-day rental, while junk removal can be as low as $75 or as high as thousands of dollars.
Typically, junk removal services cost more than renting a dumpster because of the added labor costs involved.
However, the exception to this is smaller cleanups, such as hauling away a couple pieces of furniture or getting rid of a refrigerator.
In general, if you need to get rid of only a few larger items like appliances or furniture, junk removal is the more cost-effective option, but if you have a larger project, then dumpster rental is likely less expensive.
Renting a dumpster is the more economical choice for bigger jobs where you have to throw out seven or more cubic yards of material.
Choosing the Best Waste Disposal Company
Regardless of whether you choose to rent a dumpster or hire a junk removal company, Hometown can help you find the best company for your disposal project.
We make it easy to browse local companies in your area, read about each company's history and services, see what customers have to say about their services, and request quotes from as many companies as you'd like.
We also can help provide answers to some of your biggest waste-related questions.
---
---
Find out more: