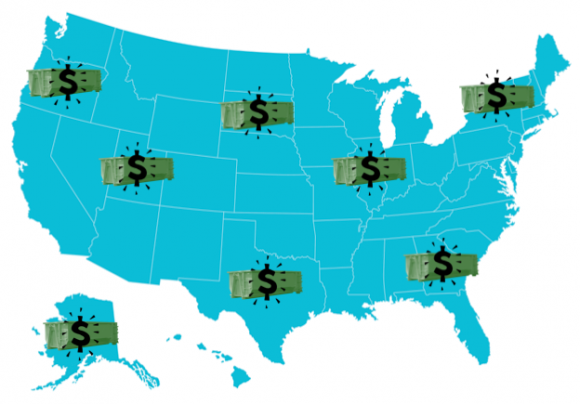 How much does it cost to rent a dumpster?
We surveyed rental costs from hundreds of dumpster companies in all 50 states to get a better picture of the average cost to rent a dumpster.
If you're hoping to find cheap dumpster rental, note that your ability to rent an inexpensive dumpster really depends mostly on location.
Our survey of prices showed that the cost to rent a 10 yard dumpster ranged anywhere from $200 to $500+.
20 yard dumpster costs typically started in the $300-$350 range for less expensive areas and ranged up to $700 for the most expensive debris in the most expensive cities.
Please note, actual dumpster rental costs may fall outside the stated ranges. The costs listed below are averages.
Average Dumpster Cost by State and Metro Area
| State | Metro Area | 10 Yard Price Range | 20 Yard Price Range |
| --- | --- | --- | --- |
| Alabama | Birmingham, AL | $300-$425 | $350-$475 |
| Alaska | Anchorage, AK | $300-450 | $400-$550 |
| Arizona | Casa Grande, AZ | $250-$350 | $300-$400 |
| Arizona | Phoenix, AZ | $300-$400 | $350-$450 |
| Arkansas | Little Rock, AR | $350-$450 | $400-$500 |
| California | Oakland, CA | $450-$600 | $500-$650 |
| California | Orange County, CA | $425-$500 | $500-$600 |
| California | Palm Springs, CA | $400-$500 | $450-$550 |
| California | Sacramento, CA | $375-$550 | $450-$575 |
| Colorado | Boulder, CO | $350-$550 | $400-$600 |
| Colorado | Colorado Springs, CO | $300-$400 | $350-$450 |
| Colorado | Denver, CO | $300-$450 | $350-$500 |
| Colorado | Fort Collins, CO | $300-$400 | $350-$450 |
| Connecticut | Hartford, CT | $375-$450 | $450-$500 |
| Connecticut | Stamford, CT | $425-$525 | $525-$625 |
| Delaware | Wilmington, DE | $350-$450 | $400-$500 |
| Florida | Fort Lauderdale, FL | $300-$450 | $350-$500 |
| Florida | Fort Myers, FL | $300-$450 | $350-$500 |
| Florida | Orlando, FL | $250-$300 | $300-$350 |
| Florida | Tampa, FL | $300-$425 | $375-$500 |
| Georgia | Atlanta, GA | $300-$400 | $375-$500 |
| Georgia | Augusta, GA | $275-$350 | $375-$450 |
| Georgia | Dawsonville, GA | $250-$300 | $300-$350 |
| Georgia | Macon, GA | $250-$350 | $325-$375 |
| Georgia | Savannah, GA | $275-$375 | $350-$450 |
| Hawaii | Honolulu, HI | $575-$625 | $580-$680 |
| Idaho | Boise, ID | $400-$550 | $450-$600 |
| Illinois | Bloomington, IL | $350-$450 | $475-$550 |
| Illinois | Chicago, IL | $325-$450 | $375-$500 |
| Indiana | Indianapolis, IN | $300-$475 | $375-$525 |
| Indiana | South Bend, IN | $275-$450 | $350-$500 |
| Iowa | Davenport, IA | $350-$475 | $400-$500 |
| Iowa | Des Moines, IA | $225-$375 | $275-$475 |
| Iowa | Dubuque, IA | $200-$300 | $250-$350 |
| Kansas | Wichita, KS | $250-$415 | $350-$475 |
| Kentucky | Elizabethtown, KY | $300-$400 | $350-$450 |
| Kentucky | Louisville, KY | $275-$500 | $350-$550 |
| Louisiana | Baton Rouge, LA | $350-$500 | $400-$600 |
| Louisiana | New Orleans, LA | $315-$425 | $350-$475 |
| Maine | Portland, ME | $350-$600 | $450-$650 |
| Maryland | Baltimore, MD | $400-$500 | $375-$435 |
| Maryland | Rockville, MD | $350-$450 | $400-$500 |
| Massachusetts | Boston, MA | $400-$525 | $500-$675 |
| Massachusetts | New Bedford, MA | $300-$400 | $400-$450 |
| Massachusetts | Worcester, MA | $300-$400 | $450-$485 |
| Michigan | Allegan, MI | $300-$400 | $350-$450 |
| Michigan | Ann Arbor, MI | $350-$425 | $400-$500 |
| Michigan | Detroit, MI | $350-$475 | $450-$525 |
| Michigan | Grand Rapids, MI | $250-$450 | $300-$500 |
| Michigan | St. Joseph, MI | $250-$300 | $350-$400 |
| Michigan | Sterling Heights, MI | $250-$350 | $350-$475 |
| Minnesota | Minneapolis, MN | $325-$500 | $400-$600 |
| Minnesota | St. Paul, MN | $300-$450 | $350-$550 |
| Mississippi | Jackson, MS | $350-$500 | $400-$550 |
| Missouri | Kansas City, MO | $300-$450 | $350-$500 |
| Missouri | St. Louis, MO | $300-$450 | $375-$550 |
| Nebraska | Omaha, NE | $250-$350 | $300-$500 |
| Nevada | Las Vegas, NV | $300-$425 | $350-$500 |
| Nevada | Reno, NV | $300-$400 | $375-$475 |
| New Hampshire | Manchester, NH | $425-$575 | $500-$650 |
| New Jersey | Cherry Hill, NJ | $300-$400 | $375-$550 |
| New Jersey | Paterson, NJ | $400-$550 | $450-$650 |
| New Jersey | Toms River, NJ | $425-$500 | $675-$725 |
| New Mexico | Albuquerque, NM | $275-$500 | $325-$650 |
| New York | Buffalo, NY | $250-$400 | $350-$425 |
| New York | Long Island, NY | $375-$600 | $575-$725 |
| New York | New York City, NY | $400-$600 | $500-$700 |
| New York | Rockland County, NY | $375-$450 | $500-$600 |
| New York | Syracuse, NY | $300-$475 | $400-$575 |
| New York | Westchester County, NY | $350-$450 | $450-$600 |
| North Carolina | Charlotte, NC | $350-$450 | $400-$550 |
| North Carolina | Louisburg, NC | $325-$425 | $375-$475 |
| North Dakota | Fargo, ND | $250-$400 | $350-$550 |
| Ohio | Cincinnati, OH | $400-$650 | $475-$700 |
| Ohio | Cleveland, OH | $300-$500 | $350-$600 |
| Ohio | Columbus, OH | $300-$425 | $350-$475 |
| Oklahoma | Oklahoma City, OK | $300-$475 | $400-$525 |
| Oklahoma | Tulsa, OK | $300-$425 | $375-$450 |
| Oregon | Portland, OR | $300-$500 | $400-$550 |
| Pennsylvania | Lancaster, PA | $350-$500 | $425-$525 |
| Pennsylvania | Philadelphia, PA | $400-$550 | $450-$600 |
| Pennsylvania | Pittsburgh, PA | $275-$400 | $375-$550 |
| Rhode Island | Providence, RI | $400-$500 | $450-$550 |
| South Carolina | Charleston, SC | $450-$675 | $500-$850 |
| South Carolina | Columbia, SC | $350-$500 | $400-$550 |
| South Dakota | Sioux Falls, SD | $200-$400 | $300-$550 |
| Tennessee | Nashville, TN | $350-$475 | $450-$575 |
| Texas | Austin, TX | $300-$475 | $350-$575 |
| Texas | Beaumont, TX | $350-$450 | $400-$500 |
| Texas | Dallas, TX | $300-$450 | $400-$575 |
| Texas | Fort Worth, TX | $300-$450 | $350-$450 |
| Utah | Salt Lake City, UT | $300-$400 | $350-$500 |
| Vermont | Burlington, VT | $375-$600 | $500-$700 |
| Virginia | Virginia Beach, VA | $275-$375 | $350-$475 |
| Washington | Seattle, WA | $300-$550 | $350-$650 |
| West Virginia | Charles Town, WV | $300-$450 | $400-$600 |
| Wisconsin | Eau Claire, WI | $375-$475 | $450-$550 |
| Wisconsin | Milwaukee, WI | $400-$550 | $450-$600 |
| Wyoming | Cheyenne, WY | $375-$475 | $400-$500 |