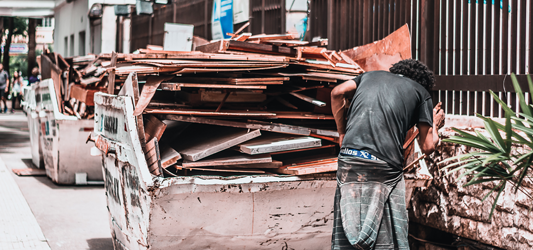 Updated September 29, 2022
Just as there are rules pertaining to what you can toss in your curbside trash can, there are also guidelines to follow when it comes to renting a dumpster.
These rules are in place for environmental reasons as well as local and state regulations related to waste disposal.
Always discuss the type(s) of debris or waste you're disposing of with your dumpster rental provider.
They'll help ensure you understand exactly what is and isn't allowed in your dumpster.
Jump to:
---
---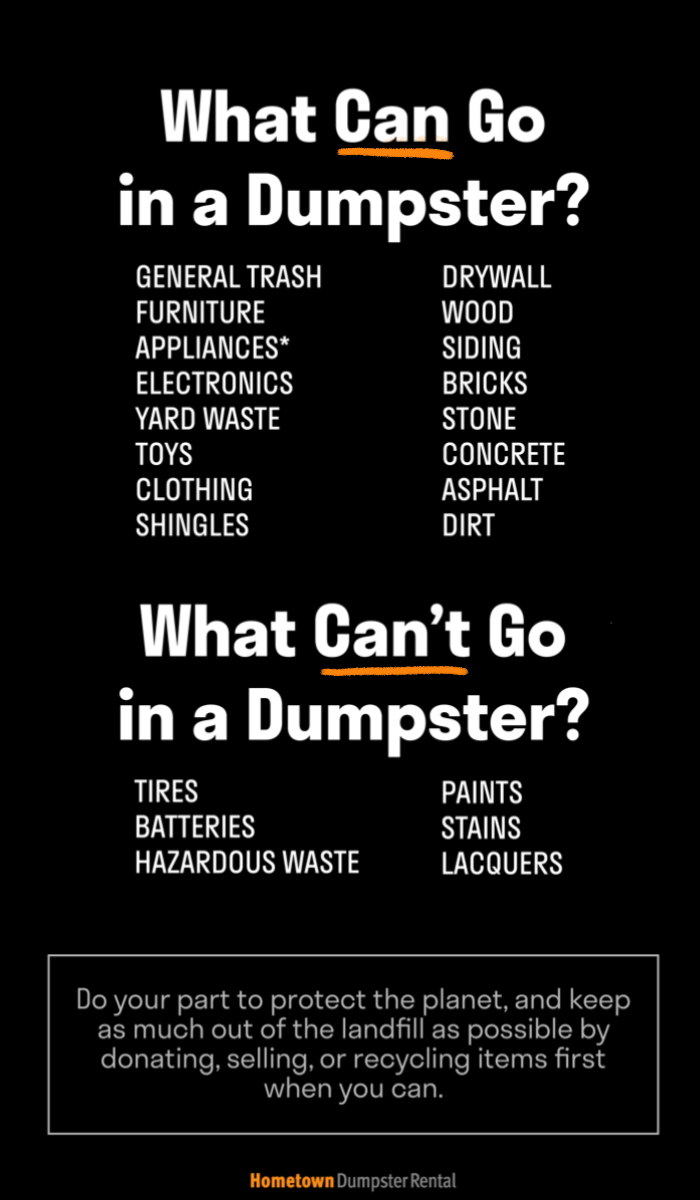 What Can Go in a Dumpster
Most nonhazardous waste, junk, and debris is permitted in dumpsters.
Items commonly allowed in a dumpster include:
General trash
Wood
Furniture
Appliances (some exceptions)
Electronics
Yard Waste
Construction & demolition debris
Furniture
Couches, tables, chairs—almost all types of furniture are accepted in dumpsters.
However, in some locations, upholstered furniture and mattresses are not allowed in landfills; and in others, you can throw furniture and mattresses in a dumpster, but it can come with additional fees depending on your local area's regulations.
Always be sure to check with your dumpster rental provider about the types of furniture they allow in their containers.
Learn more:
Appliances
Refrigerators, AC units, washers and dryers—a majority of general household appliances are allowed to be thrown in a dumpster, but all hazardous fluids and components, like freon, must be removed first.
If you wish to get rid of a freon-containing appliance, you will need to hire a professional, like an appliance repair specialist or HVAC pro, to remove the refrigerant before disposing of it.
Note: There are additional appliance disposal options that could end up saving you quite a bit of money. For example, some local utilities sponsor 'bounty programs' as an incentive to recycle appliances. The program involves allowing a recycler to collect old, inefficient appliances in exchange for a 'bounty.'

Similar to this, EPA also offers discounts towards the purchase of updated ENERGY STAR® qualified models, so this could be something to consider. Find out if your area offers bounty programs by contacting your electricity provider.
Keep reading:
Electronics
TVs, computers, printers, and other electronics are commonly accepted in most dumpsters, but if you have large quantities of electronics, like in an office cleanout, you will likely be required to recycle them as e-waste.
In those cases, it's common that an additional charge will be applied per item in order to cover recycling fees.
In some areas, local regulations do not allow electronics to be tossed in dumpsters at all, so be sure to check with your dumpster rental provider.
Donate or recycle e-waste, like cell phones, tablets, computers, and printers. (Search for an e-waste recycler near you.)
Donate working TVs and appliances to Habitat for Humanity or another local charity.
Find out more:
Yard Waste
Trees, branches, brush, grass, and other green waste are allowed in most dumpsters.
However, whether or not a dumpster company will accept yard waste depends on your area's regulations.
In some locations, you are limited to the amount of green waste you can send to a landfill, while in others, you can fill a dumpster to its limit.
Pro Tip: Some companies offer a "clean-load" option for dumpsters at a discounted price.
"Clean-loading a dumpster" means only loading one specific type of recyclable materials into the dumpster, e.g. concrete, yard waste, etc.
The materials are then recycled and diverted from the landfill, so you save the environment and your wallet!
Construction Debris
Brick, Stone, Concrete, and Asphalt
Heavy debris, like concrete, asphalt, and brick, can be thrown in most dumpsters, but due to its weight, some companies require the use of specific dumpsters designated for heavy materials.
Learn more about renting a dumpster for concrete.
Roofing Shingles
Asphalt roofing shingles are another heavy debris that can go in a dumpster.
However, there is sometimes a fee associated with shingle disposal, so ask the dumpster rental providers you get quotes from about whether or not they charge extra for roofing shingle disposal.
Find an asphalt shingle recycler near you.
Learn more: How to Estimate Shingle Weight and Save on the Cost of Roof Disposal
Renovation Debris
Drywall, wooden materials, siding, and other construction and demolition debris can go in dumpsters.
With heavy debris, dumpster weight limits are especially important.
If you go over the amount of weight included in your quoted price, you will have to remove the additional weight or pay overage fees—either of which would cause a serious headache for you.
Keep reading:
Other
Toys, curtains, carpeting, old documents, cardboard, and similar non-organic trash can all be put in a dumpster, too.
What Can't Go in a Dumpster?
Generally speaking, you cannot put any type of hazardous materials in your rented dumpster, including wet paint, oil (other liquids), asbestos, sealed tanks/drums, electronics (e-waste), tires and some types of furniture.
You'll find more information below.
Paint, Stains, and Lacquers
You cannot throw paint, paint thinners, lacquers, or wood stains in a dumpster, with the exception of latex paints.
If you have leftover latex paint that can't be reused or recycled, allow the paint to solidify by pouring it into a box with kitty litter or shredded paper.
Once it's hard and dry, toss it in the dumpster.
Empty, dried paint cans can be recycled with other metals in your curbside bin.
Find a place to drop off your leftover paint.
Tires
Because a majority of landfills in the U.S. do not accept tires, you cannot put tires in a dumpster.
However, there are various ways to properly dispose of scrap tires.
One option involves taking old tires to your local auto parts store or tire dealership.
Another option includes finding a local recycler who will then convert old tires into asphalt or rubber mulch.
Hazardous Waste
Asbestos, pesticides, motor oil and other automotive fluids, propane tanks, household cleaners, ink and resins, contaminated soil or absorbents, and medical waste should never be put in a dumpster.
In most communities, there are scheduled community collection events where people can drop off their hazardous waste for proper disposal.
In some areas, you can also arrange to have a household hazardous waste recycling kit sent directly to your home.
They allow you to conveniently pack up your waste and mail it in for environmentally responsible disposal.
Take used motor oil to a local oil change facility for proper recycling
Keep reading: How to Dispose of Household Hazardous Waste
Batteries
Car batteries and dry-cell batteries cannot be put in a dumpster because they can leak chemicals that harm the environment.
Instead, recycle car batteries by returning them to nearly any store that sells car batteries.
Similarly, drop off old dry-cell batteries, like lithium, AA, and AAA, in designated bins commonly found in stores.
Most auto part stores and repair shops will recycle car batteries. Sometimes you can get a deposit for returning it to where you bought it.​
Get the Dumpster You Need at the Best Possible Price
To ensure you get the best dumpster rental service for the best deal, reach out to multiple dumpster rental providers to compare quotes.
Hometown Dumpster Rental is the most convenient place to find the right dumpster rental provider in your area.
Browse the options in your city, read company profiles, see what other customers have to say about their services, and contact providers directly for a quote—all in one easy-to-use location.
Depending on the size of your project and the type of debris you have, you may only need a 10 yard or 20 yard, but if your project is bigger or on the heavier side, a 30 yard or 40 yard dumpster is likely your best choice.
Be sure to explain your debris as much as possible to each provider you speak to.
They'll be able to help you choose the right dumpster size for your project.
---
---
Keep reading: