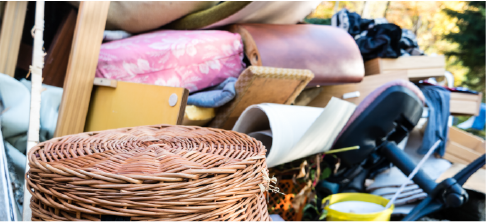 Updated May 11, 2022
Junk removal services are a convenient, handy way to get rid of any amount of junk, trash, or debris quickly and safely.
Because junk removal services can help with projects of all shapes and sizes, costs for junk removal vary quite a bit.
Junk removal costs anywhere from $100-$1,000 on average.
Junk removal companies have minimum fees that they charge for removing one or two items, like a mattress, treadmill, TV, or couch.
Your exact junk removal project cost will depend on a number of factors.
Factors Affecting Junk Removal Cost:
---
---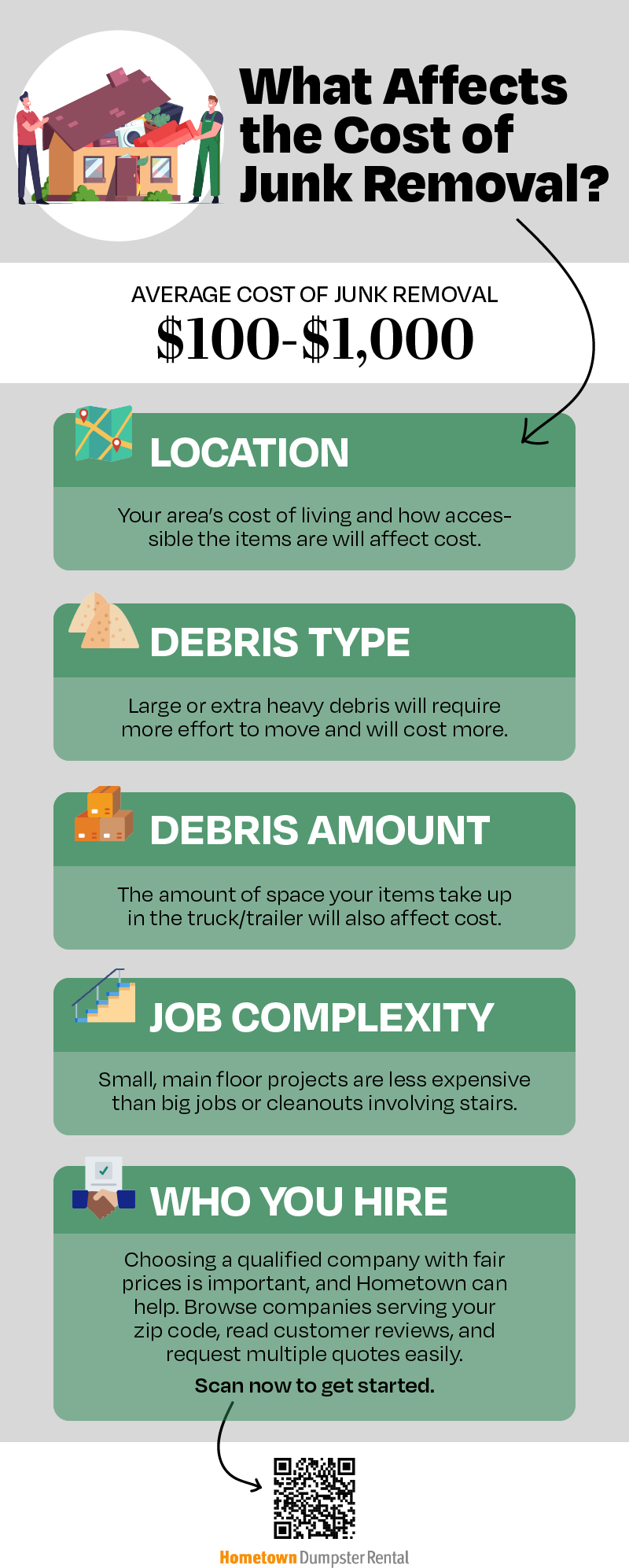 Location of the Junk Removal Project
One of the major factors that affects junk removal project costs is the location of the project.
Do you live in an area with a high cost of living?
Do you live out in the country far from the nearest junk removal company or local disposal facilities?
If either of these situations are true, your junk removal service will be more expensive due to the increased disposal fees and travel/gas costs.
For example, junk removal services in New York City will cost more on average than junk removal services in Wichita, Kansas due to the difference in cost of living.
The cost of an apartment cleanout on an upper floor will also be higher that a first floor cleanout.
Having a pile of items in your driveway or by the curb for easy pick-up is the most cost-effective option because it speeds things up and simplifies things for the crew.
Type of Debris
Junk removal companies typically price general household junk removal projects differently than removing large or heavy items/debris.
For example, construction and demolition debris is extremely heavy and requires additional labor to load and haul it away safely.
The same is true for large, heavy furniture pieces, like pianos and treadmills.
Difficult-to-haul items require more labor and therefore will typically be more expensive to dispose of than lightweight debris.
Keep reading:
Amount of Debris
Similarly to the type of debris, the amount of debris affects junk removal pricing as well.
The more space your items take up in the company's truck or trailer, the more your junk removal project will cost.
For junk removal, costs rise as the volume of junk increases.
A full truckload of junk will cost more than a load taking up half the truck space.
The more items you need to remove, the longer it will take for the junk pros to complete the job as well.
Learn more:
Complexity of the Work
As the complexity of a junk removal job increases, so does the price.
Relatively small, straightforward junk removal projects, like furniture or appliance removal, typically cost $100-$350.
A larger, more complex cleanup project, like cleaning out a garage, attic, or basement, costs $200-$800 or more on average.
And the largest and most complex cleanup projects, like entire home cleanouts, foreclosure cleanouts, or hoarding cleanups, typically cost anywhere from $800-$3,000 or more.
Who You Hire
Junk removal companies charge slightly different prices for the same service, which is why we recommend getting at least 2-3 quotes.
Not only does getting multiple junk removal quotes ensure you pay a fair price, it also ensures you hire the best company.
Regardless of how big or small your junk removal project is, knowing what to look for in a junk removal company can help save you money and stress if you've never hired one before.
A qualified junk removal company is insured, has a good reputation, offers fair prices, and is available to complete the work when you need it.
At Hometown, we specialize in helping people find qualified junk removal companies in their area.
To ensure you choose the best junk removal company, we recommend reaching out to multiple companies for junk removal quotes and getting answers to the most important junk removal project questions from each one in order to adequately compare job estimates.
---
---
Read on: